Mojo Rising Bracket: First Round Complete
The first round of the Mojo Rising Bracket is complete, and so far, this bracket had the clotsest match-up this far with Benny Agbayani knocking off Todd Hundley by ONE VOTE! With that, Agbayani joins Tommie Agee as the other 10 seed to knock off a seven seed. That means through the first round of three brackets, there have been just two upsets.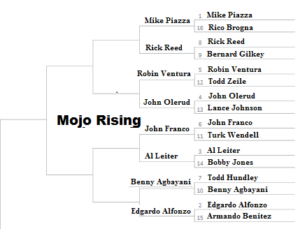 This next round will have Robin Ventura and John Olerud not only on opposite ends of the greatest defensive infield of all-time, but also seeing who can advance to the Sweet 16. Agbayani and Edgardo Alfonzo can also see who was the bigger hero in 2000.
In the final bracket, we will lead off tomorrow with David Wright against Jeff McNeil.