Mets All-Time Fan Favorite Tournament
The New York Mets have been around since 1962, and in that time, they have two players in the Hall of Fame, three players with retired numbers, 31 people in the Mets Hall of Fame, and a whole host of other beloved players. The question is who exactly is the most beloved player?
Does Tom Seaver still have cache in 2020? Did Mike Piazza or David Wright surpass him? Does Keith Hernandez's work in the booth  as well as his play on the field make him the one Mets player who has reached across all generations?
We really don't know the answer to that and a whole host of other related questions. To that end, with there being no baseball, this site has set up a field of 64 akin to the NCAA Tournament. The field has been sectioned off in roughly 14 year increments to cover different eras of Mets baseball with each particular era having at least one Mets team who has won a pennant.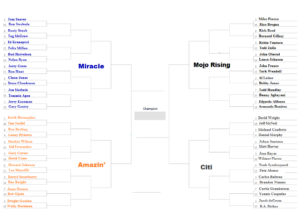 There were some tough choices to be made in selecting this field. The field was done using different offensive and pitching metrics, and it was done in consultation with Mets fans. On that note, special thanks are do to Joe D, Michael Mayer, Greg Prince, Tim Ryder, James Schapiro, and Bre S.
There were some tough decisions, and unfortunately, players like Ed Charles, Art Shamsky, Dave Kingman, John Stearns, Randy Myers, Pedro Martinez, Carlos Delgado, and Zack Wheeler did not make the list. It is regrettable, but the cuts had to be made somewhere to make this a more manageable field of 64.
The plan is to have polls open each day with a blurb on the match-up on this site with the ability to vote both on this site and on Twitter. The results of both will be combined, so if you are truly interested, you will be able to vote in both places. While not perfect, this is somewhat akin to the All-Star Game which to some degree is voting for fan favorites.
May your favorite player win, and Let's Go Mets!
Ron Swoboda Rusty Staub Tug McGraw Ed Kranepool Felix Millan Bud Harrelson Nolan Ryan Jerry Grote Ron Hunt Cleon Jones Donn Clendenon Jon Matlack Tommie Agee Jerry Koosman Gary Gentry Tim Teufel Ron Darling Lenny Dykstra Mookie Wilson Sid Fernandez Gary Carter David Cone Howard Johnson Lee Mazzilli Darryl Strawberry Ray Knight Jesse Orosco Bob Ojeda Dwight Gooden Wally Backman Rico Brogna Rick Reed Bernard Gilkey Robin Ventura Todd Zeile John Olerud Lance Johnson John Franco Turk Wendell Al Leiter Bobby Jones Todd Hundley Benny Agbayani Edgardo Alfonzo Armando Benitez Jeff McNeil Michael Conforto Daniel Murphy Johan Santana Matt Harvey Jose Reyes Wilmer Flores Noah Syndergaard Brandon Nimmo Carlos Beltran Pete Alonso Curtis Granderson Yoenis Cespedes Jacob deGrom R.A. Dickey