The Mets Shortstops Came Up Big
When the lineup was announced, the main reaction everyone had was "HOW CAN YOU START MATT REYNOLDS IN LEFTFIELD!" Matt Reynolds never played in the outfield in his professional career, and the Mets were sitting Michael Conforto against Danny Duffy, the pitcher off whom he hit a home run against in the World Series. In the bottom of the sixth, Reynolds made Terry Collins look like a genius with his first career home run:

His homerun broke the 3-3 tie, and it put Noah Syndergaard in position for a win after what was an uneven outing.
The Mets other three runs were courtesy of the Mets other shortstop, Asdrubal Cabrera, who actually played shortstop today. In the fourth, he scored off a James Loney two out RBI single with a nifty slide: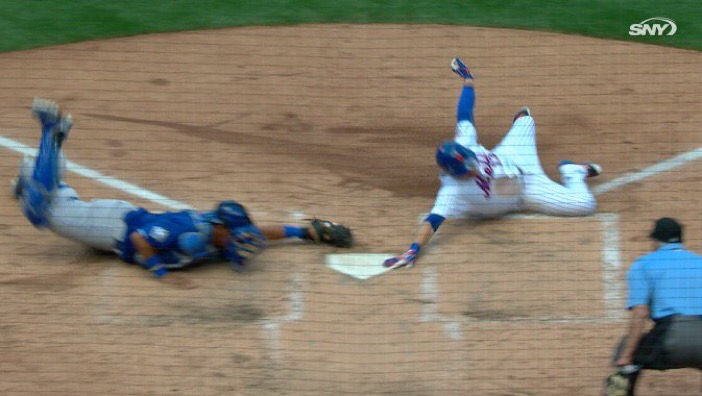 In the top of the fifth that 1-0 lead would quickly evaporte when Syndergaard allowed Chelsor Cuthbert to hit a solo home run. The Royals continued the rally, and they would eventually went ahead 2-1 on a Whit Merrifield RBI single scoring Jarrod Dyson. This meant Cabrera would have to go back to work by hitting a go-ahead two run home run (scoring Curtis Granderson).
Syndergaard had a rough sixth inning. He got Rene Rivera crossed-up not once but twice. One of them went for a wild pitch moving Salvador Perez to third. He would score on a Paulo Orlando RBI single tying the game at three. The Mets would go ahead for good on the aforementioned Reynolds' home run.
In the eighth, Cabrera would leave his impression on the game AGAIN with a great stab and behind the back throw to get the force out at second.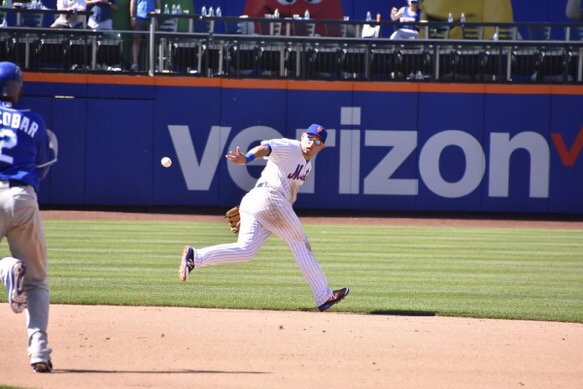 It would help Addison Reed pitch a scoreless eighth. Jeurys Familia pitched a scoreless ninth to preserve the 4-3 win. With that save, Familia is now tied with Armando Benitez for most consecutive saves to start a season (24).
After the stretch the Mets went through, including getting swept by the dreadful Braves, you would feel terrific after sweeping a two game set against the team that beat you in the World Series. However, there remains some trepidation as Yoenis Cespedes had to leave the game with an apparent wrist injury after his walk in the fifth. He was replaced by Alejandro De Aza, who may be set to get more playing time in center if Cespedes needs to miss any period of time. Given the way De Aza has played this year, it is an not all too enticing proposition.
With that said, there's nothing left to do but enjoy this win while waiting with baited breath for the Cespedes news. By the way, we still don't know about Zack Wheeler and his elbow. Good times.
Game Notes: Jerry Blevins continues to put up zeroes:
Jerry Blevins has gone 21 consecutive games without allowing a run, the 2nd longest streak in franchise history (Mark Guthrie, 33 in 2002).

— New York Mets Stats (@NYMStats) June 22, 2016