Verrett Shows Importance of Rule 5 Draft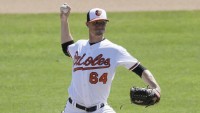 Tomorrow is the deadline to protect players from the Rule 5 draft by adding them to your 40 man roster. If they are not added, another team may select that player and add them to their 40 man roster. To keep that player, the new team must keep the new player in the majors all year. If not, that player must be offered back.
That was the odyssey of Logan Verrett last year. He started out as a Rule 5 pick of the Baltimore Orioles, and his rights would subsequently be picked up by the Texas Rangers. He struggled in his limited time with Texas going 0-1 in four appearances with a 6.00 ERA and a 1.667 WHIP. With the Mets needing relief help at the time, the Mets took him back when he was offered.
It was the best thing that happened to both him and the Mets. Verrett made 10 relief appearances with the Mets. In those appearances, he had a 2.20 ERA and a 0.674 WHIP. Overall, as a reliever, he had a 3.55 ERA and a 1.060 WHIP. Batters were only able to hit .198/.205/.352. This makes him a good reliever, who is all the more valuable when everyone else is out of reach.
He has increased value because he's an effective spot starter. When he was making spot starts giving the starters test before the postseason, he went 1-1 with a 3.63 ERA and a 1.030 WHIP. Batters only hit .208/.291/.338 against him. He was extremely valuable as a Met last year. He came back at the right time.
So for every Brad Emaus, there's a Verrett who is able to contribute. It sometimes shows the best way to help your roster is to properly value what you have in house. That doesn't mean you thrust players like Dilson Herrera out there before they're ready. It means you properly value and protect your assets.
Verrett has deserved consideration for the major league roster in 2016. He's also showed the players that got you there last year also deserve to be kept around to make another run next year.