Collins May Be Costing the Mets a World Series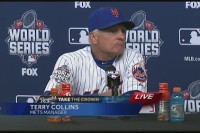 Yes, games are decided by the players on the field. However, the players that are on the field depends on the manager. I've already bemoaned Collins Game 1 performance. He's also damaged the Mets chances of winning the World Series in every game since.
Game 2
Going into the fifth inning, the Mets had a 1-0 lead. Jacob deGrom pitched well for the first four innings, but he was losing it fast. To his credit, Terry Collins got Jon Niese up in the bullpen. Niese wouldn't get in during that inning. The 1-0 lead would become a 4-1 deficit.
The game would still be in reach, at least on paper. Instead, Collins decided to get Niese back up again after pitching two innings the prior day. He then tried to push Niese go two innings two days in a row. The end result was the Royals putting the game out of reach in a 7-1 loss.
Game 3
No, Collins didn't harm the Mets chances to win in a 9-3 win. However, he harmed the Mets chances of winning the World Series here. He used Addison Reed–Tyler Clippard–Jeurys Familia to close out a game with a six run lead. There was no reason for it. Worse yet, Collins admitted Familia pitching in Game 3 was a factor in him not using Familia for the four out save. He compromised his Game 4 bullpen for no reason.
Game 4
I went on at length about this last night. I won't belabor the points here, but it is important to re-examine his eighth inning:
He immediately starts warming up Familia as the inning starts;
He was waiting to use Familia once the go-ahead run got in base rather than nip a rally in the bud before it started; and
He admitted to wanting to save Familia for Game 5.
Excuse me? You're down 2-1 in the series. You win the game that's in front of you. You have Matt Harvey tomorrow. He can give you length. Even if you lose Game 5, there is a tomorrow.
Another thing that drove me nuts was pinch hitting Kelly Johnson for Juan Lagares. Johnson hadn't hit all postseason in limited action. Lagares has had a terrific postseason with terrific at bats. The move made no sense. Predictably, Johnson didn't reach base. No rally was started in the eighth.
I still think the Mets can win the World Series, but if they don't Terry Collins will be the biggest reason why. That's something that should never happen.