Mets Did Everything But Win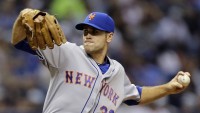 As we saw last night, the most important thing the Mets needed to do was stay healthy today. Mission accomplished. Everything after that was gravy.
With that said, Sean Gilmartin did well in his first career start. He stretched himself out for five innings allowing three hits, two earned, one walk, and three strikeouts. He pitched well, and he saved the bullpen. Unfortunately, since the Mets didn't score, he was tagged with the loss.
In other important developments from the game, Kirk Nieuwenhuis had a strong game in his attempt to make the postseason roster. He was 3-4 with a double, and he played RF. Unfortunately, he's left handed going into a series with a heavy lefty Dodgers starting rotation.
Eric Young, Jr. failed to get a hit in two at bats. That puts him at nine runs scored and no hits with the Mets this season. Eric Campbell also had a tough game. He went 0-4 with two strikeouts. He grounded into a double play to end the game, and he showed limited range at third base. Dario Alvarez allowed a homerun to a switch hitter (batting right). He did get the one left out he faced. On the whole, these three hurt their chances to make the playoff roster today.
As for the game, the best thing I can say say for it was it went by quickly. It allowed the Mets to get out of town before the rains come. They lost 3-0 in a game that didn't mean all that much. It's now time to come home and get ready for the playoffs.