Are the Mets Destined to Face the Blue Jays?
There are times when something is so obvious and compelling that it just had to happen. Right? This year it seems like the Mets and Blue Jays are destined to meet in the World Series. Here's why:
1985 ALCS
Did you ever see those Abraham Lincoln-JFK assassination similarities lists? On face value, it's eery, but at the end of the day, they're an amazing set of coincidences. It reminds me of the 1985 and the 2015 ALCS: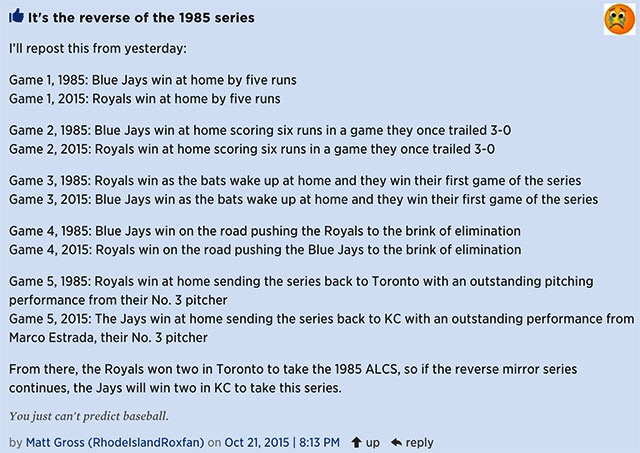 The players are all different. The front offices and managers are different, and yet, so far, the 2015 ALCS is following a similar script. If this is omen rather than coincidence, the Blue Jays win.
The Daniel Murphy Factor
By and large, the NL Cy Young voting is predicted to have Zack Greinke–Clayton Kershaw–Jake Arrieta finish 1-3 in some order. Daniel Murphy has homered off of all of them. Between the Royals and the Blue Jays, there is only one Cy Young candidate: David Price.
With the way Murphy has been playing this Murphtober, doesn't it seem like he's destined to homer off of another Cy Young caliber pitcher?
Referendum on the R.A. Dickey Trade
Look, no matter how you slice or dice it, the R.A. Dickey trade has been enormously successful for the Mets. Two of the biggest parts of this Mets team have been Noah Syndergaard and Travis d'Arnaud. That also doesn't include Wullmer Becerra, who is starting to become a real prospect.
However, for the Blue Jays, the trade was always about winning the World Series. It doesn't matter is he's the fourth starter. It doesn't matter if he hasn't pitched well in the playoffs. It doesn't matter if Thor is better now. All that matters now is if the Blue Jays win the World Series.
If they do meet up, it'll be a great story. Just ask Dickey:
Dickey: "What a script… If I could face Syndergaard in Game 7, wouldn't that be something? … Great narrative."

— Jesse Spector (@jessespector) October 19, 2015
Conclusion
Now that I've wasted all that time explaining why it'll happen, we now know the Royals will win Game 6 or 7. It doesn't matter to me who the Mets face so long as they win the World Series.