When They Lowered the "Boom" on Murphy
With Niese and Greinke welcoming new additions to their family, I was reminded of last year's Daniel Murphy paternity leave controversy. The controversy started when Murphy had the audacity to miss a couple of games at the beginning of the season to be with his wife and newly born child.
It started with Mike Francesa being seemingly puzzled at the whole concept of paternity leave. He bragged that he went to work the same day his son was born. As he said, he didn't think it worthwhile to stare at his wife in a hospital room. He stated someone like Murphy (and presumably Francesa) could hire a nurse to help out the mother. To his credit, he did see the point in being there for the birth and taking a day off . . . even for a ballplayer.
Boomer Esiason then doubled down on Francesa's statements. I can only do this justice by putting in his rant (I'm putting full paragraph so as to not misquote or mischaracterize):
I would have said, "C-section before the season starts. I have to be at Opening Day. I'm sorry this is what makes our money, this is how we're going to live our life, this is going to give my child every opportunity to be a success in life, I'll be able to afford any college I want to send my kid to because I'm a baseball player.
Seriously, I wish I was making this up. Not every baseball player plays 162 games every season. They sometimes need a day off. Who cares if it's Opening Day? These comments were so inane he had to issue the pro forma apology. We were then subjected to days of people calling into the show to have Boomer and Carton rip into callers and remind everyone that Boomer was once chosen as the Father of the Year.
I remember having a conversation with someone who thought this was a made up controversy. I told them that you want to be in that room not only to experience it, but to also be there for your wife. I also explained that you can never know how it feels when something goes wrong. You become powerless and don't want to leave your child or wife. Thank God for me it all turned out alright for me and my family as it did for Murphy and his.
You see that's what everyone forgets – Murphy's wife had to have surgery (in the link above). He should've been given the benefit of the doubt, even though that wasn't necessary. I thought that was part of the lesson of JR Richard. I also thought we were supposed to admire athletes who do the right thing even if it could harm the team; like Sandy Koufax not pitching Game One of the 1965 World Series because it was Yom Kippur.
Murphy needlessly responded by saying it was "the right decision to make." Collins had a better response in saying, "when you start attacking Dan Murphy's credibility, you need to look in the mirror a little bit." The best response of all was this: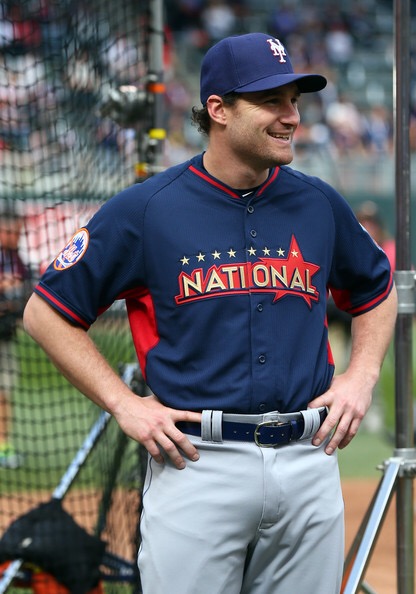 That's right. Ironically, the one year he may have wanted the break most so he could spend time home with his wife and newborn son, he was an All Star. I assume the same controversy won't follow Nies because he's a pitcher that goes every five days. However, I wouldn't care if he was Mike Piazza in 1999, you take the time you and your family needs.