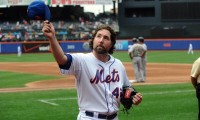 There are times when something is so obvious and compelling that it just had to happen. Right? This year it seems like the Mets and Blue Jays are destined to meet in the World Series. Here's why:
1985 ALCS
Did you ever see those Abraham Lincoln-JFK assassination similarities lists? On face value, it's eery, but at the end of the day, they're an amazing set of coincidences. It reminds me of the 1985 and the 2015 ALCS: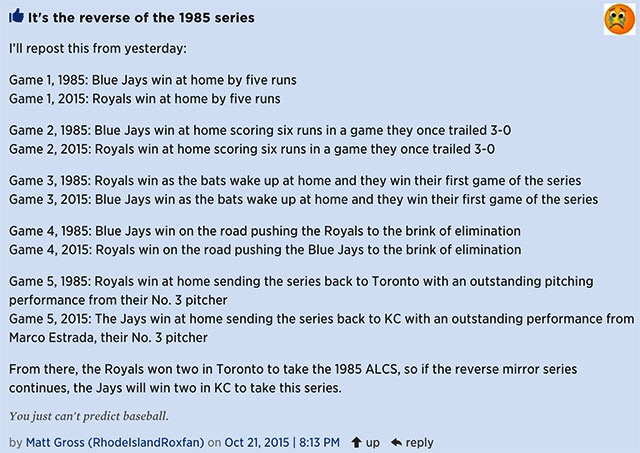 The players are all different. The front offices and managers are different, and yet, so far, the 2015 ALCS is following a similar script. If this is omen rather than coincidence, the Blue Jays win.
The Daniel Murphy Factor
By and large, the NL Cy Young voting is predicted to have Zack Greinke–Clayton Kershaw–Jake Arrieta finish 1-3 in some order. Daniel Murphy has homered off of all of them. Between the Royals and the Blue Jays, there is only one Cy Young candidate: David Price.
With the way Murphy has been playing this Murphtober, doesn't it seem like he's destined to homer off of another Cy Young caliber pitcher?
Referendum on the R.A. Dickey Trade
Look, no matter how you slice or dice it, the R.A. Dickey trade has been enormously successful for the Mets. Two of the biggest parts of this Mets team have been Noah Syndergaard and Travis d'Arnaud. That also doesn't include Wullmer Becerra, who is starting to become a real prospect.
However, for the Blue Jays, the trade was always about winning the World Series. It doesn't matter is he's the fourth starter. It doesn't matter if he hasn't pitched well in the playoffs. It doesn't matter if Thor is better now. All that matters now is if the Blue Jays win the World Series.
If they do meet up, it'll be a great story. Just ask Dickey:
Dickey: "What a script… If I could face Syndergaard in Game 7, wouldn't that be something? … Great narrative."

— Jesse Spector (@jessespector) October 19, 2015
Conclusion
Now that I've wasted all that time explaining why it'll happen, we now know the Royals will win Game 6 or 7. It doesn't matter to me who the Mets face so long as they win the World Series.
Last month, The Sporting News ranked Sandy Alderson right in the middle of all GMs in Major League Baseball (15/30). That sounds about right, although I could quibble with the order. To me, when you give Sandy a rating of 15/30, you're really giving that rating to the entire front office, which includes Paul DePodesta, JP Riccardi, and John Ricco.
Since Sandy Alderson has been the GM for the Mets, he has really been tasked with getting rid of salaries and selling at the trade deadline. To that end, he and his front office have done an admirable job. In my opinion (and most people's really), his three best trades were to sell and not to buy:
RA Dickey, Josh Thole, and Mike Nickeas for Noah Syndergaard, Travis d'Arnaud, John Buck, and Wullmer Becerra;
Carlos Beltran for Zack Wheeler; and
Marlon Byrd, John Buck & cash for Dilson Herrera and Vic Black.
Looking over the rest of the trades, there really is not much to get worked up about, except the two trades Sandy Alderson made to help the team on the field (and not the team down the road):
Angel Pagan for Andres Torres and Ramon S. Ramirez; and
Collin McHugh for Eric Young, Jr.
There has been so much written about the first trade. Rather than regurgitate all that has been written, I'm going to make a couple of quick points. First, this was part of a quick hitting series of moves to try to rebuild the bullpen and TRY to take attention away from Jose Reyes leaving. Second, it seems like every year this team is trying to build a bullpen because the prior season's acquisitions  were terrible or everyone got hurt again. Lastly, this trade violated the old adage of "the team that gets the best player wins the trade."  We knew then Pagan was the best player in that deal.
I want to focus on the EY deal because with the Mets rotation, it has largely been ignored. In full disclosure, I didn't see it with McHugh. I thought he was an AAAA starter or a 12th man in the pen. I didn't see him finishing fourth in the Rookie of the Year voting last year or having another solid year for the Astros, especially when he pitches half his games is Minute Maid Park.
Just because I didn't see it, it doesn't excuse the current front office for this mistake. EY was acquired because Paul DePodesta loves him. In EY's two seasons with the Mets, he was a 0.9 WAR player, who won a stolen base crown. The Mets were under .500 and had no shot at the postseason.
In the same time, McHugh has combined for accumulated WAR of 5.2, i.e. he has been the best player in the deal. I shutter to think what the careers Cory Mazzoni or Brad Wieck will be.
Now after all of this, how can I be expected to trust Sandy's regime to properly rate their own prospects?  Sure when he has someone of value, he does a good job maximizing the return. However, when he is making a deal to improve his club, he has been shown to undervalue his assets.
This brings me to an extremely important point: Sandy effectively traded a first round pick for Michael Cuddyer. Cuddyer hasn't been himself at the plate or the field (even preinjury), which further exacerbated this "trade."  All in all, I'm not sure we can trust this front office to go out and get a player. With that said, I'm sure I'm just wasting my breath because there is no way the Mets would take on money to improve this team.