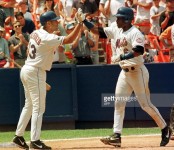 One of my favorite movies is Big Fish. One of the story lines in the movie is the relationship between Edward Bloom and the town of Ashton. I found myself thinking about that today when I learned about the passing of Tony Phillips.
When Edward Bloom first happens upon Ashton, he's described as having arrived at the most beautiful town there is. Like a baseball field, Ashton was covered in impeccably manicured green grass. However, he's arrived too soon. It wasn't his time to be there yet. He should not have arrived until a different time. He moved on. When he returned, everything was different. The town was dilapidated. He stuck around for a while to help reinvigorate the town, but he had to eventually move on. He got back there too late.
Tony Phillips played 18 seasons hitting .266/.374/.389. In an average season, he hit 12 homers and 67 RBI. He put up these numbers while primarily playing the middle infield. In his career, he twice led the league in walks. He made no All Star teams in his career. He played for six teams. He retired in 1999 at the age of 40. Not too long thereafter, the A's would revolutionize baseball by focusing on stats like OBP. Players like Tony Phillips would become coveted instead of being a nice player on your team.
Simply put, Tony Phillips played baseball before players of Phillips own skill set were appreciated. Right at the time when the Tony Phillipses of the world were seen as the very good ball players they were, it was his time to leave the green grass fields of Ashton. His skill set was recognized too late.
As for the Mets, Tony Phillips acquired him in a trade deadline deal in 1998. He played outfield on a team that needed corner outfielders. He played relatively effectively in his 52 games as a Met. Unfortunately, he and the Mets fell just short. Unsurprisingly, Phillips would finish his career with Billy Beane's Athletics. He was where we all thought he belonged. He just got there too late.
Worse than that, Phillips has died too young at the age of 53. Hopefully, he's now at the right place at the right time.
Rest in peace Tony Phillips.