Steven Matz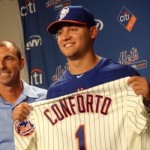 The Mets have finally put Michael Cuddyer on the DL and called-up Michael Conforto. It's about time. Cuddyer has been injured for almost a month, and Conforto has done nothing but rake.
After last night's debacle, the Mets front office probably felt like there was no other choice. I believe that Conforto will be the everyday star in the Mets lineup (albeit maybe not immediately) to match the five aces they will have in the rotation next year. I look forward to my son and I wearing Conforto jerseys in the next few years as the Mets make a push to win a World Series. Even with all that excitement I'm feeling right now, there is something pulling me back a bit.
I believe what is pulling me back is that this is a strong indication that the Mets can't or won't do anything on the trade market. In yesterday's press conference, Sandy Alderson said the Mets have money to spend, but the media reports sing a different tune. Right now, the thing that sticks with me the most is that Sandy Alderson, the team's GM, seemed to be against calling up Conforto. His quote at Thursday's press conference was, "[o]ne of the considerations is that most young players who come up to the big leagues aren't terribly successful in the short term . . . ." His words; not mine. Now, however, after almost getting no-hit and a fan mutiny seemingly coming to fruition, the Mets make a move they were reportedly against making. If the Mets didn't want him to have the weight of being the savior, they chose an awful time to call him up. The Mets offer this move as an olive branch. However, I think this olive branch has a red herring on it.
Mets want us to run to the ballpark to see him. My Dad did that with me with Darryl Strawberry was called up. I did the same with my son when Steven Matz was called-up. However, I'm not so sure about running to the ballpark this time. The Mets have saved a lot of money this season with Wright's unfortunate injury and Mejia's suspension. They're not putting that money back into this team that has a rotation that could win a World Series. How could I justify spending my money on a team that won't spend the hard earned cash I give them?
Overall, I am ecstatic about Michael Conforto, and I cannot wait to see him put on his #30 tonight. I look forward to the first at-bat of what I hope is a long and prosperous Mets career. Welcome to the majors Michael Conforto.
According to Marc Carig of Newsday, it seems like the Mets will not go for the available top shelf outfielders, but rather seek out Will Venable or Gerardo Parra. Similar to Carlos Gomez and Justin Upton, their contracts expire at the end of the year.
However, unlike Upton and Gomez, Venable and Parra will most likely not receive a qualifying offer. This is very important because of the prospect price. Besides being better players, Upton and Gomez have a higher price tag because if the Padres and Brewers respectively offer them a qualifying offer, then the team that signs them forfeits their first round draft pick (second round for 10 worst teams in baseball). Therefore, if you want Upton or Gomez, you need to offer first round talent for a trade to even make sense. First round talent is equivalent to Matz, Conforto, Thor, and pretty much every player you don't want the Mets to trade.
So that leaves us to decide whether Venable or Parra is the  better player. For my money, I'd rather have Parra. First and foremost, he's got a great glove. I know the Mets need offense, but with Lagares' problems on offense and his injury, the Mets could use Parra to play left or center. I know Venable plays center for the Padres, but that is more akin to the Mets playing Cedeno and Burnitz in center in 2003, i.e. poor roster construction rather than capability.
On top of the offense, Parra rates as a better bat. Parra has a triple slash line of .311/.345/.502 to Venable's .258/.328/.408. I know Miller Park is a hitter's park and Petco is a pitcher's park, but Parra leads in OPS+ (130 to 108). For comparison, the Mets best offensive weapon this season, let alone outfielder is Granderson with .247/.344/.429 (OPS+ of 115).
So if the Mets make a move, Parra would be the prudent move. However, even if the Mets get him for a reasonable price, that still leaves holes at SS, LOOGY, and the bench. That's why I again reiterate, there are too many moves that need to be made now. It is better to sit pat and maybe wait to see what is there in August.