Tonight, the St. Louis Cardinals head out west to begin a pivotal four game series against the San Francisco Giants that will have far reaching implications on the National League Wild Card race.  With each game played, the Mets will both gain ground on one team and lose ground to another.  As the series begins, here is where the Wild Card race stands:
| | | |
| --- | --- | --- |
| | Record | GB |
| Giants | 77-68 | + 0.5 |
| Mets | 77-69 | – |
| Cardinals | 76-69 | 0.5 |
With the Mets being idle, one of two things are going to happen today: (1) they are going to be tied with the Giants for the first Wild Card; or (2) they are going to be tied with the Cardinals for the second Wild Card.  As we can see from that, this four game set between the Giants and Cardinals can be both a blessing and a curse that makes you question what result you want from this four game set.
Case for the San Francisco Giants
Each generation of Mets fan has a tale of woe that has come at the hands of the St. Louis Cardinals.  There was the Terry Pendleton home run off Roger McDowell in 1987, and Carlos Beltran looking at an Adam Wainwright curveball in 2006.  There have been many other instances, and if history is any evidence, there will be more.  It is quite understandable if Mets fans do not want to see a Cardinals uniform in a winner-take-all Wild Card Game.
There are other baseball reasons to want to face the Giants over the Cardinals.  Since the All Star Break, the Giants have had the worst record in all of baseball.  The Giants ace, Madison Bumgarner, has struggled in the second half going 4-5 with a 3.87 ERA and a 1.200 WHIP.  The last time Bumgarner pitched against the Giants he only lasted five innings allowing six hits, four runs, four earned, and three walks while striking out six.  Bumgarner isn't the only Giants star that has struggled in the second half.
Buster Posey is amidst the worst year in his career which hast mostly been the result of him hitting .274/.352/.366 with only one home run in the second half.  Posey is a major reason why the Giants have scored the third least runs in the National League after the All Star Break.  You would have to like the Mets chances against this lineup when they are hopefully sending Noah Syndergaard to the mound.
Even if the Giants were to get a lead on the Mets in the Wild Card Game, it will not be a safe lead for the Giants whose bullpen has completely fallen apart.  Santiago Casilla has lost his closer's job.  Joe Nathan was given a chance, but only proved why he was a 41 year old pitcher in the minors this year.  Hunter Strickland crashed and burned in his first chance to take over the closer's position.  Fact is, the Giants don't have a bullpen that can protect a lead which is really dangerous against a Mets team that has Yoenis Cespedes ready, willing, and able to hit a clutch home run late in the game.
In addition to the Giants falling apart, the Mets could very well have more trouble with the Cardinals.  Yadier Molina is a Mets killer.  Stephen Piscotty and Randal Grichuk give the Mets fits.  While the Cardinals rotation has been a big disappointment this season, Carlos Martinez has pitched like an ace this year.  In his career, he is 3-1 with a 1.75 ERA against the Mets.  If the Cardinals get a lead, Seung-hwan Oh has shown himself to be a dominant closer.  Given the past history, and how poorly the Mets matchup against the Cardinals, they would be better off facing the Giants.
Case for the St. Louis Cardinals

We can saw all we want about Madison Bumgarner having a tough second half, and it is true.  However, under no circumstances do you want to face him in a winner-take-all game.  You just have to go to the 2014 Postseason video for proof of that.  In the Wild Card Game, he pitched a complete game shutout.  In Game 7 of the World Series, he came out of the bullpen to pitch five shutout innings to earn the save.  In his postseason career, he is 7-3 with a 2.14 ERA and a 0.883 WHIP.  You don't want to be anywhere near him.  In addition to this, many people will tell you that you don't want to face the Giants because it is an even-numbered year.
No matter how much better the Mets may matchup against the Cardinals, you always want to avoid an ace like Bumgarner in the postseason.  Pitching wins, and the Cardinals have no one on the level of Bumgarner.
Case for a Split
A sweep at the hands of the other could bury one of the Wild Card contenders.  The corollary to that is it will rejuvenate one of the two Wild Card contenders.  As it stands, the Giants and Cardinals have seemingly had trouble getting out of their own way.  If either team was able to sweep or take three out of four in the series, it will be a significant mental boost that could lead to them playing better baseball from here on out.  Ideally, the Mets do not want to face a hot team in that Wild Card game.
Ideally, the Mets would also have homefield in the Wild Card Game.  Unless, the Mets sweep the Twins, which may proven to be more difficult than it should be with Gabriel Ynoa potentially slated to go Sunday, the Mets will trail one of these two teams for home field in the Wild Card race.  As of right now, the Mets do not have any teams over .500 remaining on their schedule.  If the Mets take care of business, they should be able to earn a Wild Card spot not matter what happens in the Giants-Cardinals series.
As it stands, the Mets would probably want to face the Giants, and they would want to face them at home.  However, baseball is an unpredictable game, and as we have learned far too often, you should be careful for what you wish for.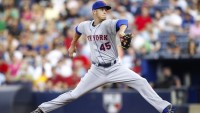 Over the course of their history, the Mets have made some really bad trades that were indefensible at the time they were made. While this isn't a complete list, here are some of my "favorites":
Lenny Dykstra, Roger McDowell, and Tom Edens for Juan Samuel, and
Scott Kazmir and Jose Diaz for Victor Zambrano and Bartolome Fortunato.
Again, this is not a comprehensive list. Also, these were traded roundly criticized at the time, not ones that eventually turned out badly.
It's funny. Late last night into early this morning many people were joking about how people who went to bed early last night would react when they discovered the trade unraveled. It immediately made me think of the aforementioned Midnight Massacre.
I thought about how people felt when they read the newspaper the next morning. We all know everyone hated the trade and vilified the Mets to the point that Shea was once known as Grant's Tomb. The trade worked out as bad as everyone thought it would. I began to wonder if the Carlos Gomez trade would've joined the list of worst Mets' trades ever.
As I noted last night, Carlos Gomez was having a down year. Admittedly, I was unaware there were possible injury concerns. Reportedly, the Mets nixed the deal over Gomez's hip issues. Gomez was reported that have said he's stopped running due to his hip issues.
The arguments started over whether there was a hip issue or not. Many pointed out that he was playing everyday. Despite these opinions, the Mets believed Gomez had a degenerative hip issue. For what it's worth, Gomez had trouble staying healthy this year. Regardless, the Mets seemed disappointed because they really wanted Gomez.
Mets fans wanted him too. Would they have been as enthusiastic if Gomez landed on the DL with a hip issue? Would they have booed him if he was ineffective due to his degenerative hip? Would they be screaming same old Mets? Yes to all the above, and part of the reason is they would've given up Zack Wheeler to get him.
I've detailed before how the Mets could afford to part with Wheeler for a non-rental player. However, it is dumb to trade him for a player that's an injury risk even if he never gets injured and/or he would be a huge upgrade.
As I've noted, Wheeler has been a league average pitcher with the Mets with a lot of potential. However, he seemed to turn a corner in the second half last year. He went 6-3 with a 3.04 ERA. He averaged 9.6 strikeouts per nine innings. He dropped his WHIP from 1.357 to 1.286.
He was making real progress in his first full professional season. He's under team control until 2020. This is a valuable asset and trade chip. You don't give that up for a hope and a prayer especially when the Mets don't have the best history dealing with injuries.
While Sandy Alderson and the Mets may invite criticism from time to time, this should not be one of those instances. Initially, he made a good trade to improve the team. He made a better decision walking away from the deal.