If we're being honest, this isn't the greatest Mets lineup even when the team is healthy. It's full of guys who certainly can all hit the ball out of the ballpark, but it's also full of players with poor on base percentages. When you lose Lucas Duda and Yoenis Cespedes to injury the problems become even more exacerbated.
Now, the Mets have the pitching to win games no matter who is in the lineup. We saw that in 2015 as the pitching and Curtis Granderson kept the team afloat playing near .500 ball until reinforcements arrived.
In those games the Mets did win, they needed their pitcher's to be great. At the state the Mets offense is now, the 2017 Mets are back to that point. Yesterday, Jacob deGrom was good.
He was mowing the Nationals down for the first three innings until his wildness caught up to him in the fourth. A Daniel Murphy single was bracketed by walks to Bryce Harper and Anthony Rendon loading the bases.
The Mets got a bit lucky as the Nationals third base coach sent Murphy on the ensuing RBI single by Matt Wieters.
In the fifth, the Nationals got to deGrom again. Adam Eaton and Trea Turner hit back-to-back one out doubles to make it 2-0. After Harper was just told to go to first base (essentially what the new intentional walk rule is), Ryan Zimmerman hit an RBI single to make it 3-0.
The Nationals wouldn't score again in the sixth thanks in large part to Granderson:
Great grab by @cgrand3. #Mets pic.twitter.com/lwstvIwSKe

— New York Mets (@Mets) April 22, 2017
After getting the first two out, deGrom got in trouble again issuing yet another walk, this time to Eaton, and then allowing a single to Turner. At this point, Terry Collins turned to Josh Edgin to get the Mets out of the jam. Somewhat surprisingly, he did by striking out Harper.
Overall, it was a tough day for deGrom who issued a career high six walks. He was obviously ramped up early getting it up to 98 MPH and recording a lot of strikeouts. The early adrenaline wore off, and deGrom was left throwing 94 MPH and missing his spots. This was an uncharacteristic start for deGrom. His final line was 5.2 innings, eight hits, three runs, three earned, six walks, and 10 strikeouts.
Given the current state of the Mets offense, 3-0 might as well have been 30-0. This game was no different.
For the second time this season, the Mets offense was no-hit through five innings. This time, it was done by Gio Gonzalez. Though the Mets offense looked overmatched and lifeless, they would break through in the sixth.
Jose Reyes pinch hit for Edgin and worked a one out walk. Then, Juan Lagares broke up the no-hitter with a single. More than that, the Mets had a rally going.
Michael Conforto didn't help the narrative he can't hit left-handed pitching by striking out and going hitless on the day. Where Conforto didn't come through, a hobbled Asdrubal Cabrera did hitting an RBI single to make it 3-1. That was as close as the Mets would get.
Jay Bruce and Neil Walker had back-to-back strikeouts ending the Mets only rally of the game. The offense then made a struggling Nationals bullpen look like the 1990 Nasty Boys.
Blake Treinen, Enny Romero, and Koda Glover did their best Norm Charlton–Rob Dibble–Randy Myers impersonation to slam the door shut on the 3-1 victory.
With that, the Mets are 8-10 and are in fourth place 4.5 back. They're having trouble beating the Phillies and can't even hit a poor Nationals bullpen. It's still April, so it's still early, but things do not look good right now.
Game Notes: Cabrera tried to leg out an infield single in the fourth. He was noticeably hobbled, and he came out to take his position right before the first pitch of the fifth inning. For the second day in a row, an injured Yoenis Cespedes informed the team he was too injured to pinch hit. Once again, Travis d'Arnaud was limited to pinch hitting duty. T.J. Rivera got the start at third base over a healthy Reyes. He was 0-3.
Normally, I'm much more in tune with a Mets game than I was last night. Generally speaking, no matter where I am, I'm getting play-by-play someway, somehow. I didn't last night because I was at the Brooklyn Cyclones game with my family, and courtesy of Nicco Blank, we had great seats: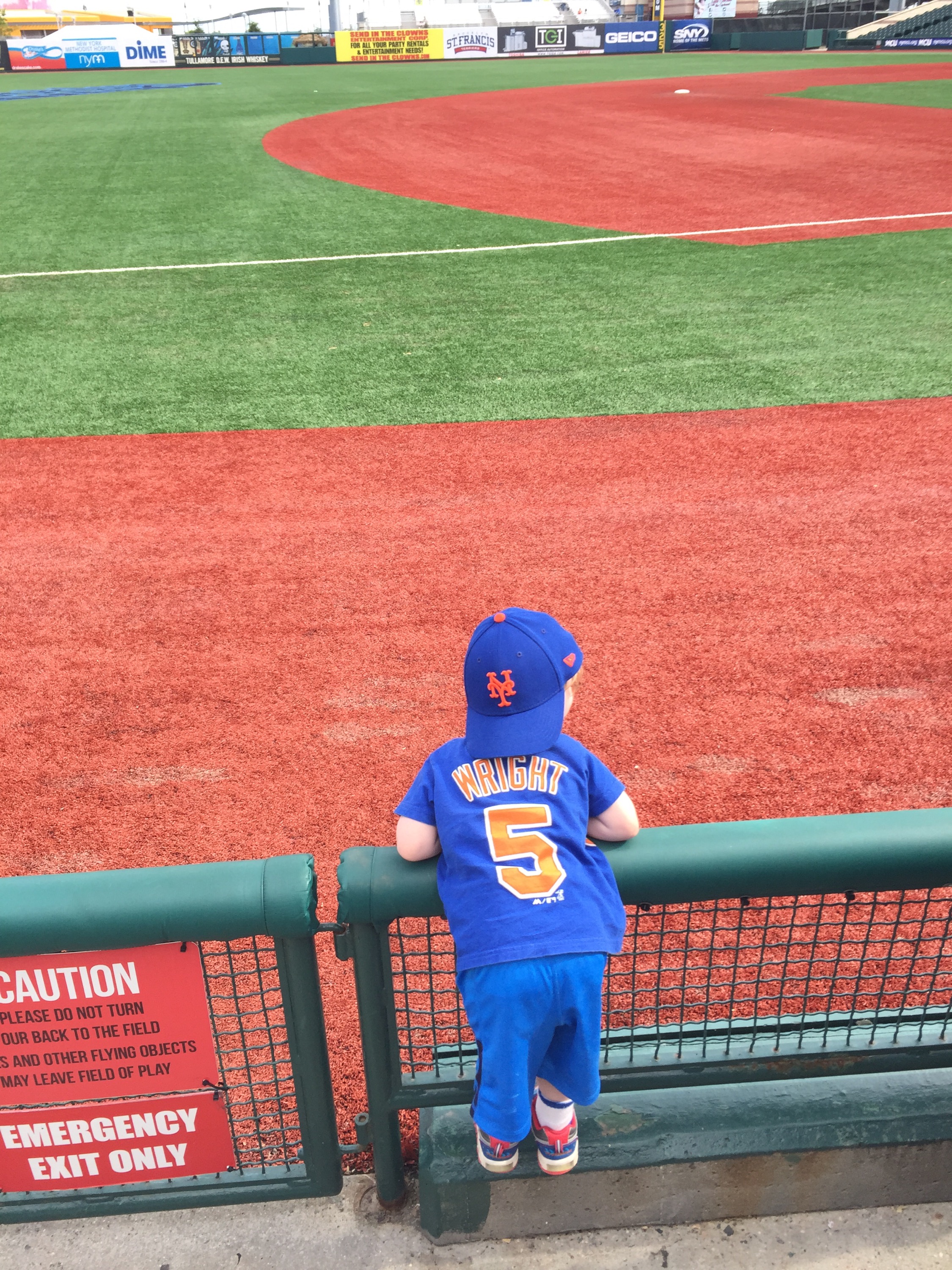 Being that close, especially with an active toddler, we had to be on high alert foul balls in the stands: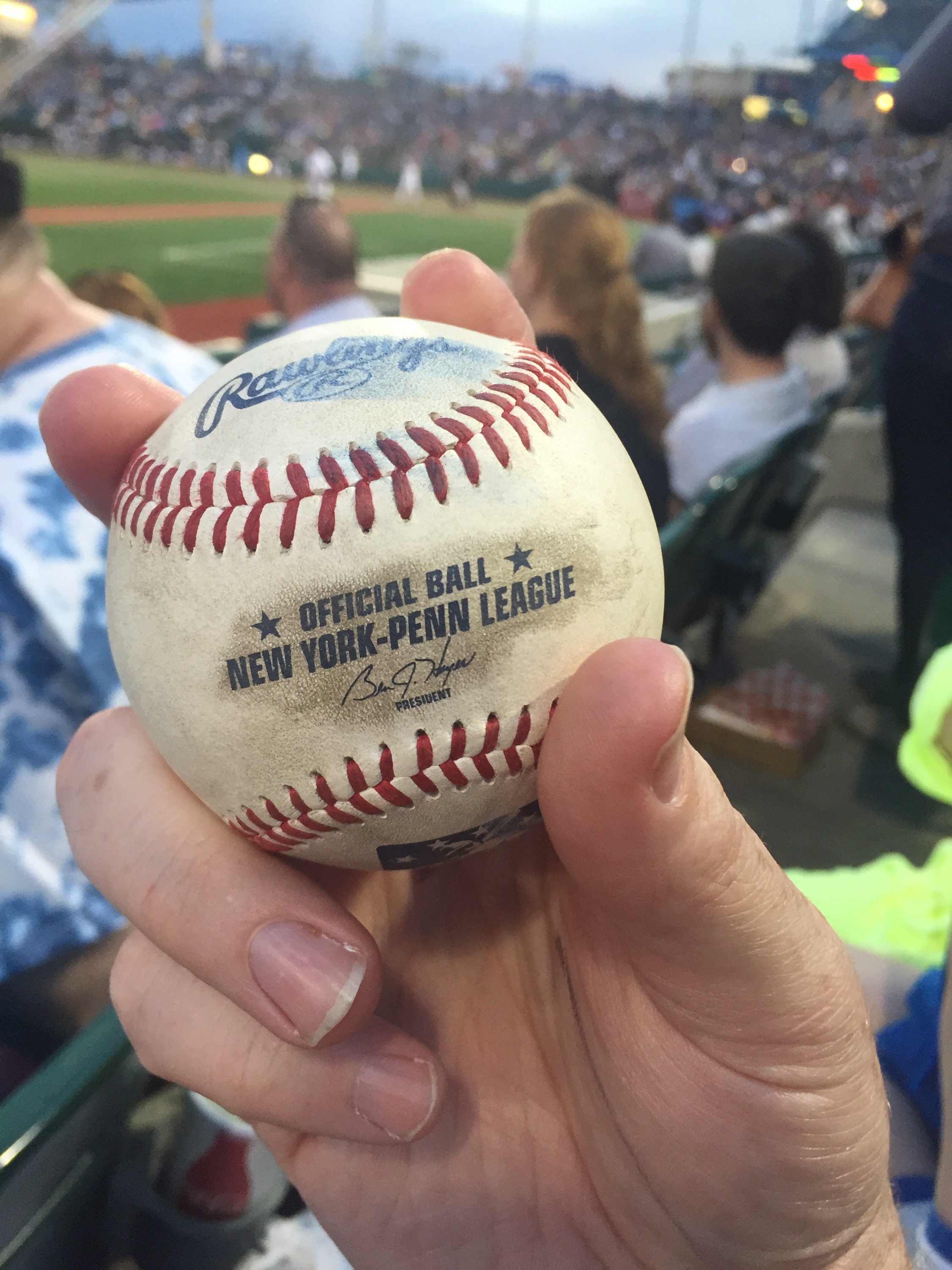 Courtesy of Blake Tiberi.
In any event, by the time we got to the car, I knew little about the game. I knew Bartolo Colon started the game. I knew Neil Walker hit a two run homer. I knew the Mets were up 4-3. I was just fuzzy on the rest of the who, what, where, when, or why about the other five runs that scored.
There was another thing I knew. Jeurys Familia was going to close it out.
So far this year, Familia is a perfect 28 for 28 in save chances. He has a career 2.49 ERA, 1.182 WHIP, and an 8.9 K/9. He has a career 149 ERA+. He's consistent. He's durable. He's the best closer in the National League, and he's amongst the best in baseball. As a fan, he's a closer that gives you confidence. That's a rare feeling for Mets fans.
Sure, John Franco usually got the job done as evidenced by his 424 career saves. That's the most for a lefty closer. That's also 424 times he gave some poor Mets fan a heart attack for his Houdini acts.
He was supplanted by Armando Benitez. Benitez was as dominant as they come unless he was facing Pat Burrell, Paul O'Neill, the Braves, or any team in the Month of September or October.
Billy Wagner was tremendous until he faced the immortal So Taguchi. Jesse Orosco and Roger McDowell were a bit before my time.
About the only closer I can come up with during my time I had any confidence in was Randy Myers. Back in 1988 and 1989, he was great as the Mets closer. You had confidence when he took the mound. It was the opposite feeling when the Mets brought in Franco to start the 1990 season as the closer. It began a 14 year high wire act that was followed with the Benitez's and the Braden Looper's of the world.
It's been 18 years since the Mets had a closer they can trust not to give everyone a minor stroke when they take the mound. Familia is different than his predecessors. When Familia enters the game in a save situation, he's getting the save. He typically does it without giving you a heart attack. When he enters the game, you know he's converting the save.
It's about the one thing I knew for certain about the Mets game yesterday.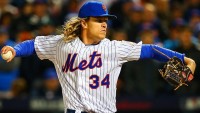 Going into the 2016 season, there is one fear each and every Mets fan has. We dare not speak its name, but that doesn't change the fact that it's still present. That fear is that a pitcher will get seriously injured.
Looking at this year's list of pitchers who could befall the dreaded "Verducci Effect," Noah Syndergaard headlines that list. If Syndergaard was to suffer a season ending injury requiring Tommy John surgery? it would greatly hinder the Mets chances of winning not only the World Series, but also making it to the postseason. It's something that not just Mets fans fear, but as Anthony DiComo of MLB.com reports, Syndergaard fears it also:
I've thought about it quite a bit. But I trust myself to put my body in the right situations to be able to perform at a healthy level.
The fear is justified. Syndergaard threw 65.2 innings more last year. He throws over 95 MPH more than anyone in the game. He's working to add the fabled Warthen Slider to his already dominant repertoire. Name a risk factor for UCL years requiring Tommy John surgery. Syndergaard meets most if not all of them.
One risk factor not readily discussed is the team he plays for. Look at the projected Mets rotation when healthy: Matt Harvey, Jacob deGrom, Noah Syndergaard, Steven Matz, and Zack Wheeler. Put aside Syndergaard for a moment. What do the other four have in common? They are all hard throwing pitchers under the age of 30 who have already had Tommy John surgery.
Go outside this group. Since Warthen took over as the Mets pitching coach, the following homegrown Mets have sustained arm injuries: Jon Niese (shoulder), Dillon Gee (shoulder), Jeremy Hefner (two Tommy John surgeries), Rafael Montero (shoulder), Bobby Parnell (Tommy John), Josh Edgin (Tommy John), Jack Leathersich (Tommy John). There are more, but you get the point.
Now, is this an organizational problem since Warthen took over, or is it just bad luck? Could this all have been avoided? Back in the 60's and 70's the Mets developed pitchers like Tom Seaver, Jerry Koosman, Nolan Ryan, and Jon Matlack. These pitchers threw more innings than the pitchers today, and yet, Matlack was the only one of this group that suffered an arm injury.
In the 80's, the Mets had Dwight Gooden, Ron Darling, Sid Fernandez, Rick Aguilera, Randy Myers and David Cone. Of this group, only Doc and Cone had arm issues. It should be noted that Doc had many other issues as well, and Cone's problem was an aneurysm later in his career.
In the 90's, Generation K was a bust, and the Mets haven't developed the caliber of starting pitchers like they have in the past until now. However, this generation seems to befall injuries far more often than their predecessors. Is it organizational? Is it bad luck? Is it preparation? For his part, Harvey wonders what if:
I think now, there are things I could have done better in high school or in college to maybe prevent it. But I don't know. I'm not saying [Syndergaard] works that much harder than everybody else, because we all work hard. I think as time progresses, guys pay more attention to stretching the shoulder, strengthening the shoulder. If I could go back — I don't know if this would've prevented me from having [surgery], but if I could go back and really do 20 extra minutes of stretching and arm care, you never know what could happen.
That's the thing. We really don't know why one guy suffers elbow and shoulder injuries while others don't. Is it preparation? Is it good genes? Is it just good luck? Much time, energy, and money has been spent on this issue, and yet pitchers still get injured. Pitchers get injured despite teams doing everything in their power to try to prevent it.
It will help Syndergaard being in a clubhouse with players who have had Tommy John surgery. They each will have advice for him on why they suffered the injury and what they could've done differently. More importantly, Syndergaard appears to be a hard worker who takes the health of his arm very seriously. There is no doubt he is doing everything he can do to avoid the dreaded Tommy John surgery.
Based on what we've seen, if anyone can avoid it, it's him.
Editor's Note: this article was first published on metsmerizedonline.com