September 30, 2007 was a devastating day for Mets fans.
Tom Glavine had the worst start of his professional career in a spot where he and the Mets could not afford it.
After seven earned in 0.1 innings and the hopes of a comeback dashed when Ramon Castro's potential grand slam in the bottom of the first turned into an inning ending fly out the Mets chances of winning the World Series were officially dashed.
Glavine may not have been devastated, but Mets fans who thought this was the year were. The Yadier Molina homer was still fresh in our minds, and Mookie Wilson's little roller was become a fleeting memory.
Back in 2007, I was a Mets and Giants season ticket holder. That meant after seeing one of the most devastating Mets loss I've ever seen in my life, I made the trek to Giants Stadium to watch the Giants play the Eagles.
If you think seeing the Mets lose that game was bad enough, imagine hearing the taunts of Phillies/Eagles fans during the tailgates and up until the National Anthem. The Phillies had made a historic comeback, and the Eagles were the defending NFC East champions coming off a 56-21 victory over the Lions.
To say the Eagles/Phillies fans were feeling themselves is quite the understatement.
They'd soon be quiet as the Giants sacked Donovan McNabb an NFL record 12 times. In that game, Eli was pedestrian, but he did what he needed to do to win that game.
For a Mets/Giants fan, it was as cathartic an experience as there was. It was also a prelude to bigger and better things.
Heading into 2007, it was the Mets who were supposed to win a World Series, but it was Eli Manning and the Giants who did it. Whereas the Mets made history by losing, Eli Manning and the Giants stopped history from being made by winning.
From 2007 on, Mets fans mostly knew pain and missed opportunities. Our lone bright spot for many years, David Wright, had his career end early robbing his Hall of Fame chances because of spinal stenosis. And yet, Eli was there. He was always there.
In what was the worst decade in New York sports history, Eli and the Giants were the only ones who could deliver a championship. If not for him, there would be a whole host of New York sports fans whose only experience seeing a team win a title would be the Yankees.
Through it all, Eli led the most improvable of title runs, and it happened at a time when New York Mets fans needed it most. We needed something to ease the pain of 2006 and 2007. For that alone, as a Mets fan I love Eli Manning.
As a Giants fan, Eli Manning means more than any other player in Giants history. In fact, because he's the one who has delivered championships, to me, he's been the most important New York player in my lifetime.
His eventual Hall of Fame induction is going to be as emotional as Mike Piazza's. Until then and well beyond, we have the fondest of memories from Eli Manning's career.
Congratulations to Eli for a great career, and thank you for the ride.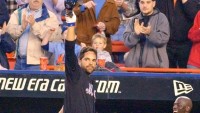 From the moment he arrived in 1998, Mike Piazza brought the Mets to another level. The Mets went from young and improving to a playoff team.
He was joined by some terrific Mets along the way. Edgardo Alfonzo, John Olerud, Robin Ventura, Al Leiter, etc. However, Piazza was the man. He was (and still is) the greatest hitting catcher in the history of the game. With some bad luck and some other factors, the Mets didn't win the World Series when Piazza was with the Mets.
The Mets missed their shot. The Mets were beset with hard times and bad decisions after that. However, Piazza still had his moments:
However, he never got his chance to go back to the playoffs, to win a ring. I thought about that in 2006. I was hoping the Mets would bring him back like they did Lee Mazzilli in 1986. I understood why they didn't.
Paul Lo Duca had a terrific year. Piazza was still a capable starting catcher with pop in his bat. You couldn't ask either to sit on the bench. You also don't want to invite the controversy. It still doesn't mean I didn't miss him, especially with Ramon Castro being the backup catcher.
For the first time since 2006, the Mets were in the playoffs. For the first time since 2000, the Mets are in the World Series. There was a time it was all because of Piazza. He's retired now on the cusp of the Hall of Fame. It's where he belongs.
I just wish he was here.

I so badly wanted to use number 11 to rant about how much I despised Razor Ramon Castro. However, since he was on good Mets teams, he doesn't qualify.
That's fine. I was able to find a truly despicable Met in Vince Coleman: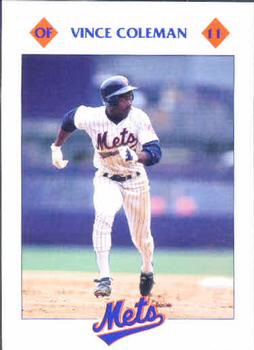 Coleman was a terrible Met, and if his Mets tenure was any indication, he was a terrible human being. It all came to a head in 1993, the only year Coleman wore 11, for a 59-103 Mets team.
That was the year Coleman crossed the line you do not cross. He attacked the fans. After a July game, he threw a M-100, which is used by the military to simulate grenades, towards a group of 200+ fans less than 30 feet away. It was described as nothing more than a prank. I guess it's alright that he threw the firecracker because they were heckled after not stopping for autographs.
Unsurprisingly, there were fans injured. This included a two year old girl who suffered from second degree burns, a lacerated cornea, and an index finger injury. So no, I don't agree with Coleman when he says he's "no monster." Who does this to people? By the way, where was Bud Selig, who was then acting commissioner? The lack of a suspension makes Roger Goodell look like he has a clue. Speaking of punishments, Coleman would serve no jail time, get 200 hours of community serve, and owe a small fine.
This was the lowlight of an otherwise dreadful 1993 season. It was a season that reminded you that sometimes your team is hard to root for when it has terrible people. It's not only the baseball is bad, but the players are terrible as well. They don't respect each other, the fans, or the game. They suck a the fun out of everything.
When I first thought of Coleman and the 1993 Mets, I was irritated. However, I began to think of the 2015 Mets and how they are the polar opposite in every way. This team is enjoyable. They play hard. They respect the fans. In fact, thinking of the 1993 team has made me appreciate this team all the more. Since that was the goal of this series, I guess mission accomplished.
I'm not offering a hat tip here to Coleman. He doesn't deserve it. Let's tip our caps to the 2015 Mets and hope they complete their mission to win the World Series. Lets Go Mets!