At the 2006 trade deadline, many believed the Mets were in need of a big starting pitcher to help the best team in baseball win the World Series.  At that time, the big name was Barry Zito, but the Mets were reportedly balking at the asking price which included their top prospect in addition to their best set-up man in Aaron Heilman.  Certainly, Heilman became untouchable with Duaner Sanchez's injury.  However, there is still some debate whether any of the Mets prospects should have been so untouchable so as to prevent them from being moved in a trade many believed the Mets needed to make to win the World Series.
Keeping in mind the Mets didn't want to move a top prospect, let's take a look at who was considered the Mets Top 10 prospects back in 2006 and see how their respective careers fared:
The Mets 2003 first round draft pick was seen by many as a future star in the major leagues.  He was supposed to be a five tool center fielder.  Unfortunately, it did not pan out that way.
Milledge first got his chance in 2006 at first due to a Xavier Nady injury and then because of Nady being traded to sure up their bullpen due to the Sanchez injury.  Milledge would show he was not quite ready for the limelight.  That shouldn't be surprising considering he had only played 84 games in AAA, and he was 21 years old.  In 56 games, he would only hit .241/.310/.380 with four homers and 22 RBI.  He would be unfairly chastised for high fiving the fans after a game tying home run in extra innings.
Unfortunately for him, the home run that led to much hand wringing might've been the top moment in his career.  Milledge would never figure it out for the Mets, and his star potential would diminish.  In 2007, the Mets would move him for Ryan Church and Brian Schneider.
Overall, Milledge would only play six years in the majors hitting .269/.328/.395 in parts of six major league seasons.  He would play his last game for the Chicago White Sox as a 26 year old in April 2011.  From there, he would play four years in Japan.  In Japan, he wouldn't re-establish himself as a major leaguer like Cecil Fielder did, nor would he become an acclaimed Japanese League player like Tuffy Rhodes.  Rather, he hit a disappointing .272/.348/.447 averaging 10 home runs and 32 RBI.
Milledge suffered injuries limiting him to just 34 games in 2014 and 2015.  No one would sign him to play professional baseball anywhere in 2016.  In the end his professional baseball career is over at the age of 31.
Petit was the one major prospect the Mets would move to help the 2006 team.  The Mets included him in a deal with Grant Psomas and Mike Jacobs for Carlos Delgado.  Delgado would go on to become a slugger at first base the Mets had never truly had in their history.  For his part, Petit has put together a nice major leauge career.
Petit would not figure things out until he became a San Francisco Giant in 2012.  Under the tutledge of Dave Righetti and Bruce Bochy, he would become a very good long man in the bullpen.  In his four years with the Giants, he as 10-7 with one save, a 3.66 ERA, and a 1.128 WHIP.
His best work was in the 2014 postseason.  That year the Giants rotation was Madison Bumgarner and a group of starters the team could not truly trust to go five innings in a game.  Accordingly, Petit was used almost as a piggyback starting pitcher.  In that 2014 postseason, Petit would make four appearances going 3-0 with a 1.42 ERA (no runs allowed in the NLDS or NLCS) and a 0.868 WHIP.
In the past offseason, Petit was a free agent, and he signed a one year $3 million deal with the Washington Nationals with a $3 million team option for 2016.  He struggled this year in his 35 relief appearances and one start going 3-5 with a 4.50 ERA and a 1.323 WHIP.
In his nine year career, Petit is 23-32 with a 4.58 ERA and a 1.276 WHIP.  Whether or not his option is picked up by the Nationals, we should see Petit pitch in his tenth major league season in 2017.
The Mets traded their 2004 third round pick with Dante Brinkley for Paul Lo Duca.  Lo Duca was the emotional leader for the 2006 Mets that almost went to the World Series, and Hernandez never pitched in the major leagues.
Hernandez would bounce around from the Marlins to the Mariners to the Red Sox to the Royals to the White Sox and finally to the Diamondbacks.  While Hernandez had shown some early promise with the Mets, he never realized it.  He topped out at AAA where he would pitch for four seasons going 30-36 with a 5.80 ERA and a 1.562 WHIP.
Hernandez has not given up on his major league dream.  Since 2012, Hernandez has been pitching in the Atlantic Leagues.  Over the past three seasons, he has pitched Winter Ball.  He made 25 starts and two relief appearances for the Southern Maryland Blue Crabs, he was 7-10 with a 4.88 ERA and a 1.216 WHIP.  At the moment, the 30 year old Hernandez has not been signed to play for a Winter Leagues team.
The Mets 1999 38th round draft pick was part of the aforementioned trade that helped the Mets acquire Delgado.  The Mets were largely able to use Jacobs as part of the trade because of the tremendous start to his career.
In 2005, Jacobs hit .310/.375/.710 with 11 homers and 23 RBI in 30 games.  While Jacobs continued to be a power hitter after leaving the Mets, he would never again reach those levels.  Eventually, his impatience at the plate caught up to him, and he would only only last seven years in the major leagues.  His penultimate season was with the Mets in 2010 when he was unseated by Ike Davis as the Mets first baseman.
After being released by the Mets, Jacobs has spent the past six seasons in AAA with a 13 game cup of coffee for the Diamondbacks in 2012.  In Jacob's seven year career, he hit .253/.313/.473 with 100 homers and 312 RBI.  As a Met, he hit .290/.360/.645 with 12 homers and 25 RBI.  If he had enough at-bats to qualify, Jacobs would have the highest slugging percentage in Mets history.
At this point, it is unknown if the 35 year old Jacobs will continue playing professional baseball in 2017.
The one theme that is developing here is that while these players didn't have a big impact in the majors or the Mets, Omar Minaya utilized these players to help the ballclub. Humber is a perfect example of that.
The Mets 2004 first round pick (third overall) had an inauspicious start to his professional career needing Tommy John surgery in 2005.
With that Humber would only make one start in his Mets career, and it wasn't particularly good.  With the Mets collapsing in the 2007, and the team having a rash of starting pitcher injuries, the team turned to the highest drafted player in their system.  Humber kept the woeful Washington Nationals at bay for the first three innings before allowing Church to hit a two run homer in the fourth and then sowing the seeds for a huge rally in the fifth inning that would see the Mets once 6-0 lead completely evaporate in a frustrating 9-6 loss.  This would be the last time Humber took the mound for the Mets.  In his Mets career, he would make one start and four relief appearances with no decisions, a 6.00 ERA, and a 1.333 WHIP.
Still, he showed enough to be a major part in the trade that would bring Johan Santana to the Mets.  Santana and Humber would both enter immortality.  Santana would throw the first no-hitter in Mets history.  Humber would become perhaps the unlikeliest of all pitchers to throw a perfect game.  It was the 21st perfect game in baseball history.  He joined David Cone as the only ex-Mets to throw a perfect game.  He joined a much longer list of seven former Mets, highlighted by Nolan Ryan, who threw a no-hitter AFTER leaving the Mets.  Humber would also become the pitcher with the highest career ERA to throw a perfect game.
In all, Humber played for five major league teams over his eight major league seasons.  In those eight major league seasons, he has gone 16-23 with a 5.31 ERA and a 1.420 WHIP.  He threw his last major league pitch in 2013 in a season he went 0-8 in 13 starts.  In 2014, he pitched for the Oakland Athletics' AAA affiliate.  In 2015, he pitched for the Kia Tigers of the Korean Leagues going 3-3 with a 6.75 ERA and a 1.855 WHIP in 11 starts and one relief appearance.
Humber had signed on with the San Diego Padres and was invited to Spring Training in 2016.  He was released prior to the start of the season, and he did not throw one pitch for any professional team in 2016.  He is currently 33 years old, and at this point, he has not announced his retirement.
Gomez has been far and away the best player on the list of the 2006 Mets top prospects.  He would be moved with Humber as a centerpiece in the Santana trade.
In Gomez's early career, it was clear he was a Gold Glove caliber center fielder.  He made highlight reel play after highlight reel play for the Twins.  However, it was clear from how he was struggling at the plate, the projected five tool player wasn't quite ready to be the hitter everyone anticipated he would be at the major league level.  Eventually, the Twins traded him to the Milwaukee Brewers, and in Milwaukee, Gomez would figure it out.
In Gomez's five plus years with the Brewers, he won a Gold Glove and was a two time All Star.  He was also a coveted player at the 2015 trade deadline, and he almost became a New York Met again in exchange for Zack Wheeler and Wilmer Flores.  As we all remember, Flores cried on the field, and the Mets front office was disappointed in Gomez's medicals causing them to rescind the trade due to a purported hip issue.
Gomez would then be traded to the Astros, and the Mets would appear to be vindicated for their decision.  Gomez played 126 games for the Astros before being released and picked up by the Texas Rangers.  In Texas, Gomez began playing like the player the Mets coveted at the 2015 trade deadline.  The 33 game burst came at the right time as the 30 year old Gomez will be a free agent for the first time in his career this offseason.
Overall, Gomez has played for 10 years, and he is a .257/.312/.415 hitter with 116 home runs, 453 RBI, and 239 stolen bases.  He is still a good center fielder, and he may still have a couple of good seasons in front of him.
From the moment the Mets signed him as a 16 year old amateur free agent out of the Dominican Republic, F-Mart was seen as a top prospect.  Many imagined he would become a five tool player like a Carlos Beltran.  Instead, his career went the way of Alex Ochoa.
F-Mart was the first big prize Minaya brought in when he become the General Manager of the Mets.  Understandably, he was considered untouchable in trade discussions.  As it turns out, the Mets wished they moved him when they had the opportunity.
F-Mart would only play in 47 games over three years with the Mets hitting just .183/.250/.290 with two homers and 12 RBI.  Eventually, with him not progressing as the Mets once hoped he would, and a different regime in place, F-Mart would eventually be put on waivers and claimed by the Houston Astros.  With the Astros, he would only play in 52 games over two years, and he would just hit .225/.285/.424 with seven homers and 17 RBI.
In 2013, the Astros traded him to the Yankees for minor league depth.  After the 2013 season, F-Mart would become a free agent, and he would find no suitors.
In 2014, he only played in the Dominican Winter Leagues, and in 2015, he played in only seven games in the Mexican Leagues.  Given how he has bounced around and seeing how many major league teams have either passed on him or have forgotten his existence, it is hard to believe that he is just 28 years old.
Hernandez is undeterred, and he is still playing baseball.  Right now, he is playing alongside current Mets shortstop prospect Luis Guillorme for Spain in the World Baseball Classic qualifying rounds.  Spain would go 0-2 in the European Qualifier and will not be a finalist for the World Baseball Classic.
The Mets acquired Hernandez from the Detroit Tigers in exchange for backup catcher Vance Wilson in 2005. Hernandez intrigued the Mets because he was an exceptionally skilled defensive shortstop.  The question with him was whether he was ever going to hit.
Despite these questions, and with Kaz Matsui starting the year on the disabled list, Hernandez would actually be the Mets Opening Day second baseman.  On Opening Day, he would show everyone why he was so highly regarded defensively with an impressive over the shoulder catch.  However, Hernandez would also show he would never be able to hit at the big league level.  That fact may have forever changed Mets history.
Despite hitting .152/.164/.242 in 25 games with the Mets, he would make the NLCS roster.  In Game 7 of the NLCS, with the Mets trailing 3-1, Jose Valentin and Endy Chavez led off the inning with back-to-back singles.  Instead of going to Hernandez to pinch-hit for Heilman to get the bunt down, Willie Randolph went to an injured Cliff Floyd to try to win the game.  Floyd would strike out, and Hernandez would enter the game only as a pinch runner for Lo Duca, who had worked out a walk to load the bases.  From first base, Hernandez got a good view of how the series would end.  Had Hernandez been able to hit just a little bit, it is possible he would have been sent up to bunt, and maybe things would have gone differently.
Overall, Hernandez never did show the ability to hit at the major league level.  The Mets gave up waiting.  In 2008, with the Mets desperate for relievers to plug in holes to a decimated bullpen, Hernandez was traded to the Nationals for Luis Ayala.
Hernandez would play for four teams in six seasons hitting .241/.300/.314 with four homers and 60 RBI.  While he did show he was skilled defensively, he could never hit enough to stick in the majors, and as a result, his major league career was over in 2010 when he was 27 years old.
From 2011 – 2013, Hernandez would play in AAA.  For the past three seasons, he has played in the Japanese Leagues.  In every season since 2006, the 33 year old has played in the Dominican Winter Leagues for Tigres del Licey.  It is unknown at this point if he is going to play for the Tigres this year or if he will return to the Japanese Leagues next year.
Bannister was the Mets 2003 seventh round draft pick out of USC.  He would become the first ever Brooklyn Cyclones pitcher to pitch a game for the New York Mets.  Bannister had earned that right by beating out Heilman for the fifth spot in the 2006 Mets Opening Day rotation.  There were a myriad of reasons including but not limited to Heilman's importance in the bullpen.
Bannister's career would get off to quite the start with him going 2-0 with a 2.89 ERA and a 1.393 WHIP.  While he struggled with his command and couldn't go very deep into games as a result, the Mets were willing to stick with him through those five starts.  Unfortunately, Bannister would suffer a hamstring injury at the end of April that would linger for most of the year.  By the time he was healthy, John Maine was already a fixture in the rotation.  With the Mets acquiring Perez at the trade deadline, there was no longer a spot for him on the major league roster.
With there no longer being any room for him, the Mets moved him in the offseason to the Kansas City Royals for Ambiorix Burgos.  It was a trade that was detrimental for both players.  Bannister would pitch four years for the Royals going 35-49 with a 5.13 ERA and a 1.417 WHIP.  Burgos' Mets career was marked by ineffectiveness, injury, and domestic violence.
After going 37-50 with a 5.08 ERA and a 1.421 WHIP in his five year major league career, Bannister had signed a two year deal to pitch for the Yomiuri Giants.  Bannister would never pitch for the Giants.  After an earthquake and tsunami hit Japan, Bannister retired from baseball.  Since the 2015 season, the 35 year old Bannister has been a professional scout for the Boston Red Sox.
In 2003, Soler defected to the Dominican Republic from Cuba.  The following year he would sign a three year $2.8 million contract with the New York Mets.
Soler would only pitch for the major league club in 2006.  He would make eight starts highlighted by a complete game two hit shut out of the Arizona Diamondbacks.  Unfortunately, the rest of his starts weren't as great, and he would finish the year going 2-3 with a 6.00 ERA and a 1.578 WHIP.  His contract would expire at the end of the season, and the Mets would not re-sign him.
Soler would pitch in 14 games, mostly out of the bullpen, for the Pittsburgh Pirates AA affiliate in 2007.  In the following two seasons, Soler would return to the tri-state area pitching for the Long Island Ducks and Newark Bears of the Independent Leagues.  He would not pitch well at either stop, and no one would offer him a contract to play professional baseball in 2010.  In 2011, he pitched in two games in the Puerto Rican Winter Leagues.  Since that time, the 37 year old Soler has not pitched in professional baseball.
At this time, it is unknown as to what Soler has been doing in his post-baseball career.
What is known is that while the top prospects from the 2006 season largely did not pan out, then Mets GM Omar Minaya was able to utilize a number of the players to improve the 2006 and 2007 Mets teams that fell just short.  This has left many fans wondering what would have happened if Milledge was moved at his peak value or what would have happened if Hernandez learned how to hit.  Things may have gone very differently in both of those seasons.
Still, while you could call each of these prospects, save Gomez, a bust.  It is notable that nine of the 10 players played in the major leagues for multiple seasons.  Three of the players played in the postseason, and one won a World Series.  There have been All Star appearances and a perfect game from this group.  While you expected more, each player left their own mark on the Mets and the game of baseball.
Editor's Note: this was first published on Mets Minors.
Back in 2007, the Mets collapsed in part due to a rash of pitcher injuries. Pedro Martinez missed most of the year following offseason surgery to repair a torn labrum. An injured Orlando Hernandez (El Duque) had to be moved out of the rotation and into the bullpen. With they myriad of injuries, Mike Pelfrey was put in the rotation before he was truly ready. Brian Lawrence made a few poor starts. With the walls crashing in on the Mets and the Phillies gaining on them, the Mets had to turn to Philip Humber.
Humber was the third overall pick in the 2004 draft. In his career, he never lived up to that billing. It could have been that he was damaged goods coming from Rice University, who is well known for abusing pitcher arms. He did have ulnar collateral ligament reconstruction surgery before his major league debut. It could be that he was rushed through the system never being given proper time to develop. It could any single factor or any combination thereof. It could just be that he just wasn't good enough to be a top line starting pitcher.
He certainly wasn't on September 27, 2007. His final line was four innings, six hits, five runs, five earned, two walks, no strikeouts, and one home run allowed. Humber did his best to battle that night, but he either wasn't ready or wasn't capable of winning a big game like that. The only reason he didn't take the loss was the Mets staked him to a 4-0 and a 6-2 lead. It would be his last game as a Met as he would be part of the Johan Santana trade. It was also the last day the Mets would have sole possession of first place as the loss would drop them to only one up in the division.
Like in 2007, the starting pitching is dropping like flies. Matt Harvey, Steven Matz, and even Jon Niese have found themselves on the disabled list. Logan Verrett has served as this year's Lawrence. Robert Gsellman serves as this year's Pelfrey. However, Lugo isn't quite this year's Humber. They really have nothing in common.
Whereas Humber was a high draft pick, Lugo was a 34th round draft pick. While Humber was pushed through the minors without mastering a level, Lugo has performed at each and every level having to prove himself over and over again. During his career, Humber had trouble developing a real outpitch. Conversely, Lugo has a terrific curveball that has already fooled Anthony Rizzo, who is a terrific major league hitter. More importantly, the main difference between Humber and Lugo is Lugo has already had success as a pitcher for the Mets.
In nine appearances as a reliever, Lugo pitched 17.0 innings and had a 2.65 ERA. When injuries forced him to make an unexpected start, Lugo was better than anyone could have imagined. He was not only good, but he was efficient. When Lugo walked off the mound, he had pitched 6.2 innings allowing seven hits, one run, one earned, and one walk with three strikeouts. At a minimum, Lugo has shown everyone he has the capability of being a good and reliable major league pitcher.
During this season, this Mets team has been compared to past Mets teams that have failed. Namely, they have been compared to the 1987, 2001, and 2007 teams. You can go up and down the line and compare different aspects of those teams to this current team. However, those comparisons need to stop with Lugo as everyone should have faith when Lugo steps on the mound.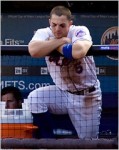 Today, the Mets officially report to Spring Training. With the 2016 season unofficially starting, David Wright begins his most important year as Captain of the New York Mets.
Back in 2007, Wright was a 24 year old superstar. His team was coming off a shocking loss in the NLCS, and yet going into 2007, many believed the Mets were the best team in the National League, if not all of baseball. With Wright and Jose Reyes, the Mets were seen not only as a win-now team, but also as a team that was built for the long haul. It worked out that way for exactly 145 games.
Not that Tom Glavine finds it devastating or anything, but the Mets collapsed over the final 17 games. There are a number of things we can point to as the reason the Mets collapses. Over those final 17 games, Brian Lawrence, a 23 year old Mike Pelfrey, and Philip Humber received starts with the Mets going 1-3 in those games. You can point to players like Reyes not hitting down the stretch. Speaking of Reyes, many point to him dancing in Game 161 as the reason.
After the Mets were swept by the Phillies, they had 14 games remaining against sub .500 teams. These teams had a combined .457 winning percentage. This includes a Cardinals team that had to come to New York to play a make-up game. They shut the Mets out. After the Phillies swept the Mets, there was every reason to believe the Mets would win the division, or at the absolute worst, the Wild Card. They did neither. There really is no excuse for what happened.
We saw it again in 2008. The Mets had a lead in the division up until the 149th game of the season. The Mets then lost the division lead. Again, the Mets season was on the line on the final game of the season. Again, they lost at home to a bad Marlins team.
Sure you can point to a myriad of things in 2008. Billy Wagner was injured leading to a revolving door at closer. Again, it's excuses. The Mets had a different manager and pitching coach at the end of the season. Willie Randolph and Rick Peterson were the fall guys for 2007 in getting fired one game into a West Coast trip.
At the end of the day, it wasn't the manager or the coaches. It was the team. There just was something missing. One player that wasn't a problem? David Wright.
In 2007, Wright hit .352/.432/.602 with six homers and 20 RBI over the final month of the season. In 2008, Wright hit .340/.416/.577 with six homers and 21 RBI in the final month of the season. While Shea was burning, Wright was playing his best baseball. While there was a problem with those 2007-2008 teams, Wright wasn't one of them.
Now, Wright is the only player that remains from those teams.
Wright is now 33 years old. He's a leader on the team. He's the Captain. Once again, he's on a Mets team that has a chance to return to the postseason. He's once again playing for a team that is a legitimate World Series contender.
This may be Wright's most important season as the Captain. He can share with the team all the things that went wrong in 2007 and 2008 to help prevent any of these issues arising with this Mets team. If problems do arise, he can help guide the team. He can share with them whatever it was within him in 2007 and 2008 to play his best when the team seemed to be at their worst.
In 1986, the Mets had a de facto team captain in Keith Hernandez that showed the team how to win. Thirty years later, the Mets have a Captain that can show the team how not to lose.
Hopefully, with another Mets captain leading the way, the Mets will once again win the World Series.