The Mets went to Philadelphia to take on a wounded Phillies team who was aboslutely reeling. You knew after this series one of these two teams would still be standing, and the other will look like their past offseason was all for naught. Well, the Mets bullpen would make sure that would happen:
1. As noted by Michael Mayer, the last time a team blew five games where they led by at least two runs was the 2011 Mets. No, not the last time the Mets did it – the last time anyone did it. The closer that year was Francisco Rodriguez with Pedro Beato, Bobby Parnell, and Jason Isringhausen serving as setup men. Prior to this season, no one was saying "Come get us!"
2. We can talk about different parts of this Mets team getting exposed, but no one was more exposed than Brodie Van Wagenen. He mismanaged the "crisis" with Mickey Callaway and Jason Vargas. The media reported his involvement in game decisions like removing Jacob deGrom from a game. There were reports it was more than that as well.
4. This debacle is reminiscent of the 1993 Mets with Vince Coleman throwing fireworks at fans and Bret Saberhagen dousing reporters in bleach. What's the common denominator between those two Mets teams? The Wilpons.
5. It was good for the Wilpons to take nine years to finally do the right thing by honoring Tom Seaver. Of course, they waited so long Seaver is now suffering from dementia so he cannot travel for these honors, and he may also not have the mental faculties to enjoy the honors being bestowed upon him.
6. The article by Wallace Matthews of Yahoo is completely ridiculous. Not only does he call Vargas the team's most reliable starter, but he gets a chance to speak with Jeff Wilpon. With that access, he talks about the incident with Tim Healey instead of literally anything else. Honestly, if Jeff wants to talk about that, don't bother. It's a waste of time.
7. Jeff Wilpon's silence on the state of this team and the continual inept way it is run from a number of facets should be met by fans with silence. We could call to organize a boycott or something, but in reality, the team being this soul crushingly bad is going to keep the fans away anyway. When that happens, Jeff's silence will be met with silence.
8. Worse than that, Jay Bruce gets a key pinch hit home run and a walk off double, Robinson Cano has multiple 0-for-5's, and Edwin Diaz blows a save. Right there, his biggest move completely busted. Actually, that's not fair, it was a bust long before that.
9. So much for scapegoating Dave Eiland and Chuck Hernandez because the Mets bullpen imploded in the four game set. Worse yet, these were games the Mets absolutely should have won:
The Mets' peak win probabilities for these four games in Philadelphia:

MON: 68.2 percent
TUES: 86.1 percent
WED: 95 percent
THRS: 92.6 percent

They went 0-4.

— Tim Britton (@TimBritton) June 27, 2019
10. What Dominic Smith has done this season has been nothing short of remarkable. This team needs to be smart and really look at him in left field for the rest of the year to determine if he can be a long term solution there. If nothing else, the Mets need as many cheap bats as they can get.
11. Amed Rosario has had a number of peaks and valleys, and recently, this has been a bit of a peak. Over his last 11 games, he is hitting .342/.366/.500 with four stolen bases in as many attempts. Ultimately, there still remains hope for him.
12. The Mets need to figure out what to do with Cano, and they need to figure it out sooner rather than later. Realistically speaking, he needs to be moved to a less demanding position like third base and get some days off. As each day passes, it's clear he can't play second everyday.
13. Moving Cano to third solves the problem there, and it allows the team to move Jeff McNeil back to second base. This should clear that spot for Smith and hopefully Brandon Nimmo if his injury proves to not be career altering.
14. Speaking of Nimmo, only the Mets could take a talented fan favorite player like him, have him get to an All Star level, and then do all they can to completely ruin him. It's a not so fun pattern with this team.
15. Todd Frazier has done a lot to help this team and build his trade value. The problem is he's still a rental who is not really getting you something in return. Really, if you want to make a difference at the deadline, you need to trade major pieces, but with the young talent so close, you can't do that either.
16. Michael Conforto continues to show himself to be both a great and underappreciated player. He should be an All Star this season. If he isn't, it's because this team stinks, and the organization can't be bothered to promote it's most talented and perhaps best position player.
17. Chris Mazza getting called up at 29 years old is a feel good story. It's a feel good story just like Tyler Pill and Drew Gagnon was before him. He should enjoy the moment, but we shouldn't be expecting anything from him.
18. Chris Flexen looks like a real weapon in the bullpen. Brooks Pounders may become that as well. The optimistic Mets fans could look at them joining Seth Lugo and Robert Gsellman in front of Diaz, who really cannot be this bad next year, to become a formidable bullpen. As Mets fans, we should know better than to hope.
19. Callaway does sound ridiculous when he says the Mets are so close, but he's not wrong. This team continues to fight and play hard. If they had even a capable bullpen, they'd be in a much better position. If fact, this is the only team in baseball with more blown saves (20) than saves (18). If you just take back half of those blown saves, the Mets are 47-35, which puts them a game out of first place.
20. Short of honoring the 1969 Mets this weekend, and maybe sometime late in the season to see if Pete Alonso breaks some home run records, there is zero reason to go see the Mets at Citi Field other than your love of the Mets and baseball. The latter is why the Wilpons have us and will never sell the team.
With the sixth pick of the Rule 5 Draft, the Mets were not supposed to be able to select Burch Smith.  However, by some fortune, the player rated by Baseball America as the top prospect in the Rule 5 Draft, fell to the Mets.  Even better, the Mets made the wise decision to pick him.
But they weren't smart enough to keep him.
In what was likely a prearranged deal with the Kansas City Royals, the Mets traded Smith for cash considerations or a player to be named later.
Look, we don't know if Smith can be an effective Major League player.  There is certainly a reason the Tampa Bay Rays left him unprotected.  His joining Zack Wheeler in missing the 2015 and 2016 seasons to Tommy John probably played no small part.  Still, this was a talented player Baseball America projects as Major League ready:
Smith sat 94-96 mph with his fastball, flashed a knee-buckling 74-76 mph curveball and showed a swing-and-miss 79-81 mph changeup. Though he's 27 and has had serious arm health issues, Smith is major league ready and has the stuff to help a team as a back-end starter or move to the bullpen.
Looking at the Mets as constituted now, it is bizarre to think the team could part with Smith without so much as getting real player back or giving him a chance.  With stuff like Smith has, and with the arrival of Mickey Callaway and Dave Eiland, you would anticipate the Mets organization could get the most out of Smith.  Whether that is as a short inning reliever, a long man (like Sean Gilmartin in 2015), or a fifth starter, Smith at least appears to be a MLB pitcher.
Obviously, the Royals believed that to be true with them dangling cash in front of a Mets team that is cutting payroll.
Sarcasm aside, the role Smith would fulfill on this Mets team would be the one given to Robert Gsellman or Rafael Montero.  With Gsellman's not caring what the GM thinks combined with his poor season and with Montero having the career he has had, it begs the question why you would turn your back on a player who could conceivably fulfill the same role and possibly do it better.
Right now, no one is quite sure what Smith is as a Major Leaguer.  The same could be said about Pedro Beato in 2010 or Johan Santana in 1999.  Point is, we don't know what or who Smith will be.  However, we do know what the Mets have, which makes their decision to just give Smith away all the more troubling.

Even though the Mets lost, the Mets Magic Number is now 6 because the Nationals lost to the Orioles. With the Mets having two Rule 5 picks pitching in a game, and both of the Mets young catchers getting into the game, I thought the best choice for magic number 6 would be Kelly Shoppach: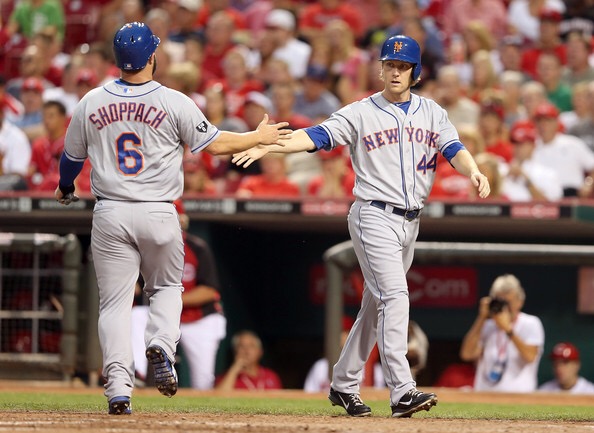 In 2012, the 74-88 Mets traded for the impending free agent Shoppach for a player to be named later. The idea was to get a good look at him to see if the team wanted to re-sign him and/or to get him to work with Josh Thole. Neither one would be back.
Shoppach only hit .203/.276/.342 in 28 games. His play did not inspire the Mets to re-sign him. Thole would be moved in the famed R.A. Dickey trade that netted the Mets 2015 cornerstones, Noah Syndergaard and Travis d'Arnaud.
The player to be named in the Shoppach deal was Pedro Beato, a former Rule 5 draft pick like Sean Gilmartin is this year. We did learn this year the player to be named later was almost Jacob deGrom, which would've been disastrous. Note, Sandy Alderson was reported to be alright with trading deGrom at the time until one of his advisors warned him not to make the deal.
But I digress. The seeds of the 2015 Mets were laid in the 2012 offseason. Much of the way the roster is currently constituted has to do with the Shoppach trade and his faired as a Met. If he succeeded, it's possible he stays, and who knows what happens with d'Arnaud from there? Maybe nothing changes? Maybe Shoppach isn't as effective a mentor as John Buck. My doctor won't let me address the deGrom possibilities.
So as the Shoppach trade arguably set the wheels in motion, let's offer a hat tip to Magic Man Number 6 Kelly Shoppach.