Noah Syndergaard
On April 29, 2022, Tylor Megill, Drew Smith, Joely Rodriguez, Seth Lugo, and Edwin Diaz each took the mound, and none of them allowed a hit. By its very definition this is a no-hitter. In fact, it was one of 17 in Major League history featuring multiple pitchers in a game.
It was an amazing night at Citi Field, and it was a moment New York Mets fans will forever cherish. After all, this was just the second time in team history this pitching fabled franchise had a no-hitter. It was a historic moment in Mets and MLB history.
Really, no one can take that moment away from those five pitchers, this Mets team, the franchise, or the fan base. This will be forever played on SNY, and this is a moment which will be noted somewhere in Citi Field for eternity. It needs to be repeated – nothing can take this away from us.
That includes when Los Angeles Angels pitcher Reid Detmers threw a no-hitter against the Tampa Bay Rays. It was what we have long referred to as a no-hitter, or as Noah Syndergaard put it in his Instagram story, a "real" no-hitter.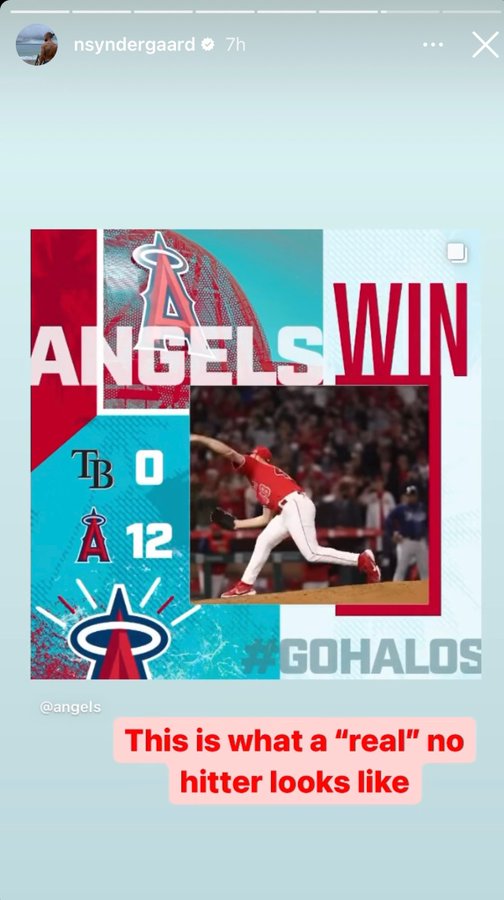 Honestly, this is not something which should have been met with any reaction whatsoever. Syndergaard took to celebrating a moment. Instead of analyzing whether he was chiding the Mets or trying to examine why he put quotes around real, we should move on. When Syndergaard was doing this stuff with the Mets, we all loved it.
It's who he is. He's a quirky personality. In some ways, it's why he's built for the big markets, but more to the point, the second team in the big market. He's built for the Mets, Angels, or Chicago White Sox. He knows how to garner attention and keep his team in front of the local rival. He's really good at this.
Whether or not this was a shot at the Mets really doesn't matter. More to the point, anything anyone says about the co-no, good or bad, really doesn't matter. That goes for players and analysts alike.
And look, I like that the Mets are having a nice time lately as much as the next person, but this was the first no-hitter of the year. Combined no-hitters are like half birthdays (technically true but otherwise insignificant)

— Hannah Keyser (@HannahRKeyser) May 11, 2022
As an aside here, if you are in the Apple+ TV booth, making comments like this is rather humorous. This is the only "network" who has zero exclusivity to their time slot for a "nationally televised game." That is even before you consider how maligned that booth has been this season.
Overall, Syndergaard and Keyser can say what they want. Really, everyone is entitled to their opinion. Guess what? The Mets still threw a no-hitter, and this is a first place team who is built to win a World Series. Mets fans have enjoyed every moment of this season, and there are going to be a lot more special moments in store as this team goes deep into October.
When the Mets make the postseason and win the World Series, let's see what everyone has to say then.