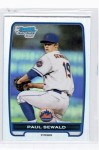 If you've read the book or saw the movie Moneyball, you've heard of Sabermetrics. Note, don't rely on anything in that movie as to what Sabermetrics actually is. In actuality, it's hard to find anyone who hasn't heard of or has an opinion on it.
Part of the fame of this Mets front office is they were there from the beginning. They seemed to not only understand Sabermetrics, but also how to properly utilize it in roster construction. As an organization, they seem to like their decision makers to be adept at understanding and utilizing Sabermetrics. They don't seem to want their prospects to share the same enthusiasm.
The reason I say this is because the Mets did not add Matt Bowman or Paul Sewald to the 40 man roster. Bowman was a starter in AAA. Sewald was a closer in AA. Besides being pitchers left off the 40 man roster, these pitchers have something else in common: they both attempt to use Sabermetrics in their pitching.
Sewald has said how he specifically uses it. He looks at factors that help improve his FIP. That includes pitching to scouting reports, keeping notes on his pitches, and trying to strikeout the batter, especially when there's two strikes. He uses every advantage he's got to get batters out, and he needs to with a 91 MPH fastball.
Bowman is more interested not in FIP per as, but the future of analyzing defense, which he believes could identify undervalued pitchers on the market. It's ironic considering he wasn't added to the 40 man roster. Bowman has such an interest in Sabermetrics that he studied it at Princeton. In addition to defense, he also looks at pitch tracking, the revolutions of his pitches, and how using both can help him keep the ball down.
While it's refreshing to see two young pitchers do everything they can to help their game and get to the majors. Unfortunately, the Mets don't see the progressive thinking is enough. Ultimately, talent is what carries the day. Many will disagree with the choices. The Mets judgment of their own pitching has been very suspect. However, the Mets still need to select the 40 best players to be on the roster, no matter how long they'll be there.
Overall, these pitchers should be credited for helping their careers by using Sabermetrics even if the Mets use of the same has indicated to them that these players weren't worth protecting from the Rule 5 draft. If selected, their new organizations will be better for having quality arms who have used Sabermetrics to learn how to pitch.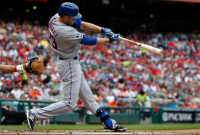 The facts are the facts. Eric Campbell is just not a very good Major League Baseball player. With that said, I'm alright with the Mets keeping him on the 40 man roster.
Over the past two seasons, the 28 year old Campbell has played 156 games. In those games, he has played every defensive position except centerfield and catcher, and he's trying to become an emergency catcher. For a part time basis, he's passable to barely passable at each of these positions. While he's not great at any position, you can put him in for one game and feel like he's not going to cost you a game.
Offensively, he's hit .231/.317/.328. Not that good. His OPS+ is 84, which means he's not a league average hitter. Looking at his wRC+, he's at 88, which again means he's below average. Add all this up, and he's got a -0.1 career WAR again meaning he's a below average player. Now that I'm done confirming everything you know about him to be true, here's some additional information you may not have considered.
Campbell is actually a good pinch hitter. For his career, Campbell has had 54 plate appearances hitting .293/.426/.390. Remember that earlier this year, he had a key go-ahead pinch hit that helped the Mets win a game. He hits the ball hard (statistically speaking). He ran into some bad luck last year with a BABIP of .230, which suggests he hit into a lot of hard luck last year. If those base hits start falling in, his 2015 season looks much better. With BABIP typical being .300, you can expect that better outcome next year.
With all that said, Campbell was left off the roster for both Kelly Johnson and Juan Uribe. With the Mets, Johnson hit .250/.304/.414. His OPS+ was 99. His WAR was 0.3. His wRC+ was an 87. As a pinch hitter, he's hit .209/.341/.309. This makes him a very average baseball player.
On the other hand, Juan Uribe hit .219/.301/.430 for the Mets. His OPS+ was 102. His wRC+ was a mere 104. His WAR was 108. However, unlike Johnson and Campbell, he really only plays third now. He did begrudgingly play some second, and he was uncomfortable playing first.
Campbell will most likely be paid something in the vicinity of $500,000 to $600,000. Johnson was just paid $1.5 million next year. I'm presuming Uribevwould fetch around the same amount now. For a bench player who is expected to pinch hit and be versatile, is Johnson really that much better than Campbell? Would you want a bench player who has little to no versatility like Uribe? Are Johnson and Uribe a million dollars or more better than Campbell? I'd argue no.
Even if you believe they are, that's a reason you sign them to be a utility players on the major league 25 man roster. Campbell is going to be on the 40 man roster being stashed away in the minors in case of an injury. Overall, despite fans ire, Campbell has real value to this Mets team, and he has earned his spot on the 40 man roster.
Does that mean you put yourselves in a position to lose a potential star in the Rule 5 draft to keep Campbell? Of course not. A million times no. However, before getting upset about Campbell consider the following:
The Mets still have one extra spot on the 40 man roster;
Ruben Tejada is rumored to be a non-tendered candidate, but the Mets will keep him waste a spot on the 40 man roster; and
There are other players like Darrell Ceciliani who are much worse than Campbell taking up roster spots.
So, yes, Campbell is a flawed player. That's why he's a minor league depth player. It's why he's a bench player at best. However, he's not the worst player on the 40 man roster, and he's not the reason that the Mets may lose Wuilmer Becerra and Matt Bowman in the Rule 5 draft.
The reason is because the Mets chose to gamble by exposing them or by keeping worse players like Ceciliani on the roster. Campbell has earned his spot on this roster and may yet help the Mets in 2016.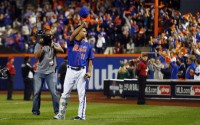 Yesterday, the Mets made their additions to the 40 man roster to protect their prospects from the Rule 5 draft. I can understand only having 39 players on the roster because if there's a player available, you want the roster space to select that player. If you're roster is at 40, you're not permitted to make a Rule 5 draft selection.
What I can't understand is if the Mets lose a prospect and non-tender Ruben Tejada later. The rumors have been circling the Mets want to non-tender Tejada because he's too expensive. That merits its own separate argument (it's a dumb move). I only bring it up here because if you know you're not keeping him, why let him stand in the way of keeping a prospect?
For me personally, there were two players who were non-tendered that jumped right out: Wuilmer Becerra and Matt Bowman. Now, there are legitimate reasons to expose these players to the Rule 5 draft. Becerra has never played above A ball and is really two plus years away from being able to play in the majors. Bowman had a horrific year last year.
I also suspect both will be taken in the Rule 5 draft. They both could return to the Mets. However, if a team like the Braves picks them up, they'll probably stay there all year as the Braves seem to be renting the 2015 Mets June offense. If either of these players are taken the Mets made a critical and unacceptable mistake.
Essentially, they're sacrificing players for no good reason. If you're non-tendering Tejada, do it now. Protect another player from the Rule 5 draft. Why let Tejada stand in the way of the Mets keeping Becerra who could be a fixture in the Mets outfield for years to come? Why let Tejada stand in the way of Bowman rebounding and becoming a big trade chip and/or a contributed in 2016? If the reports are true about Tejada, the handling of the 40 man roster is just negligent.
The Mets have created a situation where they need to keep Tejada, not just for an option at shortstop, but also as justification for losing two prospects for nothing. If they let Tejada walk, they may lose three players over $3 million. Absurd.