Back in 2011, Jose Reyes would lay down a bunt single to preserve his batting title.  The first in Mets history.  After reaching safely, Reyes would be lifted from the game much to the consternation of Mets fans.  Much of the consternation eminated from the fact it looked like this was going to be the last time fans were going to get to see Reyes in a Mets jersey, and those fans wanted to see Reyes play just one last time and say good-bye.
Sunday, Reyes was in the lineup once again leadoff in what many believed to be his final game as a Met.  Reyes would take one at-bat, ground out, and he would walk off the field for a final time.  While the circumstances may seem to mirror what transpired seven years prior, the two situations could not have been more different.
During Reyes' first stint with the Mets, he was the most electrifying player in the Majors.  He could turn anything into extra bases, and extra base hits were nanoseconds away from becoming triples.  When he was on the basepaths, he was a constant stolen base threat, and his dancing at third base helped entice a few balks leading to a run.  Reyes was so dynamic we came up with the term "Reyes Run" for him getting on, getting over, and getting in.
Reyes was more than a dynamic offensive force.  He was a shortstop with a bullet arm and a fan favorite.  His apparent joy on the field was infectious to the fan base, and it did seem to get the team going.  (Sometimes, like 2007, it would also motivate the opponents).  Mets fans would shower him with the "Jose!" chant (a chant which began Saturday, March 29, 2003).  We loved him, and he seemingly loved us too.
In 2011, you could argue it was he and not David Wright whom the Mets should keep.  After all, Reyes was the younger player, and Citi Field was built more to Reyes' than Wright's strengths.  Whatever the case, the Mets opted not to re-sign him, devastating a fan base, and having the organization a nd fans  looking for a new fan favorite.  Arguably, no one could fill that void like the way Reyes once did.
That was the Reyes who left New York after the 2011 season.  That Reyes was barely recognizable after leaving.
After one year in Miami, he was traded to the Blue Jays as part of that organization's efforts to return to the postseason.  In 2015, in Reyes' third year as a Blue Jay, it seemed the organization's plans were coming to fruition.  They were competing for a postseason spot with hopes for the division.  It was time for a bold move, their GM Alex Anthopoulos made that bold move.  In a six player trade, Reyes was traded to the Blue Jays for LaTroy Hawkins and Troy Tulowitzki.
In a year, Reyes and the Mets were supposed to return to the postseason, Reyes instead found himself playing for the Colorado Rockies.  He didn't want to be there, and the team didn't want him.  This also meant instead of playing in the postseason, Reyes would be making vacation plans to go to Hawaii.
On October 31, 2015, Michael Conforto hit two homers.  Instead of going to Jeurys Familia for the six out save, Terry Collins brought in Tyler Clippard, who walked two of the three batters he faced.  When Familia finally did come in, Daniel Murphy booted a grounder.  The Mets 3-2 lead would quickly become a 5-3 deficit.
While this was happening, Jose Reyes would throw his wife into a glass door in Hawaii.  His wife would need to be taken to a nearby hospital to treat her injuries, and Reyes would be arrested. Reyes faced not just prison time but also deportation.  Instead, because his wife did not cooperate with prosecutors, the changes would be dropped.
While Reyes was able to avoid legal troubles, he could not escape MLB punishment.  With a new Domestic Violence policy, Reyes would be suspended 51 games, which stands as the longest Domestic Violence suspension to date.  With the Rockies already wanting to transition to Trevor Story, they were more than happy to release Reyes.
Fortunately for Reyes, the Mets needed a third baseman.  Wright was injured again, and he was going to miss the rest of the season.  Eric Campbell, Matt Reynolds, Wilmer Flores, and Kelly Johnson just weren't to cut it.  Partially due to desperation and partially due to nostalgia, the Mets threw Reyes the rope none of the other 28 teams were likely willing to give him.
A fan base was divided.  While the "Jose!" chants returned, they did not have the same enthusiasm.  Some of the people most willing to lead the cheer would sit on their hands or boo.  Reyes beat his wife, and the Mets signing him was sending the wrong message.
Still, Reyes stayed, and he played reasonably well.  He would have some highlights including the September 22nd game where both he and Asdrubal Cabrera homered which helped turn a 6-4 loss into a dramatic 9-8 11 inning victory which helped propel the Mets into the top Wild Card.  Much like in his last postseason game with the Mets, Reyes went hitless as his team was eliminated at home.
In the subsequent two years, he was about the worst players in baseball.  Despite all of Collins' efforts to get him going, Reyes floundered, and there would be reports he was not happy playing third base.  At the end of the 2017 season, he helped reinvent himself as a mentor to Amed Rosario.  Between that and his hitting in September, the Mets brought him back.
He was dreadful this year hitting .189/.260/.320.  He'd post a -0.8 WAR.  Worse yet, he would complain about his playing time.  He believed as a utility player he should have received more playing time, and really, without that playing time, the Mets were not giving him a chance to succeed.  While there were some who were able to compartmentalize the off the field issues, when he was bad on the field, more and more Mets fans were disenchanted with him.
However, despite the ever growing calls to release him and make way for more talented prospects like Jeff McNeil, the Mets stubbornly held onto him.  They treated him like one of the Mets greats, which he was in the first part of his career.  Against all odds, Reyes would last the full season with the Mets.  It allowed him to play alongside Wright in the Captain's final game.
It also meant Reyes would get to leadoff in what is likely his final career game.  Between innings, the Mets showed a video tribute.  Reyes would emerge from the dugout to tip his cap to a standing ovation.
The crowd was much smaller than the sold out crowd who was there to see Wright's final game.  The standing ovation Reyes received did not remotely compare to the one Wright received.  If you went back a decade, that would seem implausible as both were beloved players with Reyes being the one who probably generated more enthusiasm from the fans.
Personally, I loved Reyes.  The first player jersey I ever purchased was Mike Piazza, the second Wright, and the third Reyes.  Overall, I had more Reyes shirseys than any other player including a last season at Shea and first season at Citi one.  That Reyes was the most exciting player who ever played for the Mets.  When he went to Colorado, I still believed he had an outside shot at the Hall of Fame.
After he left, I was left livid with the organization.  In no way should Wright and Reyes have ever been split up.  Like great Mets duos of the past, Tom Seaver and Jerry Koosman and Dwight Gooden and Darryl Strawberry, it seemed like their destiny was to win a World Series together.  Between that, Flores' struggles at short and Ruben Tejada not being a particularly good baseball player, I desperately wanted the Mets to make a trade with the Rockies to bring back Reyes for that 2015 run.
To this day, part of me wonders what would have happened if Reyes did return to the Mets in 2015.  Do they win that World Series, or do they still fall short?  Would Reyes and his contract stood in the way of Yoenis Cespedes returning?  Mostly, I wonder about that night.
While statistics prove differently, to this day, I hope it was an isolated incident, which could have been avoided by Reyes being in New York instead of Hawaii.  In the converse, maybe this was a pattern of behavior which grew increasingly violent, and perhaps, things could have been hidden for longer if he was never in Hawaii.  There is no way of knowing anything.  What we do know is that instead of being in New York, Reyes was in Hawaii where he forever changed his legacy by committing a vile act.
Because of all of this, I was initially irritated Reyes was sharing Wright's spotlight, but I made peace with it because it was what Wright wanted.
At the sake of sounding hypocritical, I must admit seeing Reyes doubling and moving to third on a sacrifice bunt was exciting. Wright coming up to the plate in an RBI situation was exciting. Wright being able to drive Reyes home just one last time made the moment all the more special.
In all honesty, I was surprised nostalgia got the better of me in the moment.
Perhaps it is because I truly miss the Reyes of 2003 – 2011.  I just miss how fun it was to watch him play.
That fun completely disappeared when he returned.  He was no longer a young up and coming superstar.  He was a violent wife beater.  Some people may be able to compartmentalize it, but I wasn't.  Certainly not for a player I once held in the highest of regards.
Now that is career is over, I honestly do wish Reyes well.  I want him and his family to be able to move on from the domestic violence to have a happy and safe home life.  If that happens, then no matter how much I was against it, Reyes returning to the Mets was worth it.  I will be happy if Reyes returning to a place he was loved and cared for led him to not only seek help but to end what might have been a pattern of abuse.  Hopefully, he is a better husband and father for the experience.
In the end, congratulations to Reyes on a great career.  You are the greatest shortstop in Mets history.  The memories of you and Wright playing together were some of the best I've had as a fan.  Rooting for you was never the same, and it will never be the same again.  Still, each and every Mets fan, including myself, wish you and your family well.
God bless the Reyes family.
Tonight is a jam packed sports night. For Mets fans, no matter how bad things are, you are turning into the game against the Braves if for no other reason than to see Noah Syndergaard pitch. For Rangers fans, it is the first game of the Eastern Conference semi-finals against the Ottawa Senators and their old friend Derick Brassard. However, as we all know the first round of the NFL Draft will get the largest share of publicity. The NFL gets the lion share no matter what it is doing.
The NFL Draft does present someone of an intriguing possibility for Mets fans. One of the top QB prospects in this draft is Texas Tech Patrick Mahomes. He has quite the pedigree with him being the godson of former Mets reliever LaTroy Hawkins. Oh, and Patrick Mahomes is the son of former Mets reliever Pat Mahomes.

Unlike his son, Mahomes wasn't really on anyone's radar heading into the 1999 season. Through six major league seasons, he was 21-28 with a 5.88 ERA and a 1.627 WHIP. After a poor 1997 season, where he was only able to pitch in 10 games for the Boston Red Sox, Mahomes found himself pitching for the Yokohama Bay Stars of the Japanese Leagues. In his eight starts and two relief appearances, he was far from impressive going 0-4 with a 5.98 ERA and a 1.510 WHIP. Still, Mahomes must have done something right in that stint as the Mets signed him to a minor league deal in the offseason.
With Josias Manzanillo struggling to start the year, there was an opening in the Mets bullpen in 1999. Mahomes was called up, and he took complete advantage of his opportunity. Mahomes became the long man in the Mets bullpen, and he thrived in that role. While the long man in the bullpen is an overlooked role on most teams, it was vitally important to that 1999 team.
Al Leiter and Kenny Rogers were the only pitchers who averaged more than six innings pitched, and Rogers didn't come to the Mets until July. One of the team's better starters, Bobby Jones, was injured leading to a revolving door of fifth starters. Top options in Jason Isringhausen and Octavio Dotel had the talent, but they couldn't go deep into games. Overall, the team needed a good long man. Mahomes was that and more.
During the season, Mahomes would make just 39 appearances, but he would pitch 63.2 innings. It should be noted Mahomes was partially able to pitch those innings because unlike most relievers Bobby Valentine could trust him at the plate. During the 1999 season, Mahomes was 5-16 with three doubles and three RBI. However, we all know Valetine kept going to him because of the results Mahomes got on the mound.
In Mahomes' 39 appearances, he had a 3.68 ERA and a 1.272 WHIP. As a result of his terrific pitching, he finished the season with a perfect 8-0 record. Considering it was the steroids era, those are truly impressive numbers. Considering where he was just a season ago, they are inspiring.
Mahomes would continue pitching well into the postseason where he had a 2.25 ERA and a 1.250 WHIP in eight innings over four appearances. Notably, Mahomes pitched four shutout innings in at epic Game 6 of the NLCS which permitted the Mets to get back into the game. What was once unfathomable when Leiter gave up five innings in the first inning, the Mets took the lead in the seventh inning. While the Mets did not win that game, they were in that position because Mahomes stepped up big in that spot. That was a theme for him during the 1999 season.
So to that extent, we know that big game ability is in the Mahomes gene pool. We also know the ability to play in New York in high pressure situations is as well. To that end, maybe, just maybe, Patrick Mahomes would be a fine fit with either the New York Giants, as Eli Manning's successor in waiting, or the New York Jets as the latest franchise quarterback.
The talent is there. In a recent Peter King MMQB column, Mahomes was compared favorably to Brett Favre. With talent like that and his background, there should be no doubt Mahomes can thrive in not just the NFL, but also in New York. His name may not get called tonight, but it will likely get called on Friday.
Whatever the future holds for him, the best of luck to Mahomes. His father was one of the players that made one of the most enjoyable seasons in Mets history happen. Hopefully, wherever Mahomes lands, he can provide those fans the same joy his father provided Mets fans. With any luck, that will be with the Giants.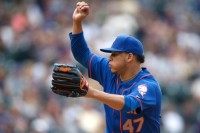 Initially, Hansel Robles was supposed to be a stop gap when Jerry Blevins was injured. He was only supposed to be up until the Mets could find a left-handed replacement. He was only supposed to be up until Vic Black and Bobby Parnell was ready.
He was recommended by Wally Backman because he was "really throwing the ball good." Terry Collins liked him from Spring Training because he had a good arm, and how he responded to his demotion. It's probably why he was promoted over seemingly more logical options like Jack Leathersich and Zack Thornton.
Well, Robles has stuck. He's shown a 94+ MPH fastball. He's striking out a little more than one batter per inning. He's 1.014 WHIP is pretty good. However, none of that is his trademark. His trademark is his quick pitch. A page right out of the LaTroy Hawkins handbook. There's no stopping him, not even his catcher, Travis d'Arnaud.
Once the batter is in the box, he's pitching. There's nothing illegal about it, but boy dies it get the opposition hopping mad. He's psyching out the opponents. He's getting better.
Robles was good in the first half limiting batters to a triple slash line of .214/.287/.321. In the second half, he's only allowed a triple slash line of .171/.236/.427. His WHIP dropped from 1.191 to 0.845. He's gone from 7.5 K/9 to 11.8. What's even better is he has no platoon splits. That's not true. He had a bit of a reverse platoon split. Righties are hitting .215/.300/.430, and lefties are hitting .153/.190/.271.
If not for the Addison Reed addition, Robles would be the leading candidate for the seventh inning. Now? He's the top guy in the pen in the sixth inning and pressure situations. He's pretty much a lock for the postseason roster. Not too bad for a guy who was never supposed to be here and never was supposed to stick.
I'm looking forward to him quick pitching the Mets to a World Series title.