It doesn't matter who is the General Manager or the manager. The Mets always want to tell everyone else they are wrong, and they are smarter than you. There is plenty of history on this front during the Wilpon Era.
Steve Phillips told us Alex Rodriguez was a 24 and 1 player. So, instead of pursuing A-Rod, he signed Tsuyoshi Shinjo, Kevin Appier, and Steve Trachsel to try to improve the team. When that didn't work, he made a series of questionable moves over the ensuing two years which somehow led to Roger Cedeno being a center fielder. Ultimately, Bobby Valentine was fired, and he was not too far behind.
There were plenty of decisions past that point. The most recent example was Terry Collins' insistence that Michael Conforto was a platoon bat because he was a young left-handed hitter the team had no time to develop because they were trying to win. Somehow this led to Matt Reynolds making a start in left field despite never having played the position in his life.
Now, we are in the era of Brodie Van Wagenen and Mickey Callaway, and things remain the same way.
With Dominic Smith jumping out of the gate hitting well, Pete Alonso showing no signs of being overwhelmed as a rookie, and the team's questionable outfield depth, everyone said it was time for Smith to get reps in the outfield again. Everyone included Mets hitting coach Chili Davis. The Mets scoffed at the idea and instead insisted it was better for Smith to be a younger version of Julio Franco or Lenny Harris.
The Mets gave up Jarred Kelenic and Justin Dunn in a deal which helped bring them Edwin Diaz. There were big games early in the season where the team needed their closer to go more than four outs. That was all the more the case with Jeurys Familia's struggles. But no, we were told Diaz is just a three out pitcher who was to be saved for save chances only.
To begin the season, Jacob deGrom had no consistency with the catchers behind the plate. That became more of an issue with Wilson Ramos not hitting or framing. Given how deGrom has reached Greg Maddux like status with this team, the strong suggestion was to make Tomas Nido his personal catcher as deGrom was the one pitcher who could easily overcome his lack of offense, especially with Nido's pitch framing. Instead, the Mets said deGrom was not pitching well enough to warrant a personal catcher.
J.D. Davis was atrocious at third base. In fact, by DRS, he was the worst third baseman in the Majors. With him clearly not suited to the position, everyone said to the Mets they should at least try Davis in left field. It wasn't until the Mets literally had no other choice that it would happen.
And that's where we are now. The Mets are under .500 and in third place. Callaway's job has seemingly become tenuous. Conforto and Brandon Nimmo are on the IL while Jeff McNeil is dealing with an abdominal issue. Justin Wilson is on the IL, and Familia just had another poor performance. Suddenly, the Mets, who knew better than everyone, suddenly don't anymore.
Now, Smith will get reps in left field, and Davis can start playing out there more. Diaz can pitch more than three outs when the situation merits. Nido will now be deGrom's personal catcher. Of course, the Mets waited a long time to finally admit they actually don't know better than everyone. The question now is whether they waited too long.
Fortuantely, the Mets finally listened to everyone. Now, the goal is to finally get through to them that everyone else is indeed smarter than they are and that the Yankees financial model is sustainable. In fact, it could be sustainable for the Mets as well if they were willing to try.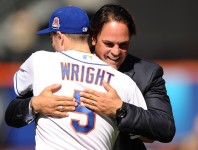 With Mike Piazza finally getting elected to the Hall of Fame and this current Mets offseason, I've been thinking a lot about missed opportunities in Mets history. For me, the 2000 offseason and 2001 season might've been the biggest missed opportunity in Mets history (or at least my lifetime).
Coming off a disappointing loss in the World Series, the Mets had a ton of important decisions to make. The most intriguing one was Alex Rodriguez. The Mets passed calling him a 24 and 1 type of player. The biggest free agent in baseball history, a 25 year old shortstop with 40/40 capability, and the Mets weren't interested. They weren't interested despite A-Rod wanting to be a Met. The Mets wouldn't sign a big bat in lieu of him.
The next big decision was NLCS MVP Mike Hampton. The Mets have up a lot to get him, namely Roger Cedeno and Octavio Dotel. However, Hampton delivered. He was 15-10 with a 3.14 ERA. He won a Silver Slugger. He was an ace. He and Al Leiter were terrific that year during the regular season, and they helped pitch the Mets to the World Series. The Mets wouldn't outbid the Rockies, who offered him the biggest contract in baseball history (until A-Rod signed with the Rangers) and the benefits of the Denver school system.
With the Mets missing out with these two players (and Mike Mussina), the Mets decided to build a deep, cost effective starting rotation. By the way, where have we heard of a World Series losing team choosing depth over high-end expensive players? In any event, the Mets re-signed Rick Reed and added Kevin Appier and Steve Trachsel. The last two moves were about as popular now as they were then.
The end result? The Mets got a compensatory pick for Mike Hampton (more on that in a minute) and an 82-80 record. It would be the last year the Mrts finished above .500 until 2005, which was Piazza's last year with the Mets. The end of Piazza's prime was wasted by the Mets. He would never return to the postseason with them. He would never play in another World Series. Was it worth it? Well, it depends on your point-of-view.
For me, the pivotal figure in this inquiry is Hampton. For startees, I say Hampton because I believe the Mets were never truly enamored with A-Rod. The Wilpons and Nelson Doubleday were fighting over the valuation of the Mets. The Wilpons were buying out Doubleday, and they didn't want the value of the franchise to increase any further. A-Rod would've done that. Furthermore, it's likely they would've had a hard time signing A-Rod, building a pitching staff, and buying out Mr. Doubleday. Hence, it was Hampton and not A-Rod as the pivotal figure.
We know Hampton was terrible in Colorado, but then again most pitchers are. It's fair to assume, he would've continued pitching as well as he did in 2000 for the next year or two with the Mets. That's about a pitcher with a 4.7 – 6.6 WAR. Would that have been sufficient to keep the Mets afloat in 2001? Would he have been enough to rescue an offense with the least runs scored in all of baseball that year?
We don't the the corresponding moves. We also don't know if the lack of moves created a negative vibe over a Mets team that sputtered out of the gate in 2001. This was a team that was Jekyll and Hyde. It was 38-51 in the first half and 44-29 in the second half. In reality, their second half push came too late leaving them no margin of error, as we know all too well with yet another huge Armando Benitez blown save.
Maybe with Hampton the season starts off different. It's possible the Mets don't make the flurry of moves they did in 2002 that proved disasterous. Maybe with Hampton the Mets make the postseason in 2001 and/or 2002. Maybe Piazza gets his ring. Maybe Mets fans are not waiting 30 years for a World Series. We don't know. All we know is two things: (1) the Mets missed Hampton; and (2) Hampton leaving might've been the best case scenario.
The second reason Hampton is the pivotal figure is the player the Mets got in his stead. When Hampton left, the Mets received a compensatory pick. With that pick the Mets selected one of the best high school bats. The Mets got a third base prospect by the name of David Wright. Wright has been a big part of Mets history. He's the Mets All-Time leader in games played, runs, hits, doubles, RBI, and walks. He's second in homers. He's hit the first a Mets homerun at Citi Field and the first World Series homerun at Citi Field. He was a big part of two postseason teams, which is no small feat in Mets history.
Essentially, you cannot tell the story of the Mets without David Wright. It's unfathomable to imagine Wright in another uniform. However, I ask you has he been worth it? Was he worth wasting away the last years of Piazza's prime? Was he worth losing all momentum from the 1999 and 2000 seasons? Would you rather have had a shot for another World Series run back then in exchange for Wright's entire career?
Before answering, I ask that you keep some thoughts in mind. The first is if Hampton returns, you don't hate him the way you do now. In fact, you may not hate him at all. Next, I'm not asking you to assume the Mets win the World Series Hampton re-signs. I'm only requesting you think about how he would've impacted the 2001 Mets and/or his impact in subsequent years. With that in mind, what do you do?
Now, if you asked me this question in 2000, I'm taking Hampton. No doubt about it. Hampton was a much better option than Appier. If the Mets got Hampton and Appier without signing Trachsel, even better. However, I'll be honest, while I can separate myself from my hatred of Hampton, I can't separate myself from my love of David Wright.
Sure, Piazza is my favorite player, but Wright has also been a terrific Met. He's a homegrown Met. He has a contract that may make him a lifetime Met. Generally speaking, Wright has been everything good about the sport of baseball since he was called up. He's created some great memories for Mets fans. His name is all over the record books. I'm not sure I could part with that, perhaps not even at a chance at a World Series.
So begrudgingly, I believe I'd pick the entire career of David Wright over the possibility of another World Series title. Sure, World Series titles are rare, but so are the David Wrights of the world. I'm hoping in 2016 Mets fans can celebrate both Wright and a World Series title. It's a lot more fun than playing the what if game.
One of the biggest punchlines about Steve Phillips tenure as the Mets GM has been this:
December 27, 2001: Mets acquire 1B Mo Vaughn for pitcher Kevin Appier. pic.twitter.com/Vvo9v8zlRO

— Mets Rewind (@metsrewind) December 27, 2015
Not his personal conduct. No, he's routinely mocked for the Mo Vaughn trade. To this day, I do not understand the vitriol over the deal. I guess it's because Mets fans do not realize the Mets won that trade. Seriously.
First, keep in mind the Mets gave up Kevin Appier. That's it. Yes, the same Kevin Appier the Mets signed after they lost the World Series instead of making big moves to improve the team. Yes, I'm talking about the 2000 offseason, not this one. Appier signed a four year $42 million contract with the Mets.
In his only year with the Mets, Appier was decent going 11-10 with a 3.57 ERA and a 1.185 WHIP. He would then be traded for Mo Vaughn. Appier was good again in 2002. He has a ring despite having a historically bad World Series start. Appier was bad, really bad, in 2003. Despite being owed over $15 million on his deal, he was released. Appier would go back to Kansas City, where he would pitch only 23 innings more between 2003 and 2004 before retiring and putting an end to a very good big league career.
In exchange, the Mets got the impressive batting practice hitter Mo Vaughn (the last Met to wear 42). Say what you will about Mo Vaughn. You're probably right. His 2002 wasn't as bad as people remember with Vaughn hitting .259/.349/.456 with 26 homers and 72 RBI. It was good for an OPS+ of 115. It's more impressive when you consider he missed the 2001 season due to injury. Like Appier, his 2003 was a nightmare. Like Appier, his career was effectively over after the 2003 season.
So why did the Mets win the trade? No, it was not because of this homer:
I was at that game. It was awesome. However, this was Vaughn's line highlight. In reality, Vaughn's play had nothing to do with the Mets winning this trade.
No, the Mets won the trade due to Vaughn's insurance policy. Vaughn's arthritic knee prevented him from playing again. Like Appier, Vaughn was terrible in 2003, and his career was effectively over. The Angels paid Appier $12 million in 2004 alone to go away. The Mets only owed Vaughn $4.25 million over the next two years. The remainder of the $17 million owed was paid by insurance.
The Mets didn't do anything with the money found that offseason, but they would invest it the next offseason when they signed Pedro Martinez and Carlos Beltran. So overall, the Mo Vaughn deal was really beneficial to the Mets regardless of whether or not anyone wants to recognize it.
There are still reasons to mock Steve Phillips, but this trade wasn't one them.