On Thursday, I had the honor and the privilege of being a guest on A Metsian Podcast. It was a lot of fun and cathartic, and I would hope you would all take a listen by clicking on the link provided.
I'm not sure if this is a reason to entice you to listen, but during the course of the podcast, I personally mentioned or discussed the following Mets players: Tom Seaver, Jeff McNeil, Pete Alonso, Michael Conforto, Cliff Floyd, Nolan Ryan, Aaron Sele, Jason Vargas, Edwin Diaz, Robinson Cano, Roberto Alomar, Juan Samuel, Jim Fregosi, Bret Saberhagen, Vince Coleman, Noah Syndergaard, Chris Flexen, Paul Sewald, Sean Gilmartin, Darren Oliver, Pat Mahomes, Eric Hanhold, Steve Villines, Corey Oswalt, Jacob Rhame, Hansel Robles, Stephen Nogosek, Seth Lugo, Robert Gsellman, Darryl Strawberry, and others. This list is off the top of my head.
Looking at that list, maybe that's why they haven't brought me back after my last appearance three years ago when I went on a Daniel Murphy rant.
Looking at this past offseason, the Mets have traded away much of their future to improve the 2019 team. Top prospects Jarred Kelenic and Justin Dunn were part of a package for Robinson Cano and Edwin Diaz. Ross Adolph, Scott Manea, and Luis Santana were traded for J.D. Davis. Finally, Adam Hill, Felix Valerio, and Bobby Wahl were traded for Keon Broxton.
There has been some debate on each of these moves. Whereas many saw the Mets undervaluing assets, there have been a contingent who have justified the deal under the auspices of how not all prospects work out.
To a certain extent, there is validity to the prospects not panning out. With respect to Generation K, only Jason Isringhausen had a successful career, and that was as a reliever not the front line starter we expected him to be. Outfielders Fernando Martinez, Lastings Milledge, and Alex Ochoa weren't even so much as a part-time player. Relievers like Eddie Kunz did nothing. The list goes on and on . . . .
Of course, this overlooks the prospects which have had successful careers. Tom Seaver was a Hall of Famer. David Wright, Jose Reyes, Darryl Strawberry, Dwight Gooden, and Edgardo Alfonzo were all-time Mets greats. As we know, that list is much longer than that. It also includes Nolan Ryan, which was a trade which lives on in Mets infamy.
That was a trade of a young player who hasn't figured it out for a past All-Star Jim Fregosi. While prevailing wisdom is that trade was a Mets disaster, the school of thought were you trade young players for proven Major League talent would be fully onboard with that deal. That does beg the question why people are against keeping prospects and are not against the Mets making trades.
Looking over Mets history, this team has made many horrible trades. In addition to the aforementioned Ryan for Fregosi trade, we have also seen several other poor trades in Mets history:
There are several others which have blown up in the Mets faces. In addition to that, there have been trades for players which have greatly under-performed for the Mets. In addition to the aforementioned players, you can include Roberto Alomar, Willie Mays, Joe Torre, and a litany of others did not perform when wearing a Mets uniform.
With the Mets losing valuable young players and with the team getting veterans who have not performed, you have to wonder why the Mets don't just operate on the free agent market. Of course, the reason there is the extensive failures the Mets have made on that front. The list is well known, and Mets fans can cite them in their sleep – Jason Bay, Bobby Bonilla, Luis Castillo, Vince Coleman, George Foster, Oliver Perez, and many, many others.
Point is, no matter which way you look, you see a history of failures when it comes to the Mets organization. Their prospects always fail. They only trade for veterans in decline. Every free agent signing is a bust.
Of course, that's not remotely the truth. When looking at each area, the Mets have had plenty of successes and failures. The goal for every General Manager is to have more success than failures and for those failures to not come back and bite you. That's what defines periods like the 1980s Mets and also the period immediately thereafter.
So in the end, when judging moves, do it on their own merit and not because you believe the Mets prospects fail, trade acquisitions production declines, and every free agent is a bust.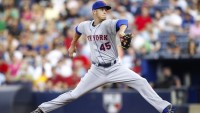 Over the course of their history, the Mets have made some really bad trades that were indefensible at the time they were made. While this isn't a complete list, here are some of my "favorites":
Lenny Dykstra, Roger McDowell, and Tom Edens for Juan Samuel, and
Scott Kazmir and Jose Diaz for Victor Zambrano and Bartolome Fortunato.
Again, this is not a comprehensive list. Also, these were traded roundly criticized at the time, not ones that eventually turned out badly.
It's funny. Late last night into early this morning many people were joking about how people who went to bed early last night would react when they discovered the trade unraveled. It immediately made me think of the aforementioned Midnight Massacre.
I thought about how people felt when they read the newspaper the next morning. We all know everyone hated the trade and vilified the Mets to the point that Shea was once known as Grant's Tomb. The trade worked out as bad as everyone thought it would. I began to wonder if the Carlos Gomez trade would've joined the list of worst Mets' trades ever.
As I noted last night, Carlos Gomez was having a down year. Admittedly, I was unaware there were possible injury concerns. Reportedly, the Mets nixed the deal over Gomez's hip issues. Gomez was reported that have said he's stopped running due to his hip issues.
The arguments started over whether there was a hip issue or not. Many pointed out that he was playing everyday. Despite these opinions, the Mets believed Gomez had a degenerative hip issue. For what it's worth, Gomez had trouble staying healthy this year. Regardless, the Mets seemed disappointed because they really wanted Gomez.
Mets fans wanted him too. Would they have been as enthusiastic if Gomez landed on the DL with a hip issue? Would they have booed him if he was ineffective due to his degenerative hip? Would they be screaming same old Mets? Yes to all the above, and part of the reason is they would've given up Zack Wheeler to get him.
I've detailed before how the Mets could afford to part with Wheeler for a non-rental player. However, it is dumb to trade him for a player that's an injury risk even if he never gets injured and/or he would be a huge upgrade.
As I've noted, Wheeler has been a league average pitcher with the Mets with a lot of potential. However, he seemed to turn a corner in the second half last year. He went 6-3 with a 3.04 ERA. He averaged 9.6 strikeouts per nine innings. He dropped his WHIP from 1.357 to 1.286.
He was making real progress in his first full professional season. He's under team control until 2020. This is a valuable asset and trade chip. You don't give that up for a hope and a prayer especially when the Mets don't have the best history dealing with injuries.
While Sandy Alderson and the Mets may invite criticism from time to time, this should not be one of those instances. Initially, he made a good trade to improve the team. He made a better decision walking away from the deal.