The New York Mets have been around since 1962, and in that time, they have two players in the Hall of Fame, three players with retired numbers, 31 people in the Mets Hall of Fame, and a whole host of other beloved players. The question is who exactly is the most beloved player?
Does Tom Seaver still have cache in 2020? Did Mike Piazza or David Wright surpass him? Does Keith Hernandez's work in the booth  as well as his play on the field make him the one Mets player who has reached across all generations?
We really don't know the answer to that and a whole host of other related questions. To that end, with there being no baseball, this site has set up a field of 64 akin to the NCAA Tournament. The field has been sectioned off in roughly 14 year increments to cover different eras of Mets baseball with each particular era having at least one Mets team who has won a pennant.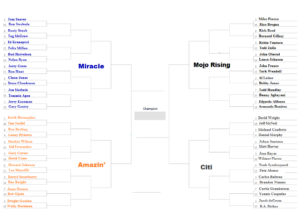 There were some tough choices to be made in selecting this field. The field was done using different offensive and pitching metrics, and it was done in consultation with Mets fans. On that note, special thanks are do to Joe D, Michael Mayer, Greg Prince, Tim Ryder, James Schapiro, and Bre S.
There were some tough decisions, and unfortunately, players like Ed Charles, Art Shamsky, Dave Kingman, John Stearns, Randy Myers, Pedro Martinez, Carlos Delgado, and Zack Wheeler did not make the list. It is regrettable, but the cuts had to be made somewhere to make this a more manageable field of 64.
The plan is to have polls open each day with a blurb on the match-up on this site with the ability to vote both on this site and on Twitter. The results of both will be combined, so if you are truly interested, you will be able to vote in both places. While not perfect, this is somewhat akin to the All-Star Game which to some degree is voting for fan favorites.
May your favorite player win, and Let's Go Mets!
Ron Swoboda Rusty Staub Tug McGraw Ed Kranepool Felix Millan Bud Harrelson Nolan Ryan Jerry Grote Ron Hunt Cleon Jones Donn Clendenon Jon Matlack Tommie Agee Jerry Koosman Gary Gentry Tim Teufel Ron Darling Lenny Dykstra Mookie Wilson Sid Fernandez Gary Carter David Cone Howard Johnson Lee Mazzilli Darryl Strawberry Ray Knight Jesse Orosco Bob Ojeda Dwight Gooden Wally Backman Rico Brogna Rick Reed Bernard Gilkey Robin Ventura Todd Zeile John Olerud Lance Johnson John Franco Turk Wendell Al Leiter Bobby Jones Todd Hundley Benny Agbayani Edgardo Alfonzo Armando Benitez Jeff McNeil Michael Conforto Daniel Murphy Johan Santana Matt Harvey Jose Reyes Wilmer Flores Noah Syndergaard Brandon Nimmo Carlos Beltran Pete Alonso Curtis Granderson Yoenis Cespedes Jacob deGrom R.A. Dickey
With reports Brandon Nimmo getting sick from cooking his own chicken dinner, it does inspire many to say, "Same old Mets!" Certainly, the Mets have had their fair share of bizarre injuries and illnesses over their 57 year history. There are plenty of stories, and the Mets bloggers share some of the more infamous in Mets history:
Michael Baron
I love Noah Syndergaard, but the hand, foot and mouth disease is easily the standout injury in recent memory for me.
Valley Fever…and it's not close. Single-handedly ended Ike Davis' career.
I'll bring up Ryan Church here. Not that a concussion is bizarre, but putting him on an airplane to Denver and then Snoop Manuel surreptitiously chastising him for not being tough enough to handle it will always be the benchmark for bizarre in Flushing.
Gotta go with what happened to reliever Ken Sanders between innings one Sunday afternoon in 1975: "I was taking my warm up pitches and lost the return throw from John Stearns and it hit me directly in my right eye. I never touched it. It actually knocked me out. There was no action on the field at the time of the accident."
Tim Ryder (MMO)
Do Mackey Sasser's yips count? I'd have to go with Matt Harvey's bladder infection due to holding in his pee. Only the Mets.
Sasser hit .297/.328/.416 from 1988 thru 1990. Once his head got the best of him, everything came crashing down. The conventional injuries didn't help either.
Weirdest Mets illness: Ike Davis, valley fever in 2012. Valley Fever is an infection that is released from the dirt in desert regions of the Southwest and is inhaled. It can be stirred up by construction and winds.
Fast forward to 2014 and Davis still complained about having Valley fever! Its mind boggling how that infection stayed with him throughout the years. "You have no energy, no nothing. It was definitely a weird one. It's supposed to go away on its own, but when I had an X-ray last year, it showed I still had it. I'm hoping that's over and done with." – Ike Davis
It's gotta be "Valley Fever," for me…it's got all the hallmarks of a Mets injury. It's a disease that sounds fake, like it's almost a parody, and also sounds like a cruel act of God.
Strangely enough, Ike's other injury is high on the list too — the time the training staff had him wear a walking boot nonstop, and it turned out the boot was basically suffocating his ankle, and it turned into him missing the 2011 season and pretty much ended his career. That…that's the Mets right there.
Mets Daddy
Jerry Blevins slipping over a curb and re-breaking his arm. Sure, you can understand his arm breaking when he was hit with a comebacker, but a professional athlete breaking the arm again slipping on a curb takes the cake.
What's interesting here is we had no mention of Tom Glavine losing his front teeth in a cab ride. What's interesting to note with him is that while he thought that to be heart breaking, he was not devastated after killing the 2007 Mets season. Speaking of cab rides, we should never forget Duaner Sanchez.
There are many, many more here to list. We all know them, especially those who have participated in these roundtables. They know much more than the injuries, which is yet another reason to visit their sites and read their quality work.