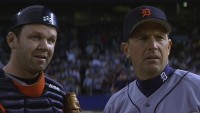 Billy Chapel was a fictional pitcher in the underrated For Love of the Game. He's at the end of a great career. He's pitching on short rest to face the Yankees, who are one game away from making the playoffs. From years gone by, Chapel had a sore shoulder and was at the end of his career. Only the immortal Vin Scully could describe what was happening:
And you know Steve you get the feeling Billy Chapel isn't pitching against left handers, he isn't pitching against pinch hitters, he isn't pitching against the Yankees. He's pitching against time. He's pitching against the future, against age, and when you think about his career, against ending. And tonight I think he might be able to use that old aching arm one more time to push the sun back up in the sky and give us one more day of summer.
Billy Chapel prays to God asking for his shoulder to stop hurting for 10 minutes to let him finish the game. The moment becomes so big that he can no longer "clear the mechanism." He's out there by himself, as he always was. There's a certain beauty to it. As his ex once told him:
You're perfect. You, the ball, the diamond, you're this perfectly beautiful thing. You can win or lose the game, all by yourself.
It's the romantic version we all have of baseball. When we saw Billy Chapel finish off the perfect game, it was magic. I had chills as if it were a real game. After the game, whether realistically speaking or metaphorically speaking, Chapel's career was done. The Mets had their own version of Billy Chapel. His name is Johan Santana.
In 2008, the Mets were collapsing again. Santana was having none of that. On a knee that would require offseason surgery, Santana pitched a complete game shut out on three days rest. It was a heroic performance. For at least a day, the Mets season was saved. He was 29 years old, and it would be the last time he would pitch in a game of that magnitude.
In the next two seasons, he wouldn't crack 30 starts. He pitched well, but there were diminishing returns. Was that the result of aging or was it due to injury? After the 2010 season, Santana needed shoulder surgery. He missed the 2011 season.
Santana would come back in 2012 and have his Billy Chapel moment. On a Friday night in June, Santana pitched the first no-hitter in Mets history. On a night he was supposed to be limited between 110-115 pitches, he threw 134. Once again, Santana put injury concerns aside, acted like a warrior, and he delivered for the Mets.
After that night, he has only had 10 more starts. He needed another shoulder surgery. He keeps trying to come back, but something always seems to get in the way. It's the reason why Collins was in tears the night of Santana's no-hitter. It's the reason, Collins is still distraught about the decision to let Santana pitch to this day.
We don't know if pitching on the injured knee precipitated the shoulder problems. We don't know if the no-hitter precipitated the second shoulder surgery effectively ending Santana's career. We do know Santana became the Mets version of Billy Chapel.
Is this what Mets fans want for Matt Harvey? With the recent drama involving Scott Boras' remarks, I've seen a lot of people saying Harvey should just go out there and pitch. I've seen people try to inform Harvey he needs to pitch if Sandy Alderson tells him to go out there and pitch.
Much like 2008, I'm desperate for the Mets to win a World Series. We saw what happened when we tried to sacrifice a 29 year old's career to make that happen. I'm not doing it again with a 26 year old. If Harvey's healthy, he will pitch. If he needs some rest now, give it to him. If he needs to be shut down, shut him down.
I don't say that lightly. Keep in mind, I'm the one who has questioned the Mets skipping starts. I did that questioning the logic. There seems to be some smoke that Harvey needs rest, and/or is perilously close to needing to be shut down. No one wants this.
The one thing no one can ask is for Harvey to risk his career for the 2015 season. Not me, not you, not Sandy Alderson, not anyone. That includes Matt Harvey. If that was my son, Sandy Alderson wouldn't be hearing from Scott Boras, he would be hearing from me. If other parents say they would send their child out there in harm's way to pitch in October potentially ruining his career and future earnings, they're lying to themselves.
I've seen Billy Chapel on the Mets. The experience gives me a sense of melancholy. I don't want that for Harvey. I want him healthy and effective. Let's do what we need to do to get him to October. Let's do what we need to do to keep him healthy for a long career with the Mets. Maybe there will be multiple Workd Series titles.
"Clear the mechanism."