On Saturday, September 27, 2003, my father, brother, and I sat down to watch what was seemingly a meaningless baseball game. The Minnesota Twins had already locked up the AL Central, and the Detroit Tigers had already locked up the worst record in baseball. At that time, the only matter at issue was whether the Tigers would finish with a worse record than the 1962 Mets.
As each and every Mets fan knows, the worst team in baseball history was the 1962 Mets. They were bad from the beginning. The 1962 Mets lost their first nine games. That wouldn't even be the lowpoint of the season. From May 21st until June 6th, the Mets would lost 17 straight games. That wasn't even their only 10 plus game losing streak. There was an eleven game losing streak in late July, and there was a 13 game losing streak that spanned most of August. The 1962 Mets didn't really do anything well except maybe lose. They inspired manager Casey Stengel to utter the phrase, "Can't Anybody Here Play This Game?" It was a phrase so utterly perfect that Jimmy Breslin used it as the title for his book about the 1962 Mets.
The funny part about that team is that they are somewhat beloved. There were colorful characters Mets fans know to this day regardless of whether or not they were around to see it. There were old heroes like former Brooklyn Dodgers like Gil Hodges and Don Zimmer. There was future Hall of Famer Richie Ashburn. There were colorful characters as well. There was Marvelous Marv Throneberry who missed not just first but second base when running out a triple. There was speedy catcher Choo-Choo Coleman who best utilized his speed chasing down balls that went to the backstop. About the only players who didn't belong was Frank Thomas with his 34 homers and 17 year old Ed Kranepool who actually had a bright future ahead of him in the majors.
That 1962 season was the first season in Mets history, and it was an important one at that. This record is quintessentially the Mets. It is a terrific reference point for each and every time the Mets have success. Whenever a 1969 or 1986 happens, it's a reminder of how the Mets really did come from nothing to achieve great heights. Having this record was important, and it should be important to Mets fans.
It is why my family was rooting for the Tigers that day. At that point it wasn't looking good. The Tigers had to take three of four from the Twins to avoid loss 120. They lost the prior game, and they were down 7-1 going into the bottom of the seventh. Somehow, someway, the Tigers pulled it off. They scored three in the seventh and then four in the eighth to somehow time the game. Then in the ninth, old friend Jesse Orosco threw a wild pitch allowing Alex Sanchez to score the winning run. At that point, Orosco was probably throwing things in disgust. However, to Mets fans, it looked like Orosco was throwing his glove into the heavens like he had done in 1986. The Tigers snatched a win from the jaws of defeat number 120. The 1962 Mets would be safe.
Now, this year, the 1962 Mets are being challenged once again. The Atlanta Braves come to Flushing sporting a 19-46 record. With their .292 win percentage, the Braves are on pace for a 47-115 season. If the Mets sweep the Braves like they should, the Braves will be all the closer to loss number 120. If the Braves are able to move the few major league quality bats from their line-up like Freddie Freeman, who knows how much worse things will get in Atlanta. Towards the end of the season, there will most likely be a race to see if the Braves could actually surpass the 1962 Mets loss total.
While it has been ingrained in me from the days of Mike Piazza and Edgardo Alfonzo to never root for the Braves, I will root for the Braves to win some games to avoid losing 120 or more games. Preferably, those wins will come at the expense of the Washington Nationals. Hopefully, at the end of the season, the 1962 Mets place in history will be secure.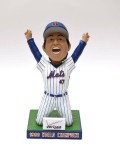 When I saw today's game on the promotional schedule, I knew that I was going to this game. A 1986 Jesse Orosco Bobblehead giveaway on a game against the Red Sox? Amazin'.
The fact that it's only available to 15,000 fans? It may me think – same old cheap Wilpons. Teams like the Brewers order enough Bobbleheads for everyone with some left over for donations and the like. The average cost of a Bobblehead to a team is $3. Therefore, the cost to the Mets is $45,000. Citi Field has a capacity of 41,800. It would cost the Mets $125,40 to order enough Bobbleheads for everyone.
Bobbleheads can increase tickets sales by 6,000 tickets. The tickets for today's game ranges from $41.00 for standing room only to $410.00. Let's assume all 6,000 people purchase a standing room only ticket. That means the Mets generated an additional $246,000 in revenue. That doesn't include the price of parking and food. I know teams have their budgets, but as you can see, Verizon sponsorship aside, the Bobbleheads pay for themselves.
I've never missed out on a promotion. I've always been there for batting practice. I like going early because I can settle in. I hate going early on Bobblehead days because people get there early too and they become unnecessarily aggressive. That's not fun when you have small children. Speaking of small children, is it good business to limit a promotion creating a chance a small child doesn't get one?
I'm not taking that risk. I'm getting there early because I get to games early. I'm getting there earlier due to the Bobblehead. I'm getting there even earlier because of Arthur Ashe Kid's Day. My son loves his Lucas Duda Growth Chart, and I hope he'll love his new Bobblehead.
Mostly, I hope we'll have fun today. As I'm going to be at the game, my game recap today will be quite late. It's worth it because I'm going to a Mets game with my son. It doesn't get better than that . . . Bobblehead or no Bobblehead.