As we have seen all season, the Mets basically need to hit home runs in order to score runs and win games.  Last night, against the Phillies was no exception in what was a back-and-forth nail bitter.
Curtis Granderson would get the Mets on the board with a two run shot off of Phillies starter left-handed starter Adam Morgan:
The home run was an important one as it gave the Mets and Seth Lugo a 2-0 lead in a game they really had to have after being swept by the Braves.
Well, because this is the Mets, and nothing is easy, that two run lead would turn into a 3-2 deficit thanks to a couple of Phillies long balls.  At the time, Seth Lugo was cruising, after only allowing a run off a Roman Quinn RBI groundout after Cesar Hernandez legged out a triple.  However, in the top of the fifth, Ryan Howard and Cameron Rupp would got back-to-back. Those homers effectively knocked Lugo out of the game after another strong effort.
Ty Kelly would pinch hit for Lugo in the bottom of the inning, and he would get a rally started with a walk.  He eventually came home on a Yoenis Cespedes clutch two-out single tying the game.  With the way things have been going with the Mets lately that RBI single seemed bigger than it probably was.  What was even bigger was Cespedes RBI double in the seventh that would score Jose Reyes to give the Mets a late 4-3 lead.  With Addison Reed and Jeurys Familia ready for the eighth and ninth, this game seemed in the bag.
It wasn't as Reed was done in by three balls that didn't leave the infield and one that did.  Hernandez used his speed again to bunt his way on, and he was standing at second after a Quinn sacrifice bunt.  The Mets would challenge the next play, and it was really close, but Odubel Herrera beat T.J. Rivera's throw to first to set up runners on the corner with one out.  Rivera really did all he could do on that play.  He made a diving stop that saved a run, he popped up, and he made a strong throw.  Herrera just beat the throw.  Why?  Well, as usual the "good defensive baseman" James Loney couldn't bother stretching on the play.  It was a crucial play because Maikel Franco would hit a three run homer to turn the Mets sure-handed victory into a 6-4 deficit.
There was an ominous tone to the home run after the Braves series.  It was an even worse situation when the Mets failed to score in the bottom of the eighth and the bottom of the Mets lineup was due up in the bottom of the ninth.  Brandon Nimmo would pinch hit for Travis d'Arnaud and get on with a single.  After Nimmo, Jay Bruce made his obligatory pinch hit strike out thereby leaving the game in Reyes' hands:
You'd be hard-pressed to find a bigger hit in Reyes' Mets career.  As big as that home run was, what would follow in the 11th would loom even larger.
In his second straight multiple inning outing, Familia would put the Mets in position to lose in his second inning of work.  After a clean 10th, Familia would allow a leadoff double to Freddy Galvis.  Familia would be ever so close to navigating around it getting the next two guys out.  Then in a curious move, perhaps to negate the ability of Hernandez killing the Mets with his legs again, Collins ordered an intentional walk.  A.J. Ellis, who is a renown clutch hitter, would deliver the go-ahead single giving the Phillies a 7-6 lead.
Jerry Blevins would relieve Familia, and he would load the bases by hitting Herrera.  That led Collins to turn to Jim Henderson, who would walk Franco to give the Phillies an almost insurmountable two run lead.
Still, the Mets had a chance with Nimmo leading off.  Unfortunately, he didn't have the same magic he had in his last at bat.  Michael Conforto, pinch hitting for Henderson, would have to get this rally started.  He did by drawing a walk.  He would find himself standing on second after a Reyes single.  At that point, the Mets would send Asdrubal Cabrera to the plate as the winning run.  Right now, he is the guy you want at the plate more than anyone – not just the Mets, but in all of baseball.  He would show you why:
His bat flip said it all.  It was a huge emotionally charged home run to give the Mets the victory they so desperately needed.  The home run also made baseball history as the Mets become the second team to come back with homers to erase two run deficits in the ninth inning or later in a game.
With the much needed victory, you felt the momentum for this team shift.  You once again felt as if the Mets were assured of winning a Wild Card spot.  As it stood, the win helped the Mets keep pace with the Giants and put them a half a game up on the idle Cardinals.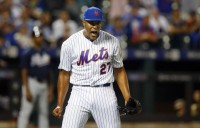 The Mets lost the World Series in large part due to the bullpen blowing three leads in the eighth inning or later. Normally, this would be a point of emphasis in the offseason, but I think there were more pressing issues there:
There were errors that lead to those blown leads; and
How the bullpen was deployed.
If these issues are not addressed, I'm not sure it matters if anyone is added to the bullpen. If they are resolved, the Mets have the makings of a terrific bullpen in 2016.
First and foremost, the Mets have a terrific closer in Jeurys Familia. He's the rare closer that can come in and get a team out of a jam. He's the rare closer that can go for more than three outs. He's coming off a year in which he recorded 43 saves, 1.000 WHIP, and a 9.9 K/9. Just when we thought he couldn't get any better, he developed the devastating splitter.
The issue becomes who will be the other six people in the bullpen. For the other six people you want a 7th inning guy, an 8th inning guy, a long man, and at least one lefty. That leaves you with two guys to either be an extra lefty, an extra long man, or preferably, just a good reliever.
8th Inning
Now, at the end of the year, everyone was clamoring for Addison Reed to replace Tyler Clippard in the 8th inning. It appears everyone will get their wish as the Mets look like they'll keep Reed and let Clippard walk. As a Met, Reed had a 1.17 ERA with a 1.043 WHIP, and a 10.0 K/9. That's elite, but it may also be unsustainable.
Reed has a career 4.01 ERA, 1.261 WHIP, and a 9.3 K/9. There could be many reasons for the improvement with the Mets. For starters, Reed improves as the year progresses. In April and May, his career ERA is over 4.00, but from August on it's under 1.35. Ultimately, it's great to have a reliever who gets better as the year goes on.
Furthermore, it's nice having someone with closing experience so the Mets don't have to overextend Familia during the regular season.
7th Inning
For me, this is obvious. The Mets need to go with Hansel Robles here. He's a guy who has the ability to get lefties and righties out, and he can go for more than three outs.
In 2015, he had a 3.67 ERA with a 1.019 WHIP and a 10.2 K/9. Those numbers don't tell the whole story. Once a rookie has pitched for a while, there is tape on him. Typically, this results in some struggles for the rookie until he adjusts. However, Robles got better as the year progressed. Here are his first and second half splits:
First Half: 4.37 ERA with a 1.191 WHIP and a 7.9 K/9
Second Half: 3.16 ERA with a 0.891 WHIP and a 12.1 K/9
Like Reed, he got stronger as the year progressed. His was criminally under utilized in a World Series that saw the Mets blow three late inning leads only to lose in extra innings. The Mets shouldn't make the same mistake in 2016. It's time to use Robles.
Long Man
Next to Familia closing, Sean Gilmartin being the long man is the biggest lock in the bullpen. He had a 2.67 ERA with a 1.186 WHIP and a 8.5 K/9. He took a strangle hold on this job, and there's no reason to take it away from him.
LOOGYs
Going into the playoffs, this was the Mets biggest question mark. Fortunately, Jon Niese took over the role quite successfully. However, he will not be an option to re-join the bullpen until Zack Wheeler comes back from Tommy John surgery, which will not be until around the All Star break.
Speaking of injuries, that was the reason the Mets didn't have a LOOGY. At different times, they had Jerry Blevins, Josh Edgin, Dario Alvarez, and Jack Leathersich go down with injuries. Blevins is free agent, but he's a candidate to return. Alvarez should be healthy for Opening Day. The Mets also have intriguing prospect Josh Smoker.
There are plenty of viable options here. The Mets should be able to carry one or two LOOGYs from this group.
Remaining Options
After taking the above into account, there will be one or two remaining spots remaining. There are a number of viable candidates:
Erik Goeddel. He is injury prone, but he has good numbers. He had a 2.43 ERA with a 1.000 WHIP and a 9.2 K/9. Those are good mumbers. Numbers that were good enough to land him on the NLDS roster. He should be part of the 2016 bullpen.
Carlos Torres. There are many things you can say about Torres, but the most important one is he's always available to take the ball. He has a career 4.26 ERA with a 1.357 WHIP and a 7.9 K/9. However, there is value in having someone that can take the ball.
Logan Verrett. He was all over the place last year. He was a starter and a reliever. He kept bouncing back and forth. It didn't hurt his performance. He had a 3.03 ERA with a 0.879 WHIP and an 8.4 K/9. He should be in the mix.
Jenrry Mejia. He's one more positive test away from his career being over. He won't be available until around the All Star Break. He's likely to be released, which is odd since the Mets haven't had problems with steroids guys under the Sandy Alderson regime. If he isn't released, he could help this team in the bullpen. Personally, I'd rather him gone.
Rafael Montero. There was a time the organization believed he was better than Jacob deGrom. When that proved to be false, he was placed in the bullpen to start 2015. The Mets did stretch him out to make go to a six man rotation. He got hurt, and he disappeared. Given the Mets rotation, if he's going to help the Mets, it's going to have to be in the bullpen.
Looking over all these options, there is no reason to go outside the organization for bullpen help. Except for Reed, these relievers are cheap, young, and talented. We don't know the Mets financial situation, but we do know that even if there is no money to spend, the bullpen will be in great shape.
The best part is even if it isn't, there's many quality choices in reserve, and that's just from the players we know.