If nothing else, you knew tonight was going to be an interesting game from the Mets perspective.
The day began with Sandy Alderson voicing his displeasure with Robert Gsellman saying he didn't care that Sandy believed he needed to pitch better.
Both Jose Reyes and Wilmer Flores suffered injuries before the game leading to Travis d'Arnaud playing third then second then third then second . . . .
Officially, d'Arnaud and Cabrera switched 22 times tonight. That's a lot.

— Marc Carig (@MarcCarig) August 17, 2017
Basically, d'Arnaud was constantly repositioned to avoid being at the pull side of the opposing hitter. It wasn't until the ninth that he had to make a play. It was a pop out.
P4! P5? P4! pic.twitter.com/YG2A9ZT99r

— Good Fundies (@goodfundies) August 17, 2017
From there, we saw some good baseball and some really poor home plate umpiring.
For a pitcher that needed a big game after his comments, Gsellman was just okay. His final line was 5.1 innings, four hits, three runs, three earned, three walks, and three strikeouts.
One of the runs he allowed was an Aaron Judge monster of a homer to the third deck that was somehow just the third longest homer in Citi Field history:
Um, well… On the plus side it only counts as one. pic.twitter.com/VxagVw3LqI

— CitiFieldHR (@CitiFieldHR) August 17, 2017
Even with that monster homer, the game was tied going into the sixth.
Juan Lagares got the rally started with a leadoff double off Jaime Garcia. He got over and then scored on a Yoenis Cespedes sacrifice fly.
After Judge hit his homer, Rene Rivera hit one of his own in the fifth. It wasn't as impressive as Judge's, but you couldn't tell that from Garcia's reaction.
In the sixth, Gsellman loaded the bases with one out leading Terry Collins to go to Paul Sewald. Sewald did a decent job limiting the damage to one run on a Chase Headley sacrifice fly.
The Mets rallied back to tie the game in the bottom of the sixth. Cespedes lead off with a walk and moved to third on a Michael Conforto double. The second base umpire ruled Cespedes was interfered with on the basepaths, but he was only awarded third. Cespedes then scored on a d'Arnaud sacrifice fly.
At this point, Collins did what he always does with Sewald – he pushed him. It wasn't good enough that he got out of a stressful jam. No, he had to go back out there. The combination of questionable managing and poor umpiring would do him in.
Ronald Torreyes led off the inning with a double. After a sacrifice and a walk to Jacoby Ellsbury, the Yankees runners at the corners with one out. Sewald went 3-2 to Aaron Hicks, and this happened:
Call hurts #Mets
Ball 4 should be strike 3
Top 7 Sewald vs Hicks
4% call same
5.4in from edge pic.twitter.com/TXBcCm8yPL

— Mets Strike Zone (@MetsUmp) August 17, 2017
On the pitch, Sewald missed his spot by a good margin, and Rivera did him no favors by stabbing at the pitch. With that said, the home plate umpire Chad Whitson cannot miss that call. Then again, he was so terrible, you shouldn't be surprised.
Even with Sewald did get Judge to pop out, but his luck ran out with Didi Gregorious ripped a two RBI double that provided the winning margin in a Yankees 5-3 victory. The Didi double snapped an 0-25 streak Sewald had with runners in scoring position.
Ultimately, the story here was bad umpiring, Collins putting too much on Sewald again, and the Yankees bullpen just being that good.
Game Notes: d'Arnaud became the first Mets to appear at catcher, second, and third since Jeff McKnight in 1993.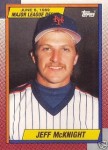 If you've been married long enough (one day), your wife tells you the things about you that are crazy, and in turn, drives her crazy. For me, it's the overwhelming feeling of guilt I get for reasons no one would bat an eye over. It's my Irish Guilt. It happened for me again today when I saw this tweet:
I didn't realize until I was doing some 2015 research today that former #Mets IF Jeff McKnight died of leukemia in May. Made me sad. RIP

— Jerry Crasnick (@jcrasnick) December 30, 2015
You see in September, I was having fun with the Mets Magic Number to clinch the division. I was seeking to name the worst player I ever saw wear that particular number. As it so happens, I selected Jeff McKnight for the number 17. When I did that, I had no idea Jeff McKnight had died months earlier of leukemia. Had I known, I wouldn't have said anything. I know better to speak ill of the dead, even when it is good natured fun.
Reading this, I felt horrible. I felt even worse after learning he succumbed to this disease after battling it for 10 years. Sadly, there's not much out there on him other than the fact his father also played in the big leagues. What we do know is he was a Met, and he played with them during the tough times. We do know that on "The Worst Team Money Can Buy," McKnight was probably the lone Met that acquitted himself well. His play did help him earn a role on the 1993 team. In 1993, he had his best year.
Very few of us make it to the big leagues. It is a major accomplishment no matter how you fare. I hope Jeff McKnight is proud of what he achieved. Even as I poked fun, I do remember those days at Shea rooting for him and the Mets when there was not much to root for.
With that said, may Jeff McKnight rest in peace.

Editor's Note: If you're looking for the current magic number, please click on the link here.
As per a suggestion from one of my loyal readers, my brother, I decided to have some fun with the Mets' magic number. For this, I figured, I would have some fun with it because if you can't have fun, what's the point in doing a blog.
With the magic number being 17, I immediately thought of Keith Hernandez, but honestly that's boring. Everyone points to him. I was his picture all over Twitter last night. However, I did get some inspiration from Keith. While he's never actively sought for his number to be retired, he has grizzled at the players who have been assigned his number.
So with that in mind, I've decided to go with a lesser player to wear a particular number. Preferably, I'd like to stick with players I've seen. It's even better if I can focus on players that played during losing seasons. I figure it's a good reminder that seasons like this don't come around all the time, and we should enjoy them when they come. So, without further ado, I present Jeff McKnight: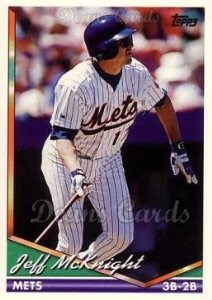 This is perfect. The Mets were terrible with a 59-103 record. It was a year after the Worst Team Money Can Buy. Also, let's not forget those horrible underscore jerseys.
McKnight wasn't a great player, certainly not good enough to wear Hernandez's number. He was a Mets second round pick that never panned out. He was a career .233/.284/.304 hitter. He only wore 17 in 1993. I don't do this to mock McKnight. It takes a lot just to make the big leagues.
However, it's a reminder the Mets were terrible, and we should enjoy these years when they come. So I offer a hat tip to Jeff McKnight.