Hansel Robles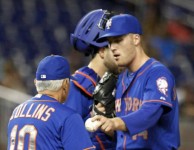 Yesterday, the Mets acquired Addison Reed. Erik Goeddel is on the 60 day DL, and he's in the middle of his rehab assignment. Finally, the Mets need to make room for Eric Young, Jr. At a minimum, this means the Mets need to make three moves on the 40 man roster, and two of these changes must be made before September 1st.
Previously, I wrote a fairly lengthy piece on the issue. I won't regurgitate the analysis here. You can click the link and read it. Instead, I'll list the players who may see themselves removed from the 40 man roster in the order of what I think is most likely:
If I'm correct, three of these players will be gone. Now, there is the possibility, the Mets can designate Eric O'Flaherty for assignment, thereby clearing room for Reed on the 25 and 40 man rosters. O'Flaherty has been bad with the Mets, but he's been put in tough spots by Terry Collins.
Keep in mind that O'Flaherty is the only true LOOGY the Mets have right now. He's only supposed to pitch to lefties. He hasn't been treated that way by Collins. For his career, lefties hit .208/.271/.270. This season those numbers are .258/.333/.290. He's been worse this year, but there is still evidence in the numbers that the Mets should stick with him.
There are 33 games left in the season. With the expanded rosters, O'Flaherty should never see a righty except when there's one beside him warming up in the bullpen. If you can't get O'Flaherty right in the final 33 games, you can leave him off the postseason roster. Once you DFA him, he's forever gone. He's no longer an asset. You can't work with him to improve. It's better to keep him now rather than move him two days before you could've kept him with expanded rosters.
The better choice is Logan Verrett. The Mets seemingly wanted to see if he could be a seventh inning option, but that plan went away with a spot start. Sure Verrett made two appearances since; one good, one terrible. With Steven Matz being a good bet to join the rotation soon, and the trade for Addison Reed, there appears to be no room for Verrett on the 25 man roster for the time being.
The other realistic option with options left is Hansel Robles. He has trouble with the strike zone at times. However, he's got good peripheral stats, and he's shown he can give some length. Accordingly, I'd send down Verrett. He would then be available 10 days later or September 9th. This is enough time for another start or a few relief appearances.
As for Goeddel and EY, I wouldn't take any actions on the 25 man roster to accommodate them. Rather, I would wait the two days and call them up when rosters expand on September 1st.
Therefore, while there are three 40 man decisions to be made, the Mets really only need to make one move with the 25 man roster. Here's hoping they keep O'Flaherty Nd get him right for the playoffs.