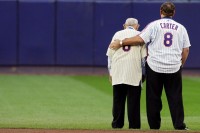 It's a tough time for the Mets. They gave their all in Game 1, but they lost. They unravelled in Game 2. They're halfway on their way to losing the World Series. It's times like these you seemingly only have a hope and a prayer. It's times like theses you need your guardian angel. The Mets are full in that department.
In the heavens, Nelson Doubleday sees his Mets suffering. This is the team he rescued from irrelevancy. He once took the helm and ushered in the greatest era of Mets baseball. He knows this team needs his help.
He knows he can't do it alone, so he grabs the one man who he knows can gather together the right mix of angels to make this happen. Frank Cashen gives a nod to Mr. Doubleday, and he finds them. He sends them down to Citi Field to help and deliver a message.
You always start with a winner. It's better to have someone who knows how to utilize a young pitching staff. How to bring them to new heights. How to lead them to a championship. He summons Gil Hodges, who under the din of Citi Field is Hodges reaching out to boost morale.
He summons Yogi Berra. Yogi can't understand the despair, then again he knows better than anyone it gets late early in New York. The wind swirling into Citi Field reminds us, "It ain't over till it's over."
For help, Yogi turns to his closer Tug McGraw. Tug is all fired up. He's been here before with Gil and Yogi. With a loud bang in the concourse in Citi Field you can hear old Tug jumping up and down screaming, "Ya Gotta Believe."
Cashen though knows he needs one more. Who better to turn to than the man he last turned to when he was trying to capture a World Series. Gary Carter knows what he's there to do. You just don't make the last out. With every crack of the bat, The Kid lets the Mets know they won't make the last out.
With that Cashen's work is done. He's assembled a group of greats, a group of legends, a group of angels. They'll be there tonight to guide the Mets to victory. They didn't let the Mets lose without a fight before, and they won't let it happen this time either. They're watching over the Mets.
We all know what's leading the Mets to victory tonight even if our human eyes will never see the hands that brought those Mets runs home.

In 1991, the Mets streak of finishing second or better in the NL East came to an end. The Mets had a 77-84 record, good for second to last in the division.
Part of the problem was the Mets had a hard time retooling. Davey Johnson gave way to Bud Harrelson. Frank Cashen gave way to Jerry Hunsicker. Darryl Strawberry gave way to Vince Coleman. Gary Carter initially gave way to Mackey Sasser, who was terrific until he came down with Steve Blass Disease. The Mets knew they needed another catcher, so they traded for Magic Man Number 5 Charlie O'Brien: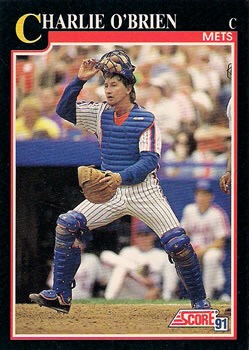 O'Brien was meant to be that classic backup catcher who was terrific defensively. That was his reputation. However, he couldn't play everyday because he was terrible offensively. In 1991, his first full year with the Mets (only year he wore 5 with the team), he hit .185/.272/.256. For his Mets career, he would hit .212/.289/.309. While with the Mets, he would only play in losing teams.
Really, his only claim to fame was his hockey style catcher's mask, which he wouldn't wear in a game until he was long gone from the Mets. Ultimately, he would serve as a mentor to the young Todd Hundley, but that would not be for a few more years.
Charlie O'Brien reminds me of earlier this year when the Mets couldn't generate any offense. He reminds me of a time when the Mets were trending downward as opposed to being on the verge of something potentially great. He reminds me that older players can effectively mentor younger players to help them be the best players they can be.
Charlie O'Brien may have been on a Mets team that was heading in a different direction, but he exhibited some of the virtues that have helped make this Mets team great. So with that, let's tip our caps to Magic Man Number 5 Charlie O'Brien.