Erik Goeddel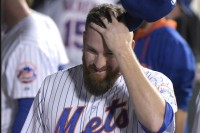 When your team loses big, it's easy to overreact to the loss. Gary Cohen and Keith Hernandez did. They switched places in the ninth in an attempt to keep things interesting. Keith did a good job, but he was no Kidcaster.
On Twitter, most people were upset with Jon Niese and Bobby Parnell. It's understandable as neither one of them were good tonight. You know who was worse? Terry Collins.
We saw the bad Niese again tonight. We haven't seen him this bad in quite a while. The last bad start he had was when he became a dad. Since then, he has been as prone to the complete meltdown. Maybe fatherhood has been agreeing with him. Anyway, he was bad to the tune of five innings with six earned.
In the bottom of the fifth, the Mets got back into the game capped off by a Yoenis Cespedes three run homerun. Honestly, after the inning was over I assumed the Mets would beat up the Phillies bullpen and overcome the 6-4 deficit. However, the top of the sixth happened.
Let's start off with this. I know many people first guessed and said why Parnell in that spot. Many wanted to see Addison Reed there. I was okay with Parnell there so long as he was alright. Furthermore, Reed is supposed to be a part of the 7-8-9 tandem, and there was no need for him to go multiple innings tonight.
If Parnell is going to contribute down the stretch and into the playoffs, he's going to pitch the sixth inning. The problem is he wasn't ready to return. He walked the first two batters he faced, and he threw the ball away on a bunt attempt. By the time he was done, his line was 0 innings pitched, three runs allowed, two earned, and two walks. Collins would then continue the poor managing.
He would bring in Eric O'Flaherty to face the righty Darin Ruf. Do the Mets not supply Collins with his splits? Does Collins have it out for O'Flaherty that he keeps setting him up to fail? Did Collins think Ryan Howard was in the game? I really don't understand. After Ruf's two RBI single, Collins would bring on Carlos Torres.
Collins would then let Torres out to dry. After neither Parnell nor O'Flaherty recorded an out, Collins left Torres out there to finish the inning. The Phillies would hit him hard. Torres let up a walk and three hits. He would allowed three runs with two of them earned.
One of them was unearned because Ruben Tejada threw away a ball he had no business throwing. He could've been bailed out, but it was tough a hop for any first baseman, especially so for a part time one like Michael Cuddyer. At the end of the top of the sixth inning, the Phillies would lead 14-4.
The Mets would tack on four runs to make the score look like a more palatable 14-8. Reed's debut for the Mets was s highlight. He pitched a clean eighth that included a strikeout of Jeff Francoeur. Another highlight was the return of Erik Goeddel from the DL. He pitched a clean ninth.
Look, the Mets are still 13-2 against the Phillies. You can't go nuts over one loss unless it's a season ending loss. The Mets are going to lose some games. The Nationals may even win tonight. That's fine. The Mets still have a nice lead in the division with a weak schedule. If you want something to get upset about, look at Terry Collins.
If the Mets do blow this, and I don't think they will, Collins will be the culprit. The next time someone mentions him as a Manager of the Year candidate keep this game in mind. I know I will.
Otherwise, you turn the page after a loss like this. Tomorrow becomes a rubber game that the Mets need to win. Luckyily, tomorrow is a Harvey Day.