Another Steven Matz start and another seven innings. Since coming off the Disabled List, Matz has pitched seven innings in three of his four starts. Tonight might've been the best start of the lot.
Matz pitched seven shut out innings befuddling the Marlins. No Marlins player would even make it to third base. He pitched mainly to contact, weak contact, which permitted him to once again go deep in the game. Over the seven innings, he needed just 110 pitches.
His final line was seven innings, six hits, no runs, one walk, and four strikeouts.
And Matz would get the win in this game with some help of some veterans looking to boost their trade value.
Curtis Granderson was great just like he's been all June. In fact, he's been among the top three hitters in the majors during the Month of June.
To start the game, Granderson battled back from a 1-2 count to draw a nine pitch walk against Marlins starter Jeff Locke. Asdrubal Cabrera followed with a home run:
Asdrubal Cabrera crushes a ball over the left-center-field wall to give the Mets an early 2-0 lead in the top of the 1st!!! #LGM pic.twitter.com/dmqQY1Jodn

— TheRenderMLB (@TheRenderMLB) June 28, 2017
He's been much better since moving to second base.
The rally continued with a Jay Bruce single and a Travis d'Arnaud two out walk. In what might've been his best game of the season Jose Reyes delivered with an RBI single making it 3-1.
Overall, Reyes was 3-4 with a double and an RBI. With his seventh inning single, he passed Ed Kranepool for second on the Mets all-time hit list.
The Mets offense would go silent from there until the Marlins brought Dustin McGowan into the game. d'Arnaud got it started with an RBI single, and he'd go to third on the aforementioned Reyes single. If that ball does not hit McGowan, Reyes has an RBI.
That RBI would go to T.J. Rivera with his RBI groundout. It appeared to be a sure fire double play ball, but at the last second, it took a strange hop on Marlins shortstop JT Riddle.
After a Matz sacrifice bunt, the Marlins brought in the left-handed Justin Nicolino to face Granderson. Granderson responded by hitting a bomb:
Curtis Granderson launches a two-run homer over the right-field wall to extend the Mets' lead to 6-0 in the top of the 7th!!! #LGM pic.twitter.com/wWh76tENJW

— TheRenderMLB (@TheRenderMLB) June 29, 2017
This was the third straight game Granderson hit a home run.
The Mets would build on this 6-0 lead in the eighth. Brandon Nimmo continued his terrific work as a pinch hitter delivering a two out RBI single giving the Mets an 8-0 lead. That's a lead not even this Mets bullpen could blow.
Mets are back on track for at least one day, and they look to take the series tomorrow.
Game Notes: Robert Gsellman was put on the DL, and Matt Reynolds was called-up to take his place on the roster. Reynolds came on for defense for Cabrera in the eighth.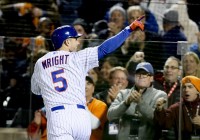 When David Wright came up in 2004, we thought every year was going to be like last year. Much like this year, we anticipated that each and every year Wright manned third base, the Mets would contend for a World Series.
As we know, it didn't happen that way. A lot went wrong. The Mets came ever so close in 2006. They collapsed in 2007 and 2008. A poorly designed outfield, poor personnel decisions, and financial crisis ensued. Then, as things began to turn around, Wright injured his hamstring. Then he was diagnosed with spinal stenosis. Last year was his first trip to the World Series. This year may be his last year as a key contributor on a World Series team.
It could also be Wright's last year to build his Hall of Fame credentials.
Third base is the least represented position in the Hall of Fame. Accordingly, standards are high to enter the Hall of Fame as a third baseman. The average of 13 Hall of Famers at the position had a career WAR of 67.5, a WAR7 (best seven years combined) of 42.7, and a JAWS of 55.1. Looking at the stats, Wright falls short. His career WAR is 50.1. His WAR7 is 40.0. His JAWS is 45.1. For a player that Mets fans believed would be a Hall of Famer, he now has an uphill climb.
WAR7
Looking at theses factors, it's presumably easiest for Wright to increase his WAR7. To do so, he would need to have one year where he accumulates 2.7 more WAR that his seventh best season. Here are his seven best WAR seasons:
2007 – 8.3
2012 – 7.0
2008 – 6.8
2013 – 5.9
2005 – 4.8
2006 – 4.1
2009 – 3.2
For Wright to put his WAR7 within range, he would need to have one more season that is 5.9 or better. Wright last did that in 2013. That year Wright only played on 112 games. He hit .307/.390/.514 with 18 homers and 58 RBI. His 156 OPS+ was the best of his career. In that season, Wright missed a significant amount of time with a strained hamstring. Sounds just like his April 2015 hamstring injury that wouldn't heal.
The Mets are hopeful that Wright can play 130 games in 2016. Judging from Wright's 2013 season, it is certainly possible that Wright can have a 5.9 season again. A better and much stronger Mets lineup will assist him in that task.
Cumulative WAR
Going into the 2016 season, Wright has a career WAR of 55.1, which is presumably 12.4 behind the 67.5 career WAR he would need to be enshrined in the Hall of Fame.
This is where things may get a little tricky for Wright's chances. Don Mattingly had back problems, and his once promising Hall of Fame career was over at 34. Lenny Dykstra had spinal stenosis, and his career was over at 33. David Wright is entering his age 33 season. Based on other player's careers, he's near the end of his career. If Wright plays past his age 34 season, he will be in uncharted territory.
Naturally, it is safe to assume Wright will not have a 12.4 WAR season thereby cementing his Hall of Fame case. To do that, Wright would have to match Babe Ruth's 1927 season when he hit 60 homeruns. No, if Wright is going to accumulate the needed 12.4 WAR, he's going to have to remain healthy and effective. He's going to have to manage his spinal stenosis.
Wright is currently signed until 2020. There are $90 million reasons why Wright will do all he can to finish that contract.
Presuming Wright does do that, he has five more years left in his career. In order to attain the necessary 12.4 additional WAR, Wright will have to average a 2.5 WAR a year for those five seasons.
In 2014, Wright played 134 games, and he was a 2.7 WAR player. In that season, he hit .269/.324/.374 with eight homers and 63 RBI. If Wright manages his back, and his treatments are effective, seasons like this over the next five years are certainly attainable.
Other Criteria
As Wright's peak is over, there really isn't anything he can do to improve his JAWS. With that in mind, we need to look at other areas that would improve Wright's Hall of Fame case.
Unfortunately, he will be unable to surpass Mike Schmidt's 548 homeruns or even reach the once magic number 500 homeruns. He won't catch Chipper Jones' 1,623 RBI. He won't catch Brooks Robinson's 16 Gold Gloves at third base. It does not appear Wright will reach 3,000 hits as he would need to average 250 hits over the next five years to reach that number. No, it seems like the only thing that will help Wright is the narrative.
The best thing going for Wright is the fact that he will most likely play his entire career as a Met. Aside from Tom Seaver, Wright is making a case as the best player to ever play for the Mets. Here are his Mets rankings:
Games Played – Second (307 behind Ed Kranepool)
Runs – First
Hits – First
Doubles – First
Homeruns – Second (17 behind Darryl Strawberry)
RBI – First
In addition, Wright's 50.1 WAR with the Mets is the second most any player has accumulated with the Mets; the most accumulated by any Mets position player. Even with Mike Piazza's recent election to the Hall of Fame, it appears that Wright is the team's best position player.
So overall, Wright still has a legitimate shot at the Hall of Fame. His name will be atop all the major offensive catergories. His WAR and other catergories will put him on the cusp of election. A strong 2016 will get him a lot closer to those goals.
Winning a World Series in 2016 can't hurt either.
Editor's Note: this article also appeared on metsmerizedonline.com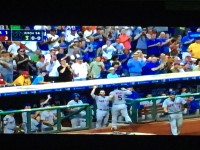 In my family, there are a number of huge Mets fans. One of them is my Uncle Pat. The two things I always remembered him saying about the Mets were:
How beautiful the Tom Seaver Number Retirement Ceremony was; and
How classy it was that the Mets brought back Lee Mazzilli in 1986.
I'm too young to remember the Lee Mazzilli heyday. However, I'm not too young that I don't remember Ron Darling's playing days. The reason why I bring this up is because Mazzilli was traded to obtain Darling, who was a key part of the 1986 Mets.
From what I hear, fans took trading Mazzilli hard. Not only was he a homegrown Met, but he was also a local kid. It's part of the reason Mets fans have extra love for players like Ed Kranepool. It's why we were even more excited when Steven Matz got called-up.
Now, David Wright isn't a local kid, but he did grow up a Mets fan. He is a homegrown Met. At times, he's played like a superstar. In 2006. 2007, and 2008, we all thought he would bring us a World Series. It didn't happen. The Mets then didn't resign Jose Reyes and stopped spending money. Then the lean years came.
This year was the first year in a while there was legitimate hope. The Mets had a healthy Matt Harvey. Jacob deGrom was coming off of a Rookie of the Year season. Offensively, as usual, it all seemed to hinge on Wright and his return from a shoulder injury. It lasted all of eight games before he went down. By necessity, Wright went into the rear view mirror.
The Mets made their trades and the team took off. Wright wasn't a part of the Mets Renaissance. We began to hear some nonsense about how Wright might upset the team chemistry. On Monday, Wright showed that notion was just noise. He's still the leader. He's still their best player. He's still the fan favorite.
That's the thing. For a whole generation of Mets fans, he's their Tom Seaver. He's the guy with the Hall of Fame talent you hope can lead you to the World Series. He's also their Lee Mazzilli. He's the lifetime Mets fan who was the best player on a bad team. It wasn't until he was gone that the team became a contender.
However, unlike Mazzilli, Wright is back with something in the tank. Wright may not be able to play everyday right now, but he's still their best option at 3B. I really hope the Mets make a long October run, and I hope Wright gets to be a large part of that like he was on Monday night.
As we know when David was gone, it was fun because the team was winning, but it didn't feel 100% "Wright" because he wasn't there. He's back, and it feels "Wright" again. Lets Go Mets!