Dwight Gooden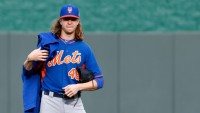 The Mets have a $140 million payroll. The strength of the team is its young, cost-controlled pitching. The pre-arbitration pitchers make little money by baseball standards. However, their $500,000+ salary should allow them to live comfortably.
Families make a lot less than that, and they can put a roof over their families heads and put food on the table. One of the crazy things a family is able to afford, even with relatively modest means, is a mattress for everyone. When they go away to places like Florida, they can stay at places that have decent mattresses. So with that said, why can't the Mets and their players?
Last year, Steven Matz almost missed the postseason because he injured his back sleeping on a Barcalounger. Yesterday, Jacob deGrom missed his Spring Training start because he tweaked his back sleeping on a mattress that was too soft. He was able to throw a bullpen. He then counseled with Matt Harvey who, like Baby Bear, had a mattress recommendation that is just right.
I know, I know. We should calm down. Matz was able to pitch in the postseason, and deGrom was able to pitch a pain free bullpen. However, I get nervous because it's the dumbest things that interfere with a great or potentially great season.
The 1987 Mets never got traction with their pitchers missing time. Most notably was Dwight Gooden and his cocaine suspension. Aside from Gooden, I think every Met pitcher had an injury including the guy who threw batting practice.
In 1988, the Mets returned to form, but there was a strange injury that hurt their chances at another World Series title. On the day the Mets clinched the NL East, Bob Ojeda, who was amazing in 1986, nearly severed the middle finger on his pitching hand while trimming the bushes in his front yard. The Mets, who dominated the Dodgers in the regular season, lost the NLCS in seven games.
In 2006, Duaner Sanchez suffered a season ending shoulder injury during a late night cab ride to get a late night bite. This caused a number of moves to try to replace his spot in the bullpen. In the seventh inning of Game Two of the NLCS, Guillermo Mota shook off Paul Lo Duca and threw a change up that Scot Spiezio turned into a game tying triple. In Game Seven, Aaron Heilman allowed Yadier Molina to hit the series winning homerun. It's possible Sanchez would've closed the door in either situation. Instead, he was unavailable.
The overriding point is that it's not just the Tommy John surgeries that kill your chances. It's also the yard work and can rides. It's the unforeseen problems that arise. Maybe the Mets win in 1988 if Ojeda hires a gardener. Maybe the Mets win in 2006 if Sanchez orders room service. I don't want to say maybe the Mets win in 2016 if their pitchers had better mattresses.
If in the equipment manager, I'm ordering a mattresses that Harvey recommended for every player. The 2016 season cannot be derailed by a bad mattress.