Curtis Granderson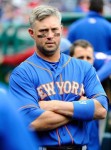 With all of the hand-wringing over Michael Conforto, we've ignored other puzzling decisions by the Mets, namely:
https://mobile.twitter.com/msimonespn/status/631287918150049794
That's right. Even though Curtis Granderson has had a real nice year, he's not hitting lefties. This shouldn't surprise anyone because he's effectively been a platoon candidate throughout his career:
vs. RHP .269/.356/.504
vs. LHP .224/.294/.398
Now, since Terry Collins has an infatuation with leading off Juan Lagares, I would say this is a natural platoon. However, I shudder to think of Collins putting him in RF again with Yoenis Cespedes in center. Plus, Lagares is in that platoon with Conforto.
Last night, Michael Cuddyer played his first game since coming off the DL, and he played well. He was 2-4 with two runs scored. On the first run, he scored from second on Carlos Gonzalez's strong arm. In the eighth, he stole a base. In sum, he looked healthy. If he's really healthy, he creates a good problem to have.
He's a professional hitter (an "ultimate pro") with a career triple slash line of .277/.344/.462. Arguably, if healthy, he's the best hitting OF currently on the team (I think it's Cespedes). In his career, he's been deadly against lefties to the tune of .288/.376/.495. I think it's a no-brained for him to platoon with Granderson, at a minimum.
For his career, Cuddyer hits righties to the tune of .273/.330/.447. He's much better against lefties. Here's the Mets other OF options against righties (Granderson is above)
Yoenis Cespedes .277/.317/.478
Michael Conforto .206/.317/.382 (SSS)
Juan Lagares .253/.285/.336
What this tells us, is if Cuddyer is healthy, he needs to play everyday. I think it would be wise to ease him back, but I would not limit him to a strict platoon. This means, on offense alone, the OF against righties should be: Cuddyer LF, Cespedes CF, Granderson RF. Again, this indicates Conforto should be demoted.
If Cuddyer's not healthy, then the Mets need to figure something out with Granderson in RF. He did come through the past few nights against a lefty, but that was more about the reliever than him.
I hope Cuddyer's really healthy because he'll be a huge boost to the offense as he was last night. If not, he should be Granderson's caddy against lefties.
Right now, with all of these interchangeable parts, Collins has to earn his money by putting the best team on the field. He can't gamble because there is so much to lose right now. If Cuddyer's healthy, a lot of the risk is removed and it makes Collins' job a lot easier. It also makes the Mets a better team.