Back on September 25, 2004, everyone was reminded how the bottom division clubs love to play spoiler, and how the teams that seemingly have nothing to play for are the most dangerous of all.
Entering the final week of the regular season, the reigning National League Central Division Champs, the Dusty Baker led Chicago Cubs, had a two game lead in the Wild Card standings and a fairly easy schedule in front of them to close it out. First, it was the 90 loss Mets followed by the 90 loss Reds, and then finally a Braves team that would have clinched and have nothing to play for in the final week of the season.
That 2004 Mets team simply wasn't good. It was a mixture of players like Mike Piazza, who was past his prime, and players like David Wright, who were not quite ready to become the stars they would eventually become. They were lead by a manager in Art Howe, who had become a lame duck manager that was going to be fired at the end of the season. However, that didn't mean that 2004 Mets team didn't have anything to play for in the final days of the regular season.
Naturally, you would have expected the Cubs to roll over this Mets team because the Cubs had everything to play for, and this Mets team was playing out the string. That certainly seemed true as the Cubs carried a 3-0 lead into the bottom of the ninth against the Mets. At that point, the Mets who had something to play for began to go to work. Eric Valent and Jason Phillips, both of whom were trying to show they could be everyday major league players drew walks against Ryan Dempster necessitating Dusty Baker to bring on his closer LaTroy Hawkins. Hawkins was rudely greeted by Chicago native, Victor Diaz, who was a Cubs fan growing up.
The Mets had acquired Diaz in 2003 in the Jeromy Burnitz trade. The Mets organization was understandably excited about player that was nicknamed "Baby Manny" after Manny Ramirez. On this day, Diaz would show everyone how he got that nickname as he launced a game tying three run opposite field homer off Hawkins. In the bottom of the 11th, the Mets would again shock the Cubs when Craig Brazell, an interesting power hitting first base prospect, hit a walk off home run against Kent Merker.
That Mets win would begin a Cubs downward spiral that saw them finish the year 2-7 and two games behind the Giants for the Wild Card. The Cubs were beat by a group of Mets players that still had something to play for in what was a lost Mets season. This is a good reminder for a Mets team heading into Philadelphia to face what could be a dangerous Phillies team.
The Phillies are already talking tough with catcher Cameron Rupp saying, "his is the last time all these guys in this clubhouse will be together. Just go out and finish hard. A lot can happen in four days. We can ruin somebody else's season." (Philly.com).
The Phillies have the right mindset showing they can be a dangerous team this weekend. They're going to start young pitchers with something to prove in Alec Asher and Jerod Eickoff. They have Ryan Howard who continuously hits long home runs against the Mets. They even have Tyler Goeddel, who would probably love to stick it to his older brother Erik Goeddel. Lastly, the Phillies have a manger in Peter Mackanin, who is trying to make a case that he should continue to be the Phillies manager.
Believe it or not, the Phillies have lot to play for this weekend. The Mets cannot take them lightly. Starting with Bartolo Colon, the Mets have to go out there and just crush what Rupp has indicated could be a feisty Phillies team. The Mets are better, and they just need to take care of business. If they don't, they may fall victim to their own Diaz and Brazell homers, and they still could find themselves on the outside looking in come this postseason.

After the Marlins beat the Nationals last night, the Mets magic number is finally in single digits. At a minimum, I thought it was nice to be off of 10. However, I saw the choices for 9, and I quickly realized it was going to be difficult to find a player that fits within my parameters.
Many of the players either played well or were on good teams. Many of the players played before I was born. However, I knew there was a player out there. I trusted that I could find someone who wasn't that good and played on a bad Mets team. I then found my man Craig Brazell: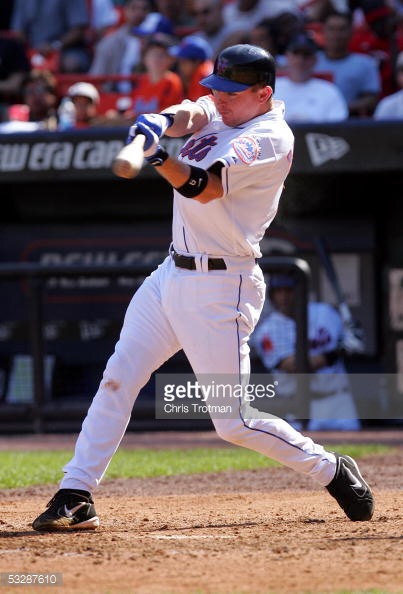 If you don't remember him, it's probably because he only played 24 games with the 2004 Mets, who went 71-91. In these 24 games, he would hit .265/.286/.412. He wouldn't play in the majors for another three years when he would play five games for the Royals.
It's a shame because he was an actual major league prospect. He was a Top 10 organizational player seen to have good power and a good glove at firstbase. Unfortunately for him, he was blocked by the Mike Piazza firstbase experiment. The next season, he was blocked by Doug Mientkiewicz (because Carlos Delgado wouldn't sign with the Mets). After 2005, he was granted free agency, and he left Mets organization.
In some ways, Brazell reminds me of Ike Davis in that they were both good fielding first base prospects with power (Davis was a much better prospect). Unfortunately, neither panned out even if Davis had some early success. However, unlike with Brazell, the Mets had a viable option in their system with Lucas Duda.
That's what this season has taught us. You need organizational depth. You need it not just to get the players you need at the trade deadline, but also to fill-in spots for your team when there is injury or ineffectiveness. It's unfortunate when the prospects work out. It's devastating when there's no viable alternatives at the ready.
So with that, let's offer a hat tip to our magic man number nine, Craig Brazell.