Carlos Beltran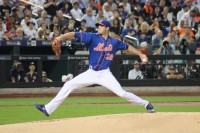 Other than a win, if you set forth what you wanted from tonight's game, it would be a strong start from Steven Matz and for Lucas Duda to get back on track. Well done and done.
It didn't start great for Matz. He was amped up in the first inning, and he wasn't locating. He worked around a leadoff walk and single to Carlos Beltran (seriously why was he booed), and only allowed one run on a sac fly. He got through six innings with the scored tied at 1-1. His final line was six innings, seven hits, one walk, four strikeouts, and one earned.
The score was tied at 1-1 when he left because Duda hit a homerun in the second. He looked back on track tonight going 2-4 with a run, an RBI, a double, and a homerun. Matz would get the win because Daniel Murphy would hit a go-ahead homerun in the bottom of the sixth. Murphy had a great night going 2-4 with a homerun and a triple (slight misplay by Jacoby Elssbury).
Overall, four of the Mets five runs came via homerun. The last homerun was a two run pinch hit homerun by Juan Uribe in the seventh. You could say his ball went,"Bye, Bye, Bye."
Duda. Murphy. Uribe. GIF of all three #Mets homers tonight: pic.twitter.com/zyeeq4k3Fi

— Anthony DiComo (@AnthonyDiComo) September 19, 2015
The fifth run would save scored in the eighth on a wild pitch. The run was scored by Eric Young, Jr., who pinch ran for Murphy after his triple in the eighth. EY now has no hits and seven runs scored for the Mets.
The bullpen kept the lead even with Tyler Clippard out with back problems. Hansel Robles pitched a scoreless seventh, which included getting a lefty out. Addison Reed was terrific in the eighth showing he's ready for the playoffs. Even without the save opportunity in a 5-1 game, Jeurys Familia came on in the ninth.
It was an adventure. He loaded the bases with one out. That included an infield basehit off of his knee. He got Brett Gardner to fly out to left, and the runner did not try to run on Yoenis Cespedes' arm. He was in left because Juan Lagares came in for defense. Familia then struck out Chase Headley to preserve the 5-1 win.
I think Matz made his case to pitch in the playoffs. Duda got back on track. Murphy remained clutch. The Mets beat a team that needed to win tonight. The Mets aren't collapsing.
They're getting ready for the playoffs.