In recent news former Mets great Al Leiter has announced he will not be returning to the YES booth for the 2019 season. With him leaving the booth, he is leaving behind a promising and good broadcast career which had begun when he was a player providing commentary during the 2003 NLCS.
During that NLCS, you could see Leiter was going to be a gifted broadcaster. He hasn't disappointed in his time as a Yankees color commentator or as an analyst on MLB Network. Seeing his work, you knew no one was pushing him out the door, and yet Leiter has announced he is leaving.
The reason is his son, Jack, is a senior in high school, and he is committed to Vanderbilt. If Jack is anything like his father, his uncle Mark Leiter, or even his cousin also named Mark Leiter, he has a real Major League future ahead of him. If that is the case, Al Leiter is going to be in New Jersey doing work for the MLB Network, or he will be in the Bronx, or he will find himself anywhere where the Yankees travel.
That does not leave him much time to watch his son pitch during his senior season. It doesn't give him time to give parental advice to help prepare his son for college or even the draft. It doesn't leave enough time for him to spend time with his son because his son finds himself in places like Tennesse, whether that is for college or for an Appalachian League affiliate.
In his career, Leiter made approximately $68 million. He's done a fine job as a broadcaster presumably earning a good salary. With his reputation and his relatively young age (53), Leiter has the chance to do this. This is all every parent wants, and Leiter has that opportunity. Good for him for taking full advantage.
When he's ready to return, there could be a chance for him at SNY as the Mets have begun taking more of a look at the 90's Mets team. We have seen Todd Zeile recently hired to replace Nelson Figueroa and Bob Ojeda before him. Sooner or later, we know Keith Hernandez and Ron Darling are going to leave the Mets booth.
Maybe, there will be room for a new booth with Gary, Leiter, and Mike Piazza. It would be the type of booth which could generate the same chemistry and cache with Mets fans. And who knows, maybe we will see Leiter calling games his son is pitching.
But before then, let's hope the best for Jack Leiter and hope Al enjoys each and every minute of the ride.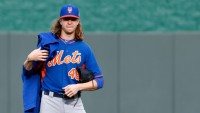 The Mets have a $140 million payroll. The strength of the team is its young, cost-controlled pitching. The pre-arbitration pitchers make little money by baseball standards. However, their $500,000+ salary should allow them to live comfortably.
Families make a lot less than that, and they can put a roof over their families heads and put food on the table. One of the crazy things a family is able to afford, even with relatively modest means, is a mattress for everyone. When they go away to places like Florida, they can stay at places that have decent mattresses. So with that said, why can't the Mets and their players?
Last year, Steven Matz almost missed the postseason because he injured his back sleeping on a Barcalounger. Yesterday, Jacob deGrom missed his Spring Training start because he tweaked his back sleeping on a mattress that was too soft. He was able to throw a bullpen. He then counseled with Matt Harvey who, like Baby Bear, had a mattress recommendation that is just right.
I know, I know. We should calm down. Matz was able to pitch in the postseason, and deGrom was able to pitch a pain free bullpen. However, I get nervous because it's the dumbest things that interfere with a great or potentially great season.
The 1987 Mets never got traction with their pitchers missing time. Most notably was Dwight Gooden and his cocaine suspension. Aside from Gooden, I think every Met pitcher had an injury including the guy who threw batting practice.
In 1988, the Mets returned to form, but there was a strange injury that hurt their chances at another World Series title. On the day the Mets clinched the NL East, Bob Ojeda, who was amazing in 1986, nearly severed the middle finger on his pitching hand while trimming the bushes in his front yard. The Mets, who dominated the Dodgers in the regular season, lost the NLCS in seven games.
In 2006, Duaner Sanchez suffered a season ending shoulder injury during a late night cab ride to get a late night bite. This caused a number of moves to try to replace his spot in the bullpen. In the seventh inning of Game Two of the NLCS, Guillermo Mota shook off Paul Lo Duca and threw a change up that Scot Spiezio turned into a game tying triple. In Game Seven, Aaron Heilman allowed Yadier Molina to hit the series winning homerun. It's possible Sanchez would've closed the door in either situation. Instead, he was unavailable.
The overriding point is that it's not just the Tommy John surgeries that kill your chances. It's also the yard work and can rides. It's the unforeseen problems that arise. Maybe the Mets win in 1988 if Ojeda hires a gardener. Maybe the Mets win in 2006 if Sanchez orders room service. I don't want to say maybe the Mets win in 2016 if their pitchers had better mattresses.
If in the equipment manager, I'm ordering a mattresses that Harvey recommended for every player. The 2016 season cannot be derailed by a bad mattress.