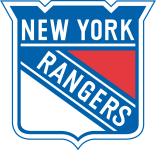 When my son was first born, I began watching hockey with him. Between the Olympics and the Rangers Stanley Cup run, it was pure magic. I enjoyed every minute of it.
Last year was tough. The Rangers won the President's Trophy in what looked like a Stanley Cup or bust season. I still remember that fateful Game 7 of the Eastern Conference Finals. However, what I remember wasn't the frustrating loss. It was my son's fever. I remember spending that entire game trying to bring the fever down. I wasn't able to accomplish it until sometime after midnight. It was a long, hard night. Normally after a loss like that, I'm up all night. That morning I was able to put my head down and go to sleep. The next day was a whole other story, especially with my son's fever having gone away.
Since that time, my son has been much more interested in baseball just like his daddy. Just like in 2014, he and I enjoyed a magical run that fell just short. I think I took it harder than he did both times.
Tonight, the Rangers take on the Lightning again. The Rangers can't exact revenge tonight. No, it's just a reminder of how close the Rangers were last year. They seem to know and so far has responded by jumping out of the gate with a 14-2-2 record. The team may have its faults, but it is primed for another run to the Stanley Cup.
With the Mets season over, I'm back in full time. The Rangers are yet again a good team that's enjoyable to watch. However, I'm not sure I can take a third straight year of one of my teams falling just short of winning a championship.
Just like in 1994, New York needs a championship. You're the best team in New York, and you have the playoff experience to deliver one. It's time the Rangers get King Henrik a proper crown.
Lets Go Rangers!
Editors Note: apologies to the Islanders fans who read this blog. I promise the Rangers will not be a regular feature. It was more of a reaction to the irritation surrounding the Mets offseason.