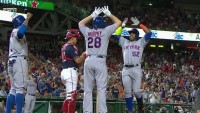 The Nationals resurgence was lead by the first overall picks Steven Strasburg and Bryce Harper. They were brilliant tonight. Strasburg went 7.1 innings with three earned and 13 Ks. The Mets barely touched him in the first seven innings. Harper went 3-4 with all three Nationals run scored on a double and two homers. It wasn't enough.
For the third straight night, the Mets rallied late to abuse the Nationals bullpen. For a while, it seemed that Travis d'Arnaud's second inning solo homer was all the Mets were going to get. Then in the eighth, Kelly Johnson pinch hit for Wilmer Flores [standing ovation], and hit a pinch hit homer to tie the game at 2-2. After a Curtis Granderson single, Strasburg was lifted.
Matt Williams then brought on Drew Storen, who was completely ineffective in this series. Sure enough, he gave up the go-ahead homerun to Yoenis Cespedes. I know Cespedes isn't a true MVP candidate, but his play has been nothing short of a miracle for the Mets.
Harper hit his second homer in the eighth, and the Mets tacked on a run in the ninth to make the final score 5-3. It was great to see deGrom get back on track and get the win. He had a good game with 7.0 innings, nine Ks, and only two earned.
It was Mets second straight sweep of the Nationals. With the Mets now up seven in the NL East, it's over. The Mets will win the division. These past three games were nothing short of amazing. They could've/should've lost all three, but they showed a resolve that championship teams show. Now they can begin rating their pitchers to gear up for October.
It's been seven years since we could say that. Only this time, our pitching is healthy.