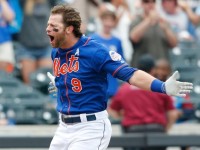 It was like the Saturday press conference. Matt Harvey was there by himself, all alone. He seemed unprepared and less sure of himself. He bungled everything from the start. In the process, he managed to anger the Mets fans.
The Nationals jumped on Harvey early scoring two in the first and one in the second to take a 3-1 lead. Like he was Sunday, David Wright was there for him hitting a second inning solo homer. Other than that, no one supported him . . . including himself.
Terry Collins let him leadoff the sixth with the team down two runs. It's hard to argue with Harvey cruising and the bullpen usage yesterday. The Mets then wasted a gift triple to Curtis Granderson. Then the bottom of the sixth happened.
The first two got on, and then Harvey bobbled a bunt loading the bases with no out. Harvey got a strikeout, then Michael Taylor stepped up to the plate. He then hit a Little League Grand Slam. It was a hard hit ball so a limited SS like Wilmer Flores [standing ovation] couldn't make a play on it. Then Cespedes charged the ball hard, but he olayed it allowing Taylor to go round the bases and give the Nationals a 7-1 lead. Apparently, the Nationals official scorer is a disgruntled Mets fan so it was ruled all seven runs were earned.
The Mets woke up in the seventh and showed the Nationals who was the better, more resilient team. Down 7-1, the Mets went to work. They loaded the bases and Granderson got an RBI walk, and then Cespedes redeemed himself by hitting a bases clearing double to bring the Mets within 7-6. Upon reloading the bases, Lucas Duda got an RBI walk tying the game at 7-7.
In the eighth, forgotten man Kirk Nieuwenhuis hit a pinch hit go-ahead homerun. Tyler Clippard did his job in the bottom of the inning.
In the ninth, Jeurys Famila let up a leadoff single. He was helped out by Duda who made a nice play getting the lead runner out on a terrible Anthony Rendon bunt. Familia walked Bryce Harper, who is seemingly 0 for 2015 against the Mets. It would set up a huge 5-4-3 double play to end the game, and perhaps the NL East race.
It took awhile, but the Mets picked up Harvey and themselves. This Mets team is resilient and looks like they've locked it up. Let's now get Harvey ready for October.
Post script: I stumped Gary