Neon Moment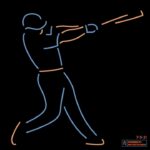 The New York Mets went to Yankee Stadium for part one of the annual Subway Series scuffling. They had lost 11 out of their past 17 games. After taking the first game, they were on the precipice of losing another game while having another frustrating day at the plate with lost opportunities.
In the top of the seventh, which was the final inning because of Rob Manfred, Aroldis Chapman was on for the save. He had been struggling of late with the sticky substances crack down, but he got ahead of Pete Alonso, who was in a 1-for-17 stretch.
In dramatic fashion, Alonso hit a game tying solo homer ignoring the Mets offense.
🗣️ PEEEEEETE! pic.twitter.com/B542SRCi0t

— New York Mets (@Mets) July 4, 2021
After that homer, the Mets offense was unstoppable. Chapman completely lost it, and he set up a six run inning for the Mets. Just like that, a 5-4 loss became a 10-5 win. As an aside, this would prove to be the Mets first road series win since the May 31 – June 2 series against the Arizona Diamondbacks.
Alonso would go on to become the 30th player to homer in both ends of the doubleheader. After that, he'd go on to win the Home Run Derby. With the home run barrage and the sparking the Mets to victory, Alonso providing the early fireworks on the Fourth of July is the Neon Moment of the Week!
* * * * * *
I am very appreciative Athlete Logos has agreed to participate in this feature. If you like his work as much as I do, please visit his website to enjoy his work, buy some of his merchandise, or to contract him to do some personal work for yourself (like I have).