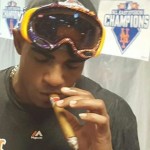 It was no secret the Mets were looking for an OF at the trade deadline. At first, it seemed they were close to acquiring Carlos Gomez. Then the Jay Bruce deal fell apart. After those deals, the Mets finally obtained Yoenis Cespedes, who has been amongst the best players this year.
I thought about this whirlwind when the Mets clinched the NL East. The final play was Bruce striking out. When he struck out, I thought about the saying "the best trades are the ones you don't make." That certainly applied to Bruce. Bruce ultimately stayed with the Reds and floundered. In August, he hit .150/.185/.292. He's been a little better in September hitting .206/.257/.443.
Gomez, on the other hand, wound up getting traded. He joined an Astros team that was in first place and was 13 games over .500. Houston is now in second place, only eight games over .500, and in a dog fight just to make the playoffs. In fact, if the season ended today, they would miss the playoffs. While it has been a team effort, Gomez certainly hasn't helped with his .234/.282/.379 line with the Astros.
Instead, the Mets got Cespedes, who has hit .294/.338/.624. This is the best stretch of his career. The Mets went from second place and only three games over .500 to a easy ride to winning the NL East. Maybe the Mets still win the NL East with Bruce or Gomez, but I doubt it would've been as easy.
The Mets got lucky the first two trades fell through because they wound up getting the right player. As a result, the Mets are now both lucky and good.