It doesn't matter what position you are voting.  If you are looking to elect a president, dog catcher, or an outfielder to the All Star Game, when you are solely relying upon write-in votes, you have a steep uphill climb to accomplish your goal.  With the first round of voting results being published by MLB, we see Michael Conforto is going to fall far short of being elected one of the All Star Game starters: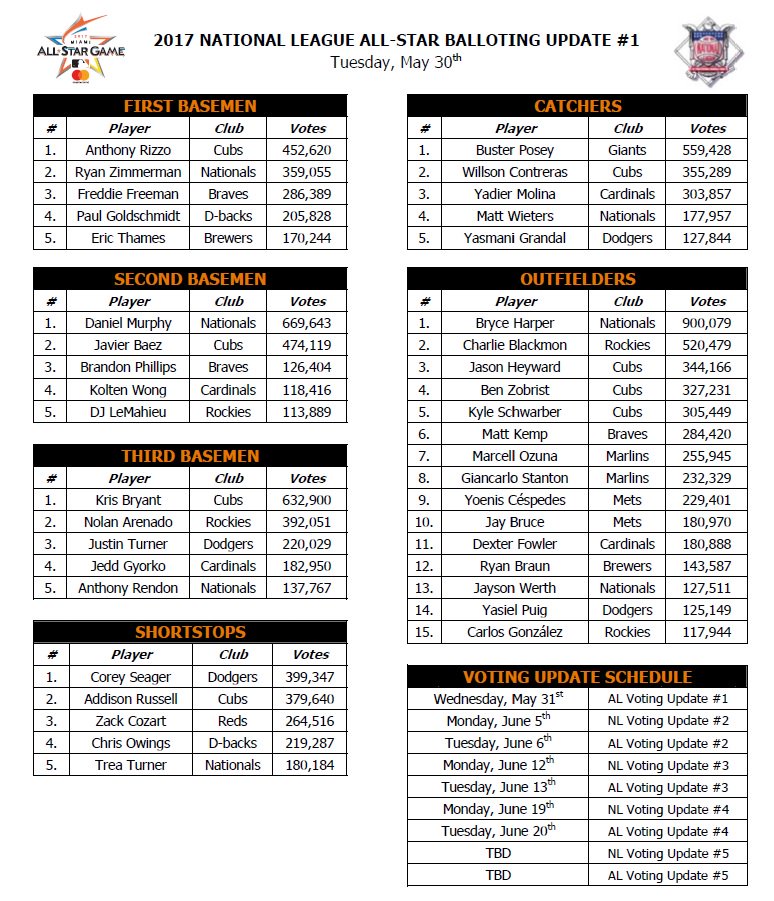 Even if Conforto was one vote behind Carlos Gonzalez, that still puts him 226,223 votes behind Jason Heyward for the third spot in the National League All Star outfield.  Even if Conforto were to get a head of steam in the voting, it is unlikely he gets elected because Cubs fans coming off their first World Series in their lifetimes have been stuffing the ballot box.  Right now, the lowest any Cubs player is in All Star Game voting is fifth.  That honor goes to Kyle Schwarber who is hitting .173/.294/.339 on the season.  Right above him is World Series MVP Ben Zobrist.  Long story short, a Cubs outfielder will likely start the All Star Game.
They will start the All Star Game despite Conforto being far superior to the three Cubs outfielders.  Arguably, Conforto is the second best outfielder in the National League behind just Bryce Harper.  Still, he has no shot to start the All Star Game, absent Joe Maddon making him the DH, because he was not put on the All Star Game ballot when it was first released.  In fact, Conforto's name is still not on the ballot.  Why?
Back in the days when ballots were printed and put in ballparks, this was understandable.  There's a finite amount of room on a paper ballot, and you are not going to undergo the cost of revising ballots after they have already been printed and put in 30 MLB ballparks.  However, MLB no longer prints paper ballots.  It's all digital meaning the same constraints you have with paper ballots are presumably not present.
Even if there are some unforeseen issues with updating the ballots mid-vote, there is a legitimate question over why Conforto's name was not on the ballot the minute it was released.  Conforto made the Opening Day roster.  As such, his playing in the first half of the season was not in as much doubt as say an Amed Rosario who began the season in Las Vegas.  Given how players get injured, why couldn't MLB put every player who made the Opening Day roster on the ballot?
If Conforto was on there from day one, he might have had a chance to overtake one of the Cubs outfielders to start in the All Star Game.  The fans could have rewarded him for his terrific start to the season by voting for him.  However, his name wasn't there, and for many voters he was out of sight out of mind when the ballots were cast.  It is something that could have been rectified by having all palyers who made the Opening Day roster on the ballot.
There's really no downside to this unless MLB is overly concerned with players like Chase d'Arnaud being elected starters.  Of course, this exact scenario happened to the NHL with John Scott.  Of course, the end result of that was increased attention to the sport, increased rating for the All Star Game, and a feel good story.  If MLB still has this concern, maybe they should take the vote away from the fans.
It wouldn't be a huge stretch from where they are now when MLB doesn't even list players like Conforto on the ballot.