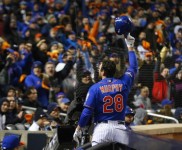 The Mets are up 2-0 in this series because they repeated the same formula from last night: (1) great starting pitching; (2) Daniel Murphy hitting homers; and (3) Curtis Granderson being a table setter.
Noah Syndergaard used his fastball to overpower the Cubs lineup. On only two days rest from his relief appearance, he would pitch 5.2 innings allowing three hits, one earned, one walk, and nine strikeouts. The nine strikeouts but him in elite company:
Noah Syndergaard is the 4th @Mets pitcher with multiple 9-K games in the playoffs. He joins elite company. pic.twitter.com/hF7Cofsj57

— Baseball Tonight (@BBTN) October 19, 2015
Thor allowed his first and only run when Kris Bryant hit an RBI double. He walked off to a standing ovation and gave way to Jon Niese. Niese pitched today despite recently losing a family member. He summoned everything he had and struck out Anthony Rizzo. As he left the mound to cheers, he pointed to the sky as if to say thank you to the new angel who was at his side tonight.
Niese is NICE. #OwnOctober pic.twitter.com/wFZril6dP6

— MLB GIFS (@MLBGIFs) October 19, 2015
The Mets then went to the regular season bullpen formula of Addison Reed–Tyler Clippard–Jeurys Familia. The kept the Cubs at bay and preserved the 4-1 win.
The Mets got three of those four runs in the first. It started with a Granderson single. He scored on a . . . wait my notes can't be correct . . . let's me check the box score online. Wow, Granderson scored on an RBI double from David Wright. That is why you let your best players play. Speaking of your best player, Murphy hit yet another homerun.
He's unconscious:
Daniel Murphy has homered in 4 straight playoff games. 1969 World Series MVP Donn Clendenon homered in 3 straight. pic.twitter.com/zfvUU52o3v

— Baseball Tonight (@BBTN) October 19, 2015
In the third, Granderson reminded everyone he should be in the way too soon MVP discussion. He walked and stole second. This gave the Cubs the opportunity to walk Murphy rather than let him hurt you again. Granderson then stole third and scored on the Yoenis Cespedes infield single. To further his MVP case, Granderson robbed Chris Coghlan of a homerun:
When you have great pitching and two players in a dogfight for NLCS MVP, you're going to be up 2-0 in the series. After taking care of home field, the Mets travel to Wrigley with a significant advantage in the starting pitching matchup. Let's let Bon Jovi take us out since the Mets are halfway there while living on a prayer: