Neon Moment Of The Week: Lindor Emerges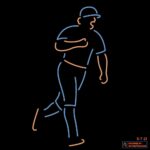 Things had not been good for Francisco Lindor. He had a 0-for-26 stretch, the second worst in his career, and he was getting booed at Citi Field.
You could tell his frustrations were getting to him. There was a miscue and misplay on a ball where Jeff McNeil, and those frustrations boiled over.
The two players headed towards the clubhouse. Soon thereafter, Michael Conforto and Dominic Smith were rushing into the clubhouse themselves.
No one is quite sure as to what exactly happened. Most assumed their was a fight or disagreement. Lindor and McNeil copped to that saying they were debating whether it was a rat or a raccoon they just saw.
Whatever happened, a new Lindor emerged. The player who hadn't homered at Citi Field and whose last extra base hit was over two weeks ago stepped up to the plate in the seventh inning as the tying run.
.@Lindor12BC earns the neon with a HUGE HR to tie the game late. It is officially a winning streak now. #LGM #NYMNeonProject pic.twitter.com/PJM84qznNQ

— Athlete Logos (@athletelogos) May 8, 2021
Lindor hit a game tying two run homer off of Caleb Smith. From there, the Mets would win in extra innings with Patrick Mazeika getting his first Major League RBI.
That was the Mets third straight win, which just became a four game winning streak. This was the sign of the Mets pulling together and not fracturing when put through all of this stress.
While the postgame focus might've been centered around the ratcoon drama, that wasn't the story. The real story is the Mets are playing good baseball, and Lindor is beginning his annual May breakout, and that's why it's the Neon Moment of the Week!
* * * * * *
I am very appreciative Athlete Logos has agreed to participate in this feature. If you like his work as much as I do, please visit his website to enjoy his work, buy some of his merchandise, or to contract him to do some personal work for yourself (like I have).