Neon Moment of the Week: Golden Stroman
Sometimes, when you watch a player, you just see they are better than just everyone at something, and it's pure magic. You see it when Jacob deGrom toes the rubber. You see it when Mike Trout steps to the plate. You also see it when a ball is put in play, and Marcus Stroman has the ability to make a play.
In many ways, that was Stroman's introduction to the Mets. In his first ever inning, he made a great play to nail a Pittsburgh Pirates runner at the plate. Each and every time Stroman pitches, you realize that any ball hit near him is a play that he can make. That includes the plays no one else can make.
We saw that in the game between the Mets and the Rockies in the first end of the doubleheader. On balls hit to catcher turned first baseman James McCann, Stroman sprung into action directing McCann. The result was an inexperienced first baseman being able to pull off what was somewhat difficult 3-1 putouts.
If that was it, it was enough. However, this is Stroman, a uniquely athletic pitcher who plays the position defensively like he is a shortstop. With the Mets up 1-o in the fifth inning of a seven inning game, the speedy Garrett Hampson tried to get on to start the inning by laying down a bunt. It was a great bunt, but a better play by Stroman.
.@STR0 makes this play look routine. #LGM pic.twitter.com/KM2QZtgmPx

— New York Mets (@Mets) May 27, 2021
That play as well as Stroman's other plays in this game stood out, and it allowed the depleted Mets to beat a very good pitcher in German Marquez 1-0. The Mets needed everything they could muster to beat Marquez with this lineup. They got that from Stroman with his pitching and his defense. Looking at Stroman, he has been great in both aspect of his game all year.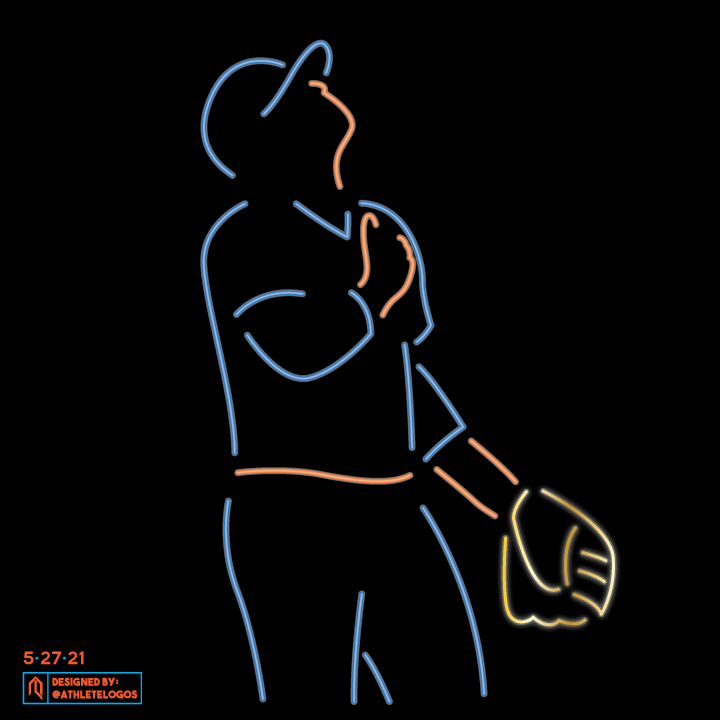 Going through Mets history, Storman is just on another level defensively. Seeing him play defense as a pitcher is like seeing Keith Hernandez play first, Rey Ordonez play shortstop, or Juan Lagares play center. His defense is so special he even earned real praise from Howie Rose who has been a Mets fan from the beginning. Stroman's defensive play has caused Rose to remark he would pay just to see Stroman play defense.
When you are receiving that level of praise from the great Howie Rose, and you are doing all you can do to help this depleted Mets roster win games, this is obviously the Mets Neon Moment of the Week!
* * * * * *
I am very appreciative Athlete Logos has agreed to participate in this feature. If you like his work as much as I do, please visit his website to enjoy his work, buy some of his merchandise, or to contract him to do some personal work for yourself (like I have).