Neon Moment Of The Week: Marcus Stroman Pitches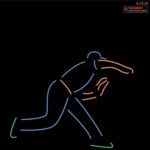 Despite the threat of rain, Marcus Stroman took the mound. The game would last three batters before the game was suspended. In every sense of the word, it was a washout.
Stroman bemoaned the unsafe playing conditions. He was also was frustrated by all the hard work he put in only to pitch to three batters.
Initially, like all starting pitchers, he wanted to stay on his normal routine. This led to a deluge of unfair criticism fans would not place on another player.
Knowing his team needed him with the rainouts and doubleheaders, he threw a bullpen session, and he declared himself good to go. On one day of rest, Stroman went out there and dominated:
Stro Motion Neon @STR0 #LGM #NYMNeonProject pic.twitter.com/0rxMiHBSs0

— Athlete Logos (@athletelogos) April 14, 2021
His final line would be 6.0 IP, 4 H, 0 R, 0 ER, 0 BB, 3 K. He would also get the win. Stroman would have gone out for the seventh and final inning of the game, but he alerted Luis Rojas and the Mets staff he needed to come out of the game.
In the bottom of the sixth, he drew a walk, and he ran the bases. It should also be noted he delivered a great bat flip on the walk he drew:
Grateful for life daily. Truly just trying to enjoy every experience with love while being present in the moment. Tomorrow is never guaranteed. When you realize that…life becomes calming and you wake up feeling abundant through any/all adversity! 🗣 #HDMH @HDMHApparel @_shugo pic.twitter.com/8IA73M244P

— Marcus Stroman (@STR0) April 14, 2021
So far, Stroman is having a great season. He's developed a new pitch, and he appears poised to have a Cy Young caliber type season. So far, he's 2-0 with a 0.75 ERA, 0.750 WHIP, and a 3.00 K/BB.
Going back to that game, it was everything Stroman is about. He muted the noise, overcame adversity, was a great teammate, and was a fierce competitor. This, along with the great work including the Lady Liberty colored cleats, is why this is the Neon Moment of the Week!
* * * * * *
I am very appreciative Athlete Logos has agreed to participate in this feature. If you like his work as much as I do, please visit his website to enjoy his work, buy some of his merchandise, or to contract him to do some personal work for yourself (like I have).