Neon Moment of the Week: Jacob deGrom Inner Circle Hall Of Famer
Earlier in the week, Jacob deGrom said something which would've sounded ridiculous from anyone else. Like Tom Brady, deGrom wants to play well into his 40s.
As he explained, that's what he needs to do in order to fulfill his goal. As he said, "To become an inner-circle Hall of Famer, I'm gonna have to play that long."
Like he always does, deGrom went out there and backed it up. He did it by once again setting Major League records.
5️⃣0️⃣ punchouts (and counting) through his first four starts of the season. A new major league record. 👀 pic.twitter.com/IaEa2SmidW

— New York Mets (@Mets) April 24, 2021
In his complete game two hit shutout of the Washington Nationals, deGrom set a new personal best with 15 strikeouts. He became the first pitcher to strike out 50 over his first four starts of the season.
In fact, deGrom would accomplish far more than that. His career ERA dropped to 2.55, which puts him ahead of Tom Seaver. He now also tops Seaver in K/9 and ERA+ while nipping at his heels for FIP.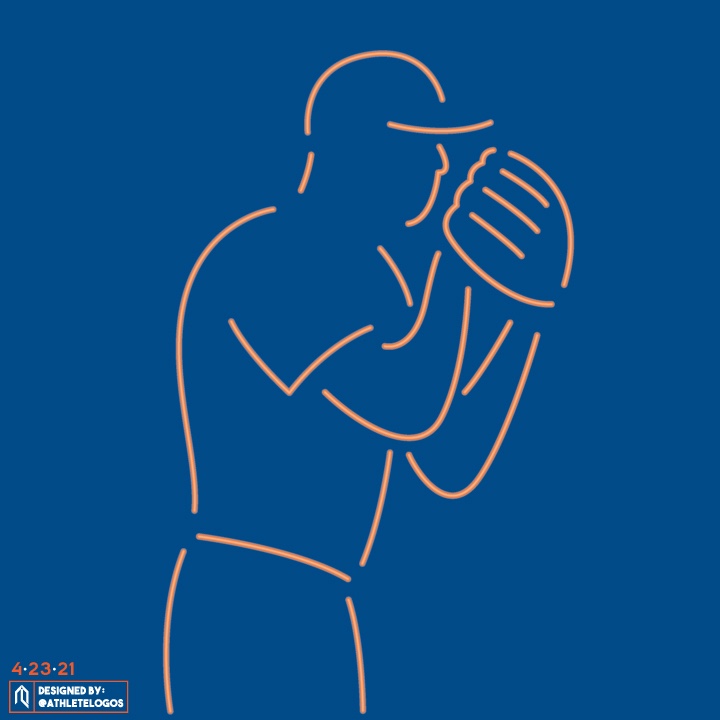 That's not supposed to happen. This is like a New York Yankee taking a run at Babe Ruth. You're not supposed to be able to reach these levels.
It's not just that. The last pitcher to have ANY four span with 50 strikeouts and a sub 0.50 ERA are deGrom and Randy Johnson. He's already bested Bob Gibson's mark for consecutive quality starts. The entire list of pitchers with a Rookie of the Year and consecutive Cy Youngs is deGrom.
In his career, deGrom has made 187 starts. In 88 of them, he's allowed one run or fewer. That's 47.1% of his career starts. This is truly rarified air, and he's only getting better.
Anytime you set new records and officially move past Seaver, you firmly put yourself in the conversation for inner circle Hall of Famers, and obviously, it makes your performance the Neon Moment of the Week!
* * * * * *
I am very appreciative Athlete Logos has agreed to participate in this feature. If you like his work as much as I do, please visit his website to enjoy his work, buy some of his merchandise, or to contract him to do some personal work for yourself (like I have).