Mets Fans Want A Winner For An Owner, Not A Celebrity
The Alex Rodriguez ownership group is taking a really odd route to push for buying the New York Mets. It starts with A-Rod, who made the bizarre, hypocritical, and partially retracted push for a salary cap.
It's not just A-Rod. It's the rest of his celebrity athlete potential ownership group who are making non-monetary pitches to buy the team.
We finally have a society paying attention to race, discrimination and injustice. And now that there's a chance to sell the Mets to bidders of color, MLB wants to give instead to Steve Cohen — a billionaire with a long track record of shady dealings?https://t.co/fi2zL3ruuU

— Bradley Beal (@RealDealBeal23) July 17, 2020
Beal thinks an ownership group should get it due to racial composition. Then, there's Mason Plumlee, who took to his blog to try to tell us they have the superior ownership group because they're cooler.
It should be noted that post was taken down because he incorrectly asserted Nets owner Joseph Tsai would be part of the ownership group. He won't.
Sorry Twitter, it is not true. I grew up as a Mets fan and I have a lot of respect for Alex and Jennifer. But I'm not involved in bidding for the Mets. Gotta focus on basketball. https://t.co/lX3C4sWnJk

— Joe Tsai (@joetsai1999) July 18, 2020
Going back to the deleted post, Plumlee pitched the ownership group as passionate fans, and from the player standpoint, Plumlee talked about things like having a good locker room and how they hate to lose. Note, he didn't say spend what it takes to win.
He then made part of his pitch to the fan base on his group. Aside from this group of athletes (without much of a pedigree), he alluded to how much cooler and sexier his group is: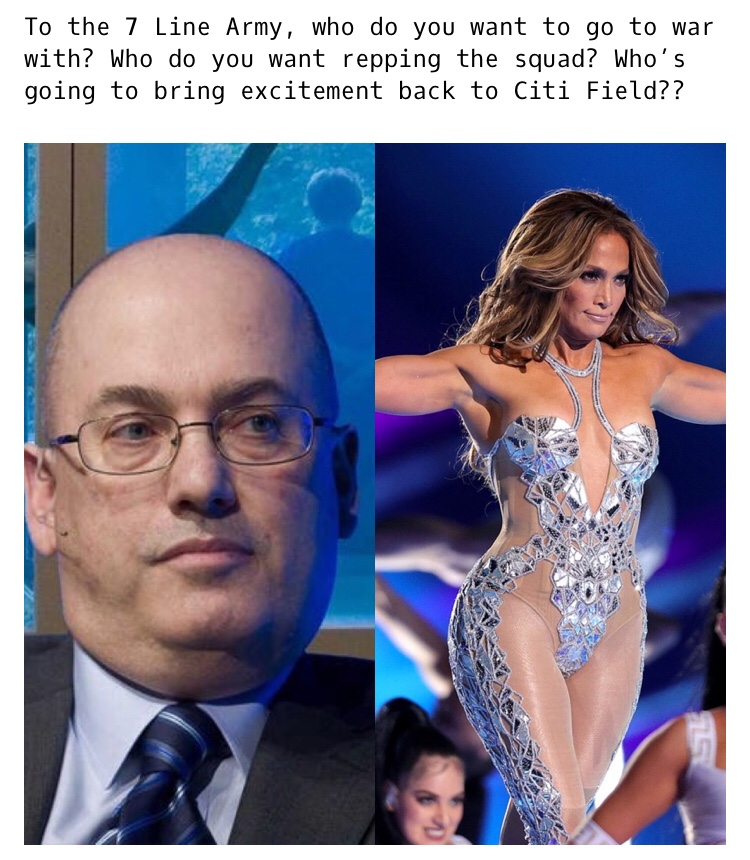 To be fair, he made a direct appeal to people who cheered Brodie Van Wagenen when the Mets were a complete failure at that point in the season. As for the rest of us, we just want ownership fully dedicated to winning, ownership who has the full capacity and willingness to build that winner.
To Mets fans, a really cool owner is the owner who delivers a World Series. It's the owner who will stop at nothing to win. That's why Nelson Doubleday, a literal book nerd, is the coolest owner in Mets history.
Doubleday bought the Mets, and he handed the keys to Frank Cashen. He was the man who basically told the Wilpons to shut up as he pushed Steve Phillips to trade for Mike Piazza. For fans, there's nothing cooler than that.
A real Mets fan would rather sit next to a parent, spouse, child, sibling, and/or friend at a World Series game than sit next to an owner or GM for a bad Mets team.
They also want one who can get guys like Piazza. For his part, Plumlee isn't off to a good start taking pot shots at Noah Syndergaard, Yoenis Cespedes, Ike Davis, and Matt Harvey. If you'll notice, he also took a shot at Steve Cohen with his SEC troubles.
Of course, if we wanted, we could focus on A-Rod's PED history, lying about it, and suing everyone to avoid culpability. We could focus on Mike Repole's willingness to enter into business with people with a troubling racist and misogynistic track record.
We could dig deeper into this group to see all the positive or negative things they do, but that completely misses the point. The point is the Mets need ownership whose sole focus is winning. They need ownership who has the financial might and ability to make that happen.
With every utterance from A-Rod's group, it becomes increasingly clear it's not them. In fact, they only seem to confirm Steve Cohen is much better suited to leading the Mets to glory than they ever can be. In the end, that makes Cohen the right and cool choice.