There was a famous scene in The Shawshank Redemption where Red says to Andy Dufresne, "You're gonna fit right in. Everyone in here is innocent, you know that?"
The joke carried on later in the movie when it was discovered Andy really wasn't a murderer.  A shocked Heywood would later exclaim, "Red? You saying Andy's innocent? I mean *for real* innocent?"
Whenever another player is caught for steroids, these scenes from Shawshank should be replayed right after the accused and punished player offers their excuse.  Same goes for Robinson Cano, who after it was announced he was suspended for using a masking agent, put out a tweet saying: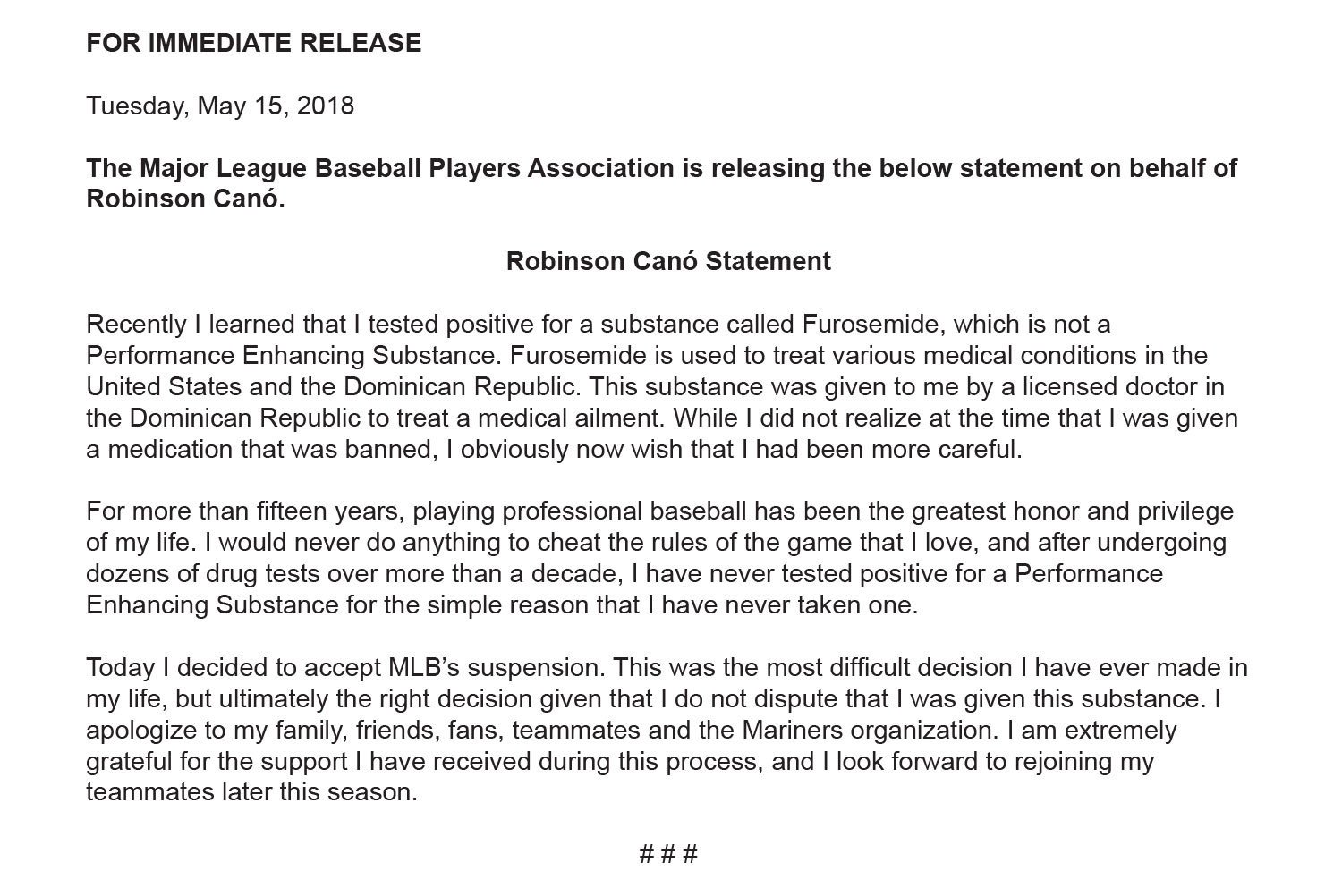 Like all the players before him, Cano is innocent.  Really!
He's just the next in a long line of innocent players who were screwed over by someone.  Jenrry Mejia's mom was only trying to treat his asthma.  Manny Ramirez was only trying to have a child.  Ryan Braun was the victim of a vicious anti-Semitic attack.  David Ortiz was falsely accused because someone needed to balance out all the Yankees suspensions in the Yankees-Red Sox rivalry.
The list goes on and on with innocent man after innocent man either being duped by a medical professional or falsely accused to settle a score.  Again, there are no guilty men in Shawshank.
The thing with Cano's statement is you want to believe him.  Maybe he is Andy.  Afterall, he had a medical issue, and he says it is a drug that is commonly prescribed in the Dominican Republic!
As noted by T.J. Quinn of ESPN, the drug, Furosemide, is a commonly used to mask PEDs.  Also noted by Quinn, the suspension is likely the result of MLB being able to sufficiently prove in appeal after appeal after appeal Cano used it not for a medical benefit, but really as a masking agent.
Now, as noted by some, like Jared Diamond of the Wall Street Journal noted the drug does have a valid medical use to reduce edema mostly related to the heart, liver, or kidneys.
Could it be possible Cano had a real medical emergency which required quick thinking leading to his being prescribed and using Furosemide?  After all, he did say it was used to treat a medical ailment.  Maybe, just maybe he's the innocent one.
But, he's not.
Remember, Cano is not some wide eyed rookie.  This is a 14 year veteran in the midst of a 10 year $240 million contract.  He was previously represented by Scott Boras, and he is now being represented by Roc Nation.
If there is any player who should know better, it's Cano.  Putting aside the avenues MLB makes readily available to its players to make sure these mistakes do not happen, his agents are a phone call or text message away.  Cano should know a suspension may not just mean a loss of over $10 million, but it could also cost him his shot at the Hall of Fame.
Yes, if this was a split second medical emergency, you can't fault Cano.  But here's how you know this wasn't the case.  There was no leaked report.  Any agent worth his salt would have made sure this was leaked THE MINUTE Cano either took a test or tested positive.  That's PR damage control.
That didn't happen because it's very likely Cano knew what he was taking, and he thought he could get away with it.  How long this innocent man in Shawshank got away with it is anyone's guess . . . .