Rangers Trying To Prove You Can Rebuild In New York
I'm not sure where the axiom ever arose, but somewhere, sometime people made the decision teams could not possibly rebuild in New York.  I always found this statement odd because on the one hand, New York fans are credited as smart a fanbase as there is in sports, but by the same token, many believe we are too ignorant to accept a team rebuilding.
This notion has created MANY mistakes by our professional teams.  Rather than admit defeat, we have seen the Mets constantly try to hold on tightly as their short lived runs slip away.  With respect to the Mets, we have seen it time and again – Eddie Murray, Roberto Alomar, Jason Bay, etc.  Bad contracts and trades resulting in even more disappointing seasons.  Worse yet, it was all part of a mismanagement of assets which delayed rebuilds and made the cupboards even barer when the time came to finally strip it all down.
As bad as the Mets history is, the Knicks history is worse – so much worse.  Just a series of Eddie Currys and Antoio McDyesses and Stephen Marburys.  It's ridiculous, and it's why after Ewing left, this organization has been a mess.
However, when it comes to postseason droughts and an outright refusal to rebuild, I think back to the Rangers.  In the pre-salary cap NHL, the Rangers just outright refused to commit to a rebuild.  What ensued was trades for big names and getting the top free agent available – LaFontaine, Lindros, Fleury, Dunham, Holik, Jagr, Kovalev, and the return of Messier.
It makes you question, what if a New York team actually acknowledged they hit the end of the line with their roster, and they were going to make the hard choice and rebuild.  Well, with the New York Rangers, we are about to find out: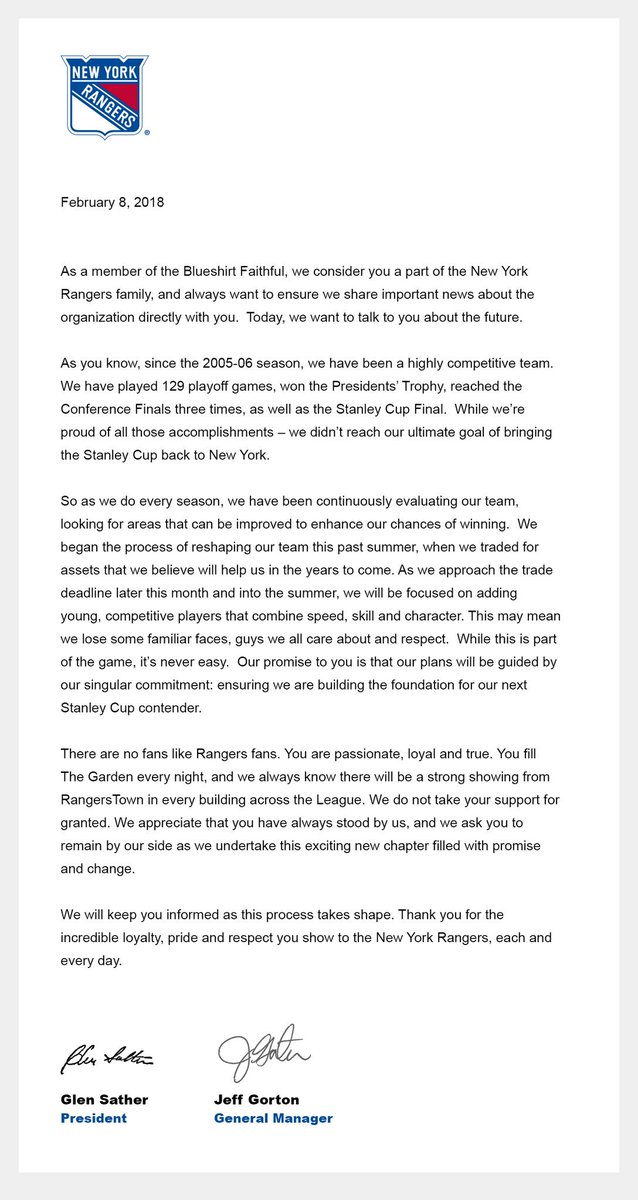 If you are a Rangers fan, you knew the team didn't have it this season.  However, as an organization, you could talk yourself into this being just about the injuries with Kreider and Shattenkirk going down.  Maybe it's true, and maybe it isn't.
It doesn't matter because the overriding point is the Rangers knew they weren't going to sniff the Cup this year, so why continue down this road?  The team smartly accepted the end of this run, and presumably, they look at the trade deadline as an opportunity to jump start their rebuild.  With any luck, you can get the assets to make this a retooling.  Largely, that will depend on which assets the Rangers opt to trade.
Overall, as a fan, I'd rather my organization be as up front with me as the Rangers just were.  This is a unique step for a New York organization, and it is one that should be lauded.  Hopefully, this will prove to be a positive step forward for an organization which looks to win its first Cup since 1994.
I know it is something I wish the Mets were more honest about in years past and with this roster.  Last year, hard choices were eschewed, and instead of cleaning house, the Mets got a collection of right-handed relievers, none of which are supposed make the Opening Day roster, and continued to play the likes of Jose Reyes over younger kids who could've used the development time.
Maybe after seeing how the Rangers chose to conduct their business, other New York sports teams will follow.  Maybe then people will say New York is the best place to rebuild.