Dickey Great, Taijeron Walks Off
Almost five years ago to the day, R.A. Dickey took the mound for the Mets, and he earned his 20th win of the season all but locking up his highly improbable Cy Young Award.
While Dickey hasn't been anywhere near that good since the 2012 season, he looked like that pitcher once again tonight. He controlled his knuckleball extremely well not walking anyone. He kept the Mets honest by throwing his fastball just enough.
Through six, the Mets accumulated just two hits – a second inning double by Brandon Nimmo and a third inning Travis Taijeron single. They didn't amount to anything.
Really, the Mets didn't seem like they were going to touch Dickey until Kevin Plawecki hit what seemed to be the first mistake Dickey made all night for a two run homer. The homer pulled the Mets to within 3-2 making the game a bit more perilous for Dickey than originally anticipated when the inning began.
It would be a two out Amed Rosario triple that finally chased Dickey from the game. With Dickey having been a beloved Met during his tenure, he received a well earned ovation as he entered the dugout.
Great job out there tonight @RADickey43! 👏👏 pic.twitter.com/wIjAEJL8yU

— Atlanta Braves (@Braves) September 27, 2017
Dan Winkler struck out Taijeron to end the jam preserving the 3-2 lead.
The Braves were up 3-2 because they got to Rafael Montero early.
A pair of first inning doubles from Ender Inciarte and Nick Markakis gave the Braves a 1-0 lead.
In the second, Montero got himself out trouble by issuing a lead-off walk to Dansby Swanson. He scored on a Jace Peterson double, and Peterson scored on an Ozzie Albies RBI single. It was be enough to ensure Montero would finish the year with an ERA over 5.00.
On the season, Montero finished 5-11 with a 5.26 ERA. Keep in mind, this is what was deemed to be a resurgent year for Montero where the Mets think he could realistically be a contributor next year.
While the three runs were enough to ding Montero, it would not prove enough to give Dickey a win partially because Sam Freeman was snake bit.
The first issue was his issuing a one out walk to Nori Aoki. Johan Camargo would then throw the ball away on a Jose Reyes grounder setting up second and third with one out.
Asdrubal Cabrera then ripped a line drive that should have give the Mets the lead. It would only be a game tying sacrifice fly because Inciarte did it against the Mets again: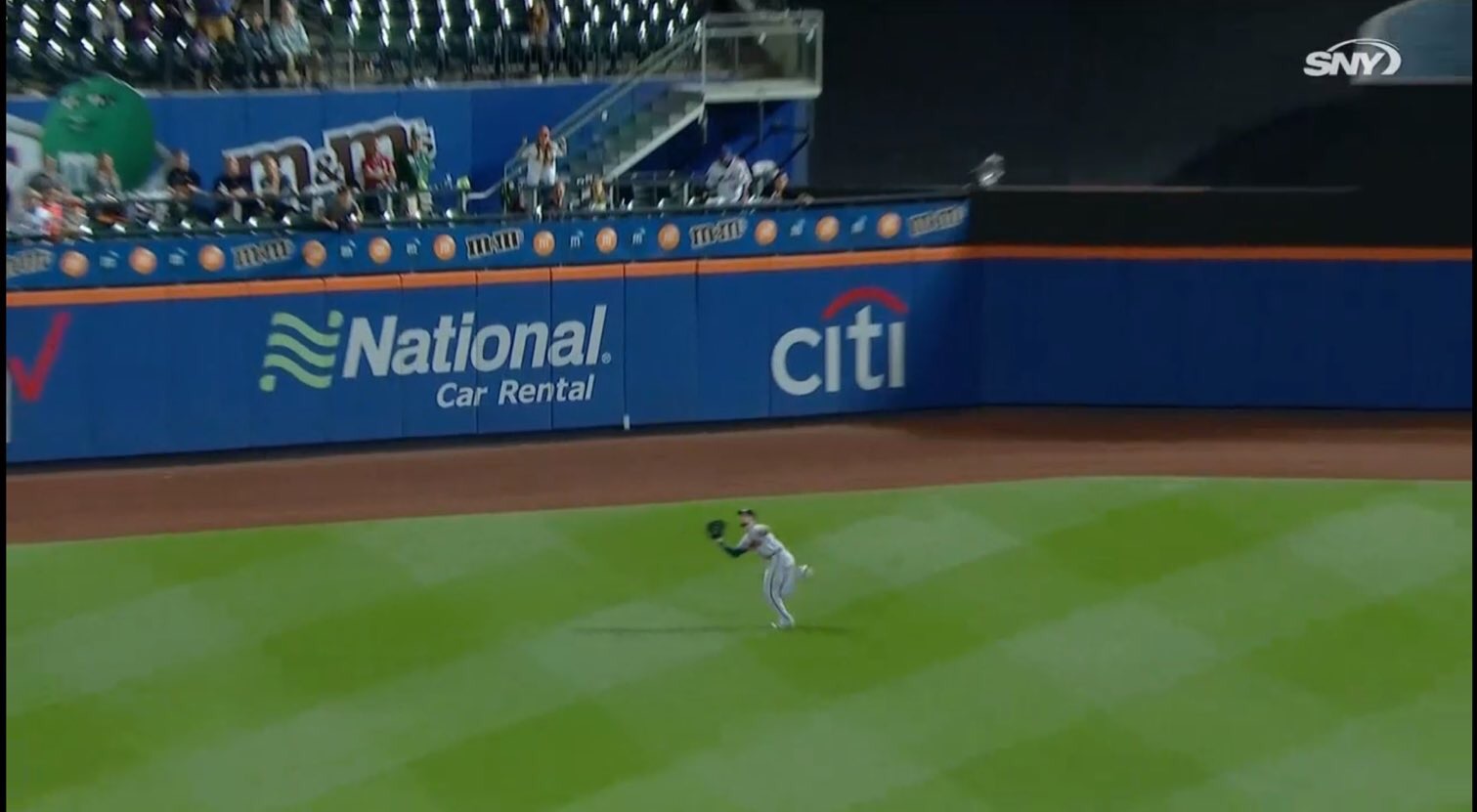 After a scoreless ninth from Jeurys Familia, the Mets would have a chance to walk it off. It was going to be difficult against A.J. Minter who has had a terrific rookie season.
The Mets would give the rookie his first loss of his career.
The game winning rally started with a Plawecki single, and Juan Lagares pinch ran for him. Terry Collins then uncharacteristically allowed Dominic Smith to face a left-handed pitcher. The decision was all the more surprising when you consider the Mets had a bench full of right-handed batters.
Smith rewarded Collins' faith when he drew the first walk Minter has issued in his brief career. Not just a walk to a left-handed batter. First walk.
After Rosario failed to lay down the sacrifice bunt, Taijeron delivered with a single to left giving him the first walk-off hit of his Major League career.
Five years later, Dickey was great, and the Mets won the game. If this was really the end of his career, it was a fitting end for a pitcher that really helped turn the Mets around.
Game Notes: AJ Ramos has been unavailable with a bicep issue, and he may be done for the season.